USC cornerback makes decision on his future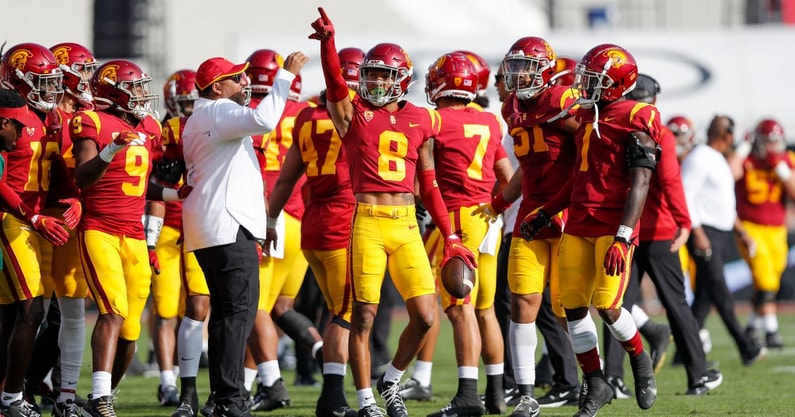 It's that time of the year when college players make their decisions on entering the NFL draft or staying another year in their programs. And for USC cornerback Chris Steele, he has made his decision.
On Saturday, Steele announced his intentions to enter the 2022 NFL draft from his Instagram account. On the post, the Trojans' defensive back explained his decision in a well-thought thank you letter to the program. On3's Scott Schrader reposted Steele's letter to Twitter for all to see his farewell to the Trojans program.
Steele leaves USC as a three-year starter. Over those three years, he has recorded 61 tackles, nine past deflections, one fumble recovery and an interception. He joins wide receiver Drake London, nickel back Greg Johnson and offensive lineman Jalen McKenzie as Trojans who have declared in December for the NFL Draft.
Riley reels in Jackson for USC
Newly anointed USC Trojans head coach Lincoln Riley landed a massive commitment from five-star plus cornerback Domani Jackson on Friday. While Jackson was originally committed to the Trojans for a very long time, he decommitted on Nov. 14 and began considering other options like Alabama. The Mater Dei (Santa Ana, California) star ultimately decided to stick with the Trojans. In Friday's Early Signing Day press conference, Riley discussed what the conversation was like with his five-star plus cornerback when he let the coaching staff know the good news.
"He just called us and told us. I don't know if it was anything overly dramatic. Obviously we were thrilled that he had chosen this place. [I was] probably the most excited of just how when he did call us to tell us, how all in he was," Riley said.
"I mean, there was zero hesitation. This is where he wants to be. This is where his family wants him to be. He has total belief and shares our vision about what this place could be. And that's what you want. Whether it's a guy you're signing, whether it's a current player on this team," he said.
There has to be a shared vision. And there has to be a crazy, dedicated belief within everybody that if we all work together—we can get this done. And Domani certainly adds to that," he said.
The hiring of Lincoln Riley by USC helped swing Jackson back in favor of the Trojans. Jackson visited the USC campus the two weekends leading up to the Early Signing Period.