Recruits will be allowed to get second visit to USC due to coaching change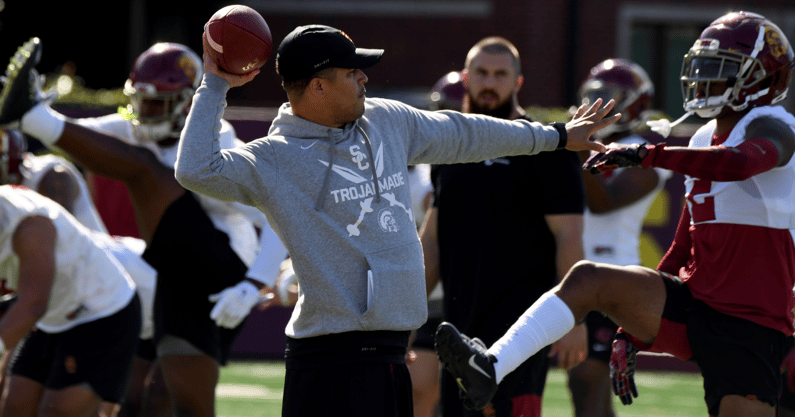 Recruits will be allowed to take a second official visit to USC even though the Trojans announced Monday night that they have fired Clay Helton. Per NCAA rules, a program that makes a coaching change can still host prospects for a second official visit. Still, that won't help immediately fix the problems that led to USC firing its head coach.
Despite having a backyard in Southern California filled with talent, a national recruiting reputation and one of the best traditions in college football, the Trojans' 2022 class is 29th in the country and third in the Pac-12.
The struggles on the recruiting trail did not just start lately. Helton brought in the seventh-overall class in 2021, but his 2020 (64) and 2019 (20) classes did not set himself up for success on the field. And schools were taking advantage of the rumors of Helton being on the hot seat.
USC did tab Donte Williams as interim head coach. Williams ranked as the top recruiter in the Pac-12 in both the 2020 and 2021 recruiting cycles. He played a critical role as a lead recruiter in the recruitment of Domani Jackson, a five-star 2022 cornerback.
Clay Helton officially out at USC
The Trojans announced Monday night that Helton has been let go and will not finish his seventh season at the helm of the program. Athletic director Mike Bohn has tabbed Donte Williams as interim head coach.
This comes just days after Stanford walked into the Coliseum and handed USC a 48-28 loss. Helton was booed off the field at the half. The Trojans committed 111 yards of penalty in the loss, and their kicker Parker Lewis was ejected on the first play of the game. Quarterback Kedon Slovis has continued to regress; he threw a pick-six in the third quarter. 
The loss dropped USC to 1-1 on the season and out of national polls. 
Helton's time in Los Angles is over; he finishes with a 46-24 record. But the Trojans are 19-15 since 2018 and have not won the Pac-12 since 2017. They went 2-3 in bowl games and have struggled to stay relevant on the national stage, too.
Helton had two full years remaining on his deal after this season. Helton is expected to be owed more than $10 million in buyout money.
"As I committed to upon my arrival at USC, during the past two off-seasons we provided every resource necessary for our football program to compete for championships," Bohn said in a statement. "The added resources carried significantly increased expectations for our team's performance, and it is already evident that, despite the enhancements, those expectations would not be met without a change in leadership."
For more coverage from our team of USC Insiders at WeAreSC CLICK HERE