USC set to hire former Oklahoma player, staff member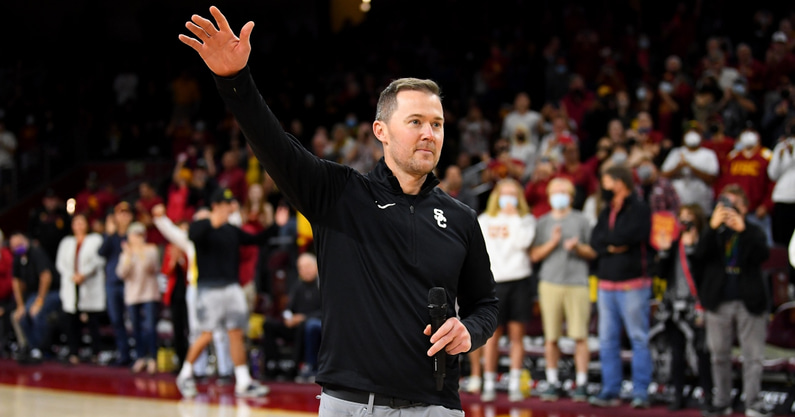 According to Matt Zenitz of On3, the USC Trojans and head coach Lincoln Riley is hiring Oklahoma defensive backs graduate assistant Will Johnson to be a support staffer. Johnson has been in Norman for the past three seasons as a coach and is a former Sooners player.
Under interim head coach Bob Stoops, Johnson served as the interim defensive backs coach in the Alamo Bowl against Oregon. The Sooners gave up just over 300 yards to the Ducks but were able to intercept quarterback Anthony Brown via defensive back Justin Broiles.
Johnson transferred into the Oklahoma program during the 2015 season from junior college. He played in 30 games over three seasons and started in 17 of them, recording 120 tackles, two interceptions, and eight pass breakups as a defensive back.
Johnson is just the latest coach from the Oklahoma program he will bring with him out west. Defensive coordinator Alex Grinch was one of the first, looking to revamp the Trojans' defense.
If Johnson continues to work with defensive backs, he will have some of the best in the country at his disposal. One arriving on campus soon will be an On3 Five-Star Plus+ prospect in Domani Jackson. He committed to the Trojans instead of Alabama, opting to play for the hometown team. Johnson will have the opportunity to work with one of the nation's top corners.
Crossover with USC Trojans, Oklahoma continues
The crossover between the USC Trojans and Oklahoma Sooners over the past couple of months has been crazy. Between Lincoln Riley heading to Los Angeles, the recruiting world, and the transfer portal — the two programs have heard a lot about each other lately.
USC quarterback Jaxson Dart opted to enter the portal recently, and he was just spotted alongside Trojans tight end Michael Trigg sporting an Oklahoma Sooners uniform.
It was recently reported that Dart was zeroing in on three possible transfer destinations: Oklahoma, Ole Miss, and TCU. It appears that Dart, along with Trigg, were on a visit to the Sooners on Friday.
Dart and Trigg were alongside one another on Thursday, when the pair took a visit to Ole Miss. The two were roommates at USC in addition to sharing the field together.
Dart's decision to transfer from USC comes after the Trojans hired Lincoln Riley, from Oklahoma, as the team's next head coach. Additionally, Oklahoma quarterback Caleb Williams recently entered the portal, with a lot of speculation about him potentially reuniting with Riley at USC.