USC's recruiting class plummets to No. 37 after Devin Brown decommits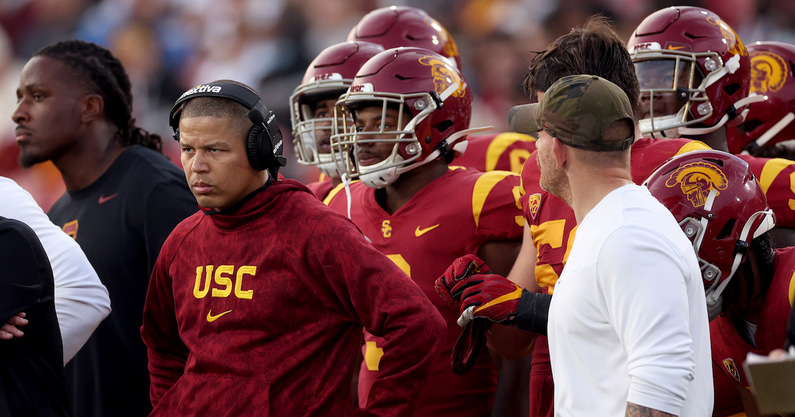 USC's recruiting class was in choppy waters when the month of November started.
The firing of Clay Helton in September felt like the opening the door for many other colleges to get into the Trojans' recruiting class and flip their best recruits.
USC managed to hold firm. The Trojans did lose five-star defensive lineman Mykel Williams in October, but had been able hold onto its other prized possessions in five-star defensive back Domani Jackson and four-star quarterback Devin Brown as the calendar flipped to November and Christmas music started to play on the radio.
But now, just three weeks before signing day, Brown and Jackson are gone.
Domani Jackson decommitted 10 days ago, which saw the USC recruiting class drop from No. 15 to No. 22 in the On3 Consensus Team Recruiting Ranking. Devin Brown decommitted Wednesday, and his decision resulted in an even larger fall down the hill to No. 37.
Among the teams head of the Trojans include UCF at No. 36, Rutgers at No. 30 and City of Angels rival UCLA at their old spot of No. 22.
USC has no players in the top 200 of the On3 Consensus, a complete and equally weighted industry-generated average that utilizes all four major recruiting media companies.
Its top recruit is now Oradell (N.J.) Bergen Catholic four-star cornerback Jaeden Gould, the No. 211 prospect in the country
Few players are hotter than Devin Brown right now
Devin Brown had been committed to the Trojans for over a year before backing away Wednesday.
"I would like to thank Coach Doege, Coach Harrell, and Coach Helton for believing in me and giving me an opportunity to play at the next level," Brown said. "They believed in me very early when many others didn't. I will forever be grateful for the opportunity they gave me. At this time, I believe it is best for me to open my recruitment. I will be de-committing from the University of Southern California."
His decommitment comes just days after he concluded his senior season at Draper (Utah) Corner Canyon.
Brown's senior year was one to remember, finishing with a state-record 4,881 passing yards plus 57 passing touchdowns. He led Draper Corner Canyon to the state championship game in his first year in the program.
His performance throughout the season saw him rise up recruiting rankings across the country, including On3's On300. In the latest iteration released this week, Devin Brown jumped to No. 27 overall in the country and to the No. 2 slot in the quarterback rankings.
This all comes as has gone on visits to this fall to Ole Miss, Texas and Ohio State. He also picked up an offer recently from Notre Dame.