WATCH: USC wideout Mario Williams puts nasty juke on defender before scoring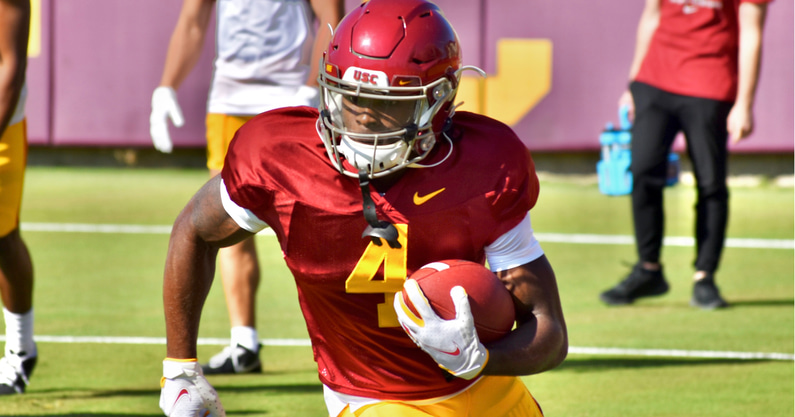 With USC already leading Stanford, 21-7, transfer wide out Mario Williams added a highlight reel play. Williams took a simple screen from Caleb Williams and several dusted defenders later, was in the end zone.
When Williams the receiver took in the pass from Williams the quarterback, his first victim was Stanford linebacker Wilfredo Aybar. Once Aybar had been dispatched, Williams turned on the jets to score.
The Williams-connection touchdown put USC up 28-7 midway through the second quarter, but Stanford has clawed back a touchdown to make it 28-14 with around five minutes until halftime.
USC transfers connected for another score on Saturday.
While nursing a 14-point lead over the Cardinal, Williams connected with star wide receiver Jordan Addison for this 75 yards touchdown strike.
On first and ten from their own 15-yard line, the Trojans' dynamic duo caught Stanford in single coverage. Despite the corner being 12 yards deep over Addison, the speedy wideout beat him up the field to the inside on a post route. The quarterback saw Addison beating the defender on the route and launched the ball to him, and the rest is history.
This is the second time the two have connected for a touchdown in the game. The first time was a 22-yard touchdown for the first score of the contest.
USC also showed off the swag their quarterback gifted his teammates
The USC quarterback recently partnered with Beats by Dre in a major NIL deal, leading to new custom team-color headphones. Prior to their game on Saturday with Stanford, USC football's social media team shared the first look at the custom headphones that came from Williams' partnership.
Williams' partnership with Beats by Dre was one of the biggest partnerships in college football when it was announced in February. The young star has continued to make his impact known via their partnership throughout the year — including giving his entire team a care package of Beats gear earlier this year.
Back in April, Williams gifted his entire team their own pairs of Beats Studio wireless headphones and Beats Studio earbuds. Now, USC has a more custom and special piece of memorabilia bearing the program's colors.
He also pulled a similar charitable move for his fellow Trojans athletes back in February — when he hooked up the Trojans Women's basketball team with their own pairs of the wireless headphones.