With offer, Jaydn Ott becomes top RB target for USC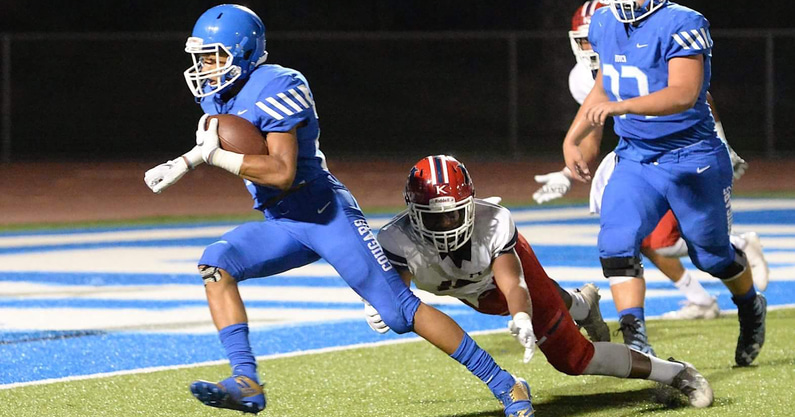 Even though Donte Williams is USC's interim head coach, he's dived headfirst into keeping the Trojans moving forward on the recruiting trail. Another example of this came on Tuesday when the Trojans extended an offer to fast-rising SoCal running back Jaydn Ott.
Ott is a 5-foot-10, 170-pound borderline four-star prospect from Norco (Calif.) High. Before Tuesday's offer from USC, he had offers from California, Oregon, Arizona, Arizona State, Colorado, Colorado State, Georgia, Nebraska, Oregon State, Purdue, San Jose State, UCLA, UNLV, Utah and Washington State.
Jaydn Ott was previously committed to Cal, but on Sept. 16 he backed away from that pledge to the Bears. Ott said his decision to decommit came because he picked Cal early without really seeing other schools. Ott also was committed to Oregon at one point in 2020 before reopening things back up.
In four games this season, Ott has 50 carries for 560 yards, an 11.2 yards per carry average, four games of more than 100 yards, and eight touchdowns. He's also averaging 7.5 yards a catch. In Week 3 against Rancho Cucamonga, Ott rushed for 233 yards and four scores.
Jaydn Ott a priority RB recruit for USC
For USC, signing a running back is a priority. WeAreSC's Scott Schrader says the offer to Ott signals he's one of the top rushers on USC's board.
"USC needs to sign one running back from the 2022 recruiting class," Schrader said. "With the decommitment of DeAnthony Gatson, No. 1 RB target Jovantae Barnes favoring other schools and Raleek Brown still committed to Oklahoma, Jaydn Ott now becomes a key focus for the Trojans."
Before moving to Noro, Jaydn Ott played his sophomore and junior seasons for Las Vegas Bishop Gorman. However, he split time with two other backs as a sophomore and had only 459 yards rushing. Gorman only played in two games during his junior year because of the COVID-19 outbreak, and Ott was out with an injury in both.