Clark Lea: Vanderbilt players a 'traumatized group' after believing they'd beat ETSU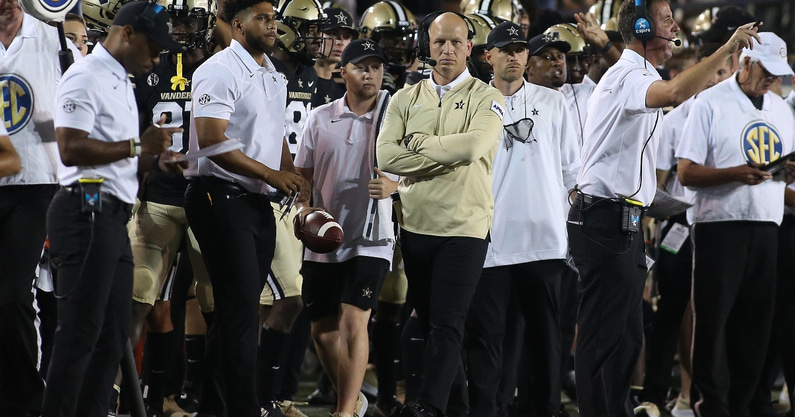 Clark Lea's time at Vanderbilt is off to a very, very bad start. 
The first-year head coach and his team hosted FCS opponent East Tennessee State on Saturday. Not only did the Commodores lose, the Buccaneers routed them 23-3.
Lea, a Vanderbilt graduate, joined Nashville radio show Robby and Rexrode on Wednesday and said maintaining positivity within the program is especially difficult after Saturday's loss.
"It's a bit of a traumatized group, and there was a bit of an expectation that we were going to win Saturday," Lea said. "There was an expectation that East Tennessee State was going to cooperate in that regard."
Vanderbilt put on a dismal. After kicking a field goal with 4:15 left in the first quarter, the Commodores did not score again. They turned the ball over three times, all at the hands of quarterback Ken Seals; he had two interceptions and a fumble. That ball was picked up and taken into the end zone for a touchdown by ETSU linebacker Stephen Scott.
ETSU had not beaten a Power Five opponent since 1987. The Commodores were a three-touchdown favorite. 
On Tuesday, Lea announced Vanderbilt offensive coordinator David Raih was relieved of his play calling duties early in camp, and current quarterbacks coach and passing game coordinator Joey Lynch has assumed that role.
Raih's official role was not changed; he is still listed as the team's offensive coordinator on the roster. Lea emphasized that the move was not a result of Saturday, as it occurred prior to the start of the season even though it did not become public until yesterday.
Vandy is of the toughest jobs in college football
Lea took over a Vanderbilt team that has not had a winning record since 2013, and they have had one season above .500 against conference opponents since 1982. Vanderbilt did not win a single game last year. 
Lea is the Commodores 10th coach since 1979, and they have not kept the same coach for more than eight years at a time. Once a coach like James Franklin has some success, they will bolt for a bigger program. Franklin left for Penn State after the 2013 season. Often they take some of their talent with them, further decimating the Vanderbilt program.
Vanderbilt sits in an area with plenty of talent, but the high-level recruits have their eyes on the SEC powerhouses and Big Ten schools. While the SEC East is currently down across the board, it is still going to be extremely difficult for Lea to create a culture of winning in the program.
Vanderbilt's remaining non-conference schedule includes Colorado State, Stanford and UConn, and they travel to No. 13 Florida, South Carolina, No. 20 Ole Miss and Tennessee. They host Georgia on Sept. 25.