LOOK: Vanderbilt takes advantage of new rule, utilizes pitch-signaling devices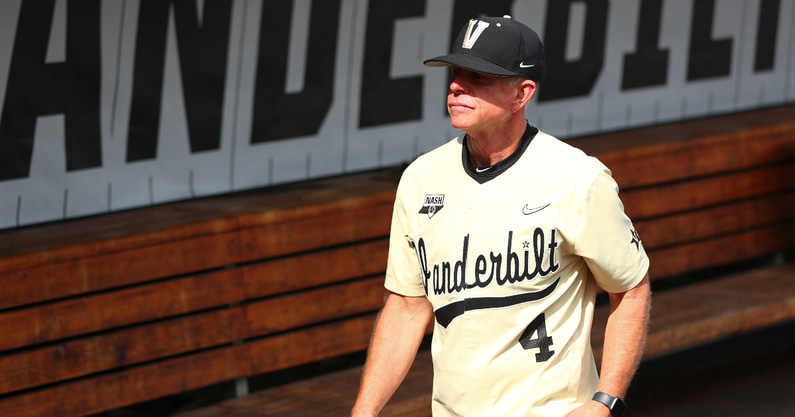 Vanderbilt baseball is one of several programs taking advantage of a new NCAA rule this season, which allows its pitchers to receive signs through a device on their wrist.
Tim Corbin's Commodores opened up their 2022 season on Friday afternoon, as No. 3 Vanderbilt played host to the No. 7 Oklahoma State Cowboys, and the players were wearing what looked somewhat like a watch on their glove hand. Through this device, Vanderbilt pitching coach Scott Brown is able to relay pitch signs to the pitcher on the mound, while the other players are able to adjust accordingly. Each player in the field wears a device, allowing them to know what pitch is coming.
The NCAA Playing Rules Oversight Panel this offseason approved the use of these one-way electronic communication devices for calling pitches and plays. One goal of allowing these devices was to speed up the pace of play; pitchers no longer have to receive and respond to signs from the catcher, and players in the field don't have to look to their coaching staff or an index card for shifts.
Vanderbilt baseball broadcaster Max Herz broke down the use of these new devices during Saturday afternoon's game.
"It is technically called an electronic display board in the NCAA's lingo," Herz said of the devices. "This was the first year it's been legal for a college pitcher to wear something like that. … Scott Brown, the Vanderbilt pitching coach, is punching numbers into a controller he has, and all nine Vanderbilt players on the field have one. They all see the same thing. That tells the pitcher what type of pitch to throw, and where or how to throw it."
When the NCAA in August legalized the use of one-way communication devices, it explained in a press release that there are several different methods through which teams can relay signals. Vanderbilt's use of electronic devices may differ from other programs, which could instead opt to use earpieces to communicate.
"Examples of what could be implemented next season include teams being allowed to use an electronic display board from the dugout that shows a numerical code to call pitches and/or defensive plays," the NCAA's press release said. "Teams also can use a one-way in-ear communication device that would be limited for use from the dugout to the catcher."
Vanderbilt got the best of Oklahoma State in its season opener, winning at home by a 3-0 final. The Cowboys quickly bounced back on Saturday, however, beating Vanderbilt 4-3, and the two top-10 programs will face off on Sunday in a series rubber match. First pitch is scheduled for 2:00 p.m. ET.