Georgetown transfer Dante Harris commits to Virginia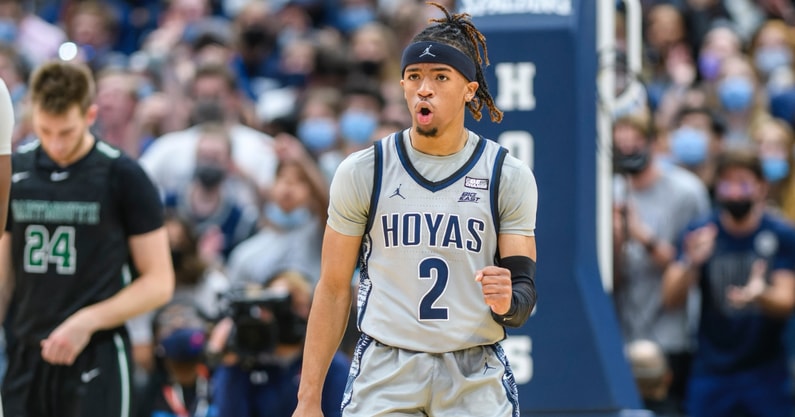 Georgetown transfer Dante Harris has announced his commitment to Tony Bennett and Virginia. 
Harris – a 6-foot junior guard from D.C. –  entered the transfer portal on December 5th. He spent the last two seasons with the Hoyas, where he averaged 11.9 points, 3.6 rebounds, and 4.1 assists during the 2021-22 season. Additionally, he shot 37.5 percent from the field and 27.5 percent from three.
Harris plans to play for the Cavaliers beginning next season and will have three years of eligibility remaining.
Harris on his commitment to Virginia
"I mean, who wouldn't want to play for Virginia? It's one of the best programs in the country," Harris said. "They have guys get drafted almost every year, a place I eventually want to get to. Coach (Tony) Bennett is a great coach and one of the best in the business. He says he runs his program through God's word, which is very big for me. I'm huge on the scripture and to have a coach that runs his program through the Lord. What else can you ask for?"
What type of player is Virginia getting in Harris, in his own words?
"They're going to get a loyal, God-fearing person who's going to show up every day and give it my best."
Lastly, Harris has a message for UVA fans.
"I'm very humbled to be a part of the UVA family. I look forward to doing my part and continuing to keep our program as one of the premier programs in the country. I'm looking forward to bringing another national title to Charlottesville. Go Hoos!"