Bruce Arians: NFL coach honored by Virginia Tech, weighs in on Fuente's future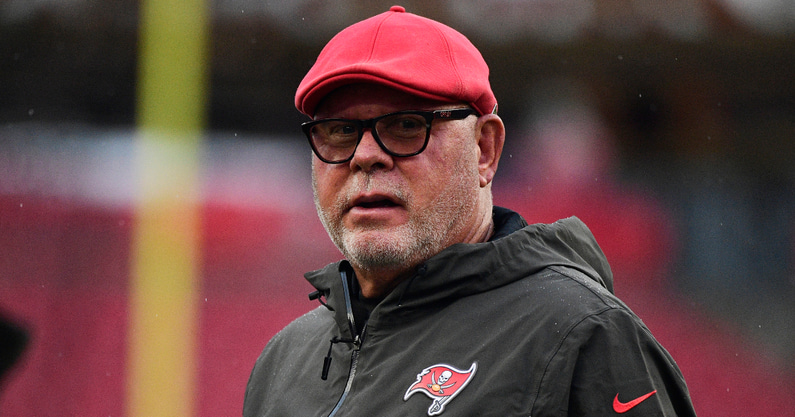 Virginia Tech and Bruce Arians have a 50-year history. The Tampa Bay Buccaneers head coach — who led his team to a Super Bowl victory last year— began playing quarterback for the Hokies in 1971.
On Wednesday, the Virginia Tech football program honored Arians in a major way.
A statement released by the Tech athletic department notes both Arians and his wife Christine–who is also a Hokies' alum–have made a "substantial and impactful commitment to the Virginia Tech Football Enhancement Fund.
"To honor the Arians' generous contribution to Virginia Tech Football, the quarterback meeting room will now be known as the Bruce Arians Room. The room, which is used daily by Tech student-athletes and coaches, is located in the Merryman Athletic Center within Michael Vick Hall," the statement said.
The recent gift from Arians and his wife was called a notable investment that aims to raise $400 to fund major initiatives within Virginia Tech Football and Virginia Tech Athletics.
Hokies' head coach Justin Fuente weighed in on what Arians means to the program. "It's definitely appropriate that our quarterbacks will meet in the Bruce Arians room going forward," Fuente said. "Thanks to Bruce and Christine for their continued support of Virginia Tech and Tech football."
Bruce Arians endorses Fuente, Virginia Tech future trajectory
There are plenty of former Virginia Tech greats from Bruce Smith to Frank Beamer or Mike Vick, but Arians is as qualified as anyone to chime in on the current state of the program under head coach Justin Fuente.
Arians says he's stayed connected with Fuente and gave a ringing endorsement to the Virginia Tech front man, who has faced criticism from the fan base in his fourth season in Blacksburg.
"Over the years I've tried to stay as connected as possible both with the program and Coach Fuente," Arians said of the current Virginia Tech coach.
"I'm encouraged by the trajectory of the program and trust that under his leadership we can get back to competing for championships. I also hope that many more of my fellow Hokie football alums find a way to reconnect and give back to the program that means so much to us."
Those are strong words, but Arians has the clout to state his opinion. He's always been one of the most honest head coaches in the NFL, so the sentiment on Fuente and the current staff feels sincere. .
Though the current NFL coach admits he doesn't get the time to get to Blacksburg as often as he would like, he's made a concerted effort to stay connected to the program in every way possible.
"Virginia Tech football is a special brotherhood, and creates a bond for all Hokies," Arians said. "I'm not able to get back to campus very often, but I have and will continue to wear the VT proudly supporting our program. Blacksburg is such a special town and an amazing place to develop as a college football player."
Arians played quarterback for Tech from 1971-74 and started his coaching career in Blacksburg as a graduate assistant (1975-76) and running backs coach (1977) for the Hokies.  As a player, Arians rushed for 11 touchdowns during the 1974 season, a Tech quarterback record that stood for over 40 years until Jerod Evans surpassed it with 12 rushing touchdowns in 2016.