Mike Young praises team, Justyn Mutts for first half performance vs. Duke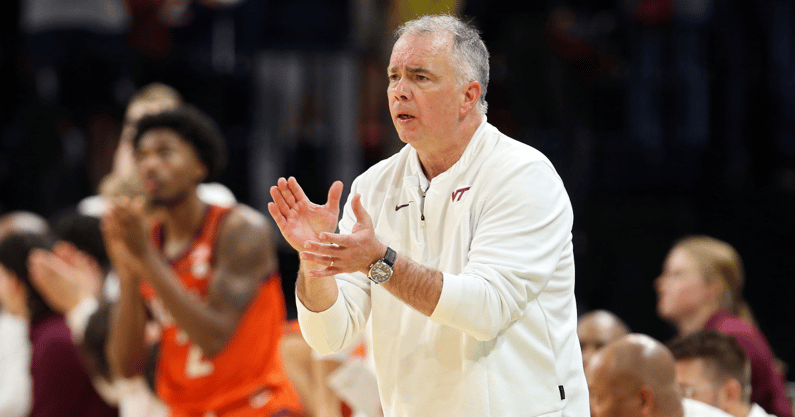 Virginia Tech scored 45 points in the first half against Duke Monday night inside Cassell Coliseum and lead by seven points at the break. Hokies head coach Mike Young discussed his team's strong first half efforts before heading to the locker room.
"We played a good half, we missed the coverage there on the last one," Young said at halftime. "I have a good group that is playing good basketball and we have for quite some time now. We're making our own breaks, I've really enjoyed how we played in the first half."
Young commented on the play of senior forward Justyn Mutts in the first half, who scored six points and assisted on five baskets during the first 20 minutes of action.
"He's terrific," Young said. "We've got to keep him involved and everything. He's a part of so much of what we do offensively and defensively. I thought he did a really good job [guarding Kyle] Filipowski in the first half."
Filipowski actually leads all players in scoring at this point of the game. He scored 14 points in the first half, including a last-second three-pointer to cut the game to single digits before the break. He's also two rebounds away from a double-double.
Catch the rest of the game live on ESPN as Duke tries to overcome the 45-38 deficit to Virginia Tech.
Mike Young reveals his message to Virginia Tech after Clemson loss
The hits just keep coming for Virginia Tech basketball and coach Mike Young. A late three-pointer by Clemson on Saturday night defeated the Hokies 51-50 and handed them their seventh straight loss on the year. The Hokies now prepare to face Duke back at home on Monday, which means Young had to deliver a firm message to his team after Saturday's loss.
"You turn the page, you move on," Young said after the game. "This is — with the hand we've been dealt, we got a really good Duke team coming in on Monday. Be nice to get home after three straight on the road. You know, we've got 12 more."
Early on this year, it looked like things could not be going better for Virginia Tech. The Hokies raced out to an 11-1 start to the season, including wins over a talented Penn State team, Oklahoma State and then-No. 18 North Carolina. Since then, though, things have spiraled out of control. Virginia Tech has dropped seven straight games and sits at 11-8 overall and a 1-7 mark in ACC play.