Virginia Tech announces extension for AD Whit Babcock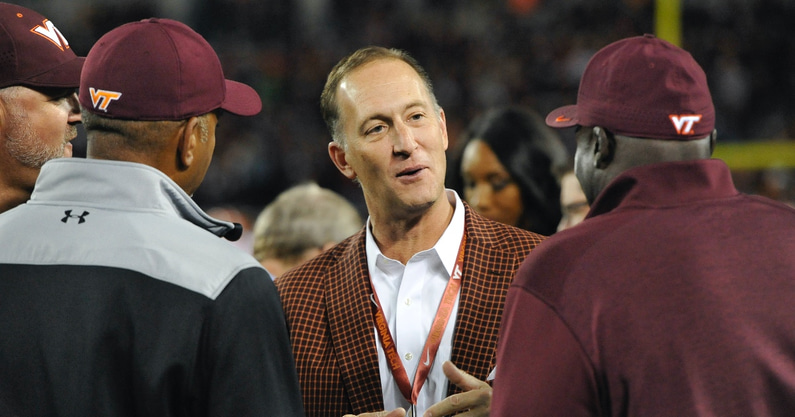 Virginia Tech Director of Athletics Whit Babcock's contract with the school has been extended for an additional five years, now extending through June 2029, per a release from Virginia Tech on Monday.
"Whit Babcock and his roster of talented coaches have done an outstanding job, creating memorable moments for our students, alumni, and fans, and making the student-athlete experience their top priority," Virginia Tech President Tim Sands said the the release. "Whit and his leadership team have the right long-term vision and have demonstrated their ability to manage the rapidly changing landscape in collegiate athletics. I look forward to continuing our collective efforts on behalf of Virginia Tech."
Babcock has held the title of Director of Athletics since Jan. 24, 2014. He was hired to replace Jim Weaver, who retired due to health concerns after 17 years. Babcock, a native Virginian, came to Virginia Tech from Cincinnati, where he served as Athletic Director for three years.
Babcock has extensive list of achievements at VT
In the release, the school cited some of Whit Babcock's biggest achievement in his time in Blacksburg.
Virginia Tech experienced athletic success across a number of programs under Babcock this past season. In football, the Hokies boasted a pair of first-round NFL Draft picks for the second time in four years. Tech's men's indoor track squad won the ACC indoor title by the largest margin in modern conference history. In softball, the Hokies reached the NCAA Super Regionals for the first time since 2008. In women's golf, the Hokies qualified for the championship round of the NCAA Tournament in 2021 for the first time in program history.
The men's soccer team qualified for NCAA postseason competition for the fifth straight year and were rated as high as No. 4 in the nation. Both the men and women swimming and diving program were ranked in the Top 25 this past season.
Successes not just on the field
Under Babcock, Tech's $20.4 million Student-Athlete Performance Center was completed and went online serving meals on a daily basis to student-athletes in all sports in 2021. A $5 million renovation and expansion of the football strength and conditioning center was completed, a new residence hall in Virginia Tech's Creativity and Innovation District Residence Hall with 176 residence spaces for student-athletes is scheduled to open this fall.
Babcock helped lay the groundwork for the launch of the ACC Network in August 2019. In the spring of 2018, the athletics department concluded an $18 million renovation of English Field at Atlantic Union Bank Park, in large part because of a $3.5 million donation from Atlantic Union Bank secured by Babcock.
The launch of the $400 million Reach For Excellence campaign in conjunction with Dr. Sands and other campus partners in April 2021, was another milestone accomplishment for Babcock. The campaign includes a football enhancement fund, renovations to Cassell Coliseum, the ongoing Drive for 25 initiative to increase Hokie Club membership to 25,000, as well other initiatives to help sustain comprehensive excellence in all sports and increase scholarship endowments.
Babcock ranked in Top 10 among ADs
Whit Babcock has earned national recognition for his work.  In June 2020, Stadium named him the No. 9 athletic director in the country. During the 2017-18 academic year, Babcock was named one of four FBS recipients of the Under Armour AD of the Year. The previous year, he was one of five finalists for the AD of the Year honor handed out by SportsBusiness Journal and SportsBusiness Daily.
He served as a member of the NACDA Executive Committee for 2020-21 academic year and continues to serve as a member of the NCAA Football Oversight Committee through 2021. He also served as the President/Chairman of the ACC Athletic Directors in 2019-20 and continues to serve as AD representative on ACCN Advisory Committee to ESPN.