Four-star junior AJ Swinton commits to Virginia Tech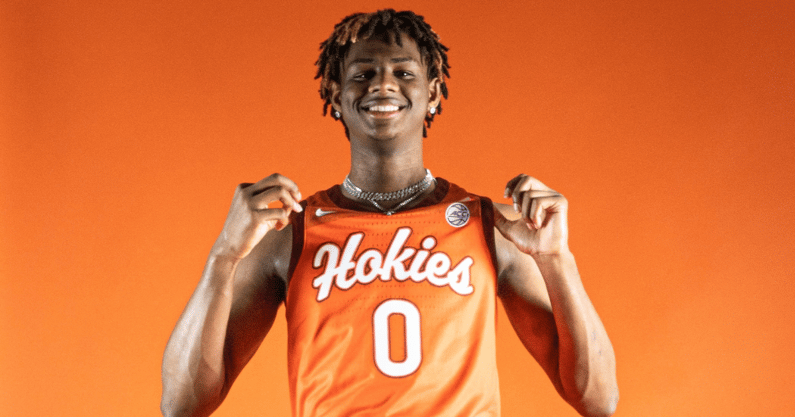 AJ Swinton, a four-star small forward in the 2024 class, has committed to Virginia Tech.
The 6-foot-5, 180-pound currently plays for Sierra Canyon in Chatsworth, California but is a native of Hyattsville, Maryland. He chose the Hokies over offers from Ohio State, Xavier, Maryland, and others.
Swinton is the first prospect in the 2024 class to commit to Virginia Tech and Mike Young.
Swinton on his commitment to Virginia Tech
"It was a trust factor, as the coaches value what I bring to the game," Swinton said when asked why he chose Virginia Tech. "I have all the confidence that under this coaching staff my game will grow to another level. When I went on my official visit the coaches broke down every aspect of my game and it was identical to VTech's system; it's really a seamless fit. The relationship that my family and I have developed with the coaching staff played a significant factor as well.
"I plan on continuing to excel in the classroom and I know that VTech prioritizes the academic success of their student athletes. My plan is to major in Human Nutrition, Foods, and Exercise, and VTech has a strong program. I am looking forward to pursuing that path."
The future Hokie breaks down his game
"The one word I would use that best describes my game is versatile. I can play and guard multiple positions, don't need the ball in my hands to make an impact in the game, and I'm a well rounded and defensive minded player. I prioritize team ball and winning!"
Swinton's message to VT fans
"First off thank you for welcoming my family and I to Blacksburg," Swinton said. "Every time I've been on campus it's been all love. I love the community and fan base. I want Hokie Nation to know that I'm going to put the work in to be ready when I step foot on campus my freshman year! #Thisishome"
Scouting Report
AJ Swinton Scouting Report from On3's Jamie Shaw:
"AJ Swinton is a sturdy and lengthy wing. He has played predominantly in the paint at a younger age and is expanding out to the perimeter. The early returns on the jump shot are positive; he has a smooth form with a repeatable release. Swinton is also good in straight lines; he will need to continue working on counter moves off the bounce. He has a good burst at the rim, and there is upside as a switchable defender and good rebounder for his size. With the success of tweener forwards who can shoot and switch in the college game, there is clarity for his player archetype."
According to the On3 Consensus, Swinton ranks as the No. 88 overall prospect in the country. The On3 Consensus is the average ranking from all four major recruiting media companies (ESPN, 247Sports, Rivals, On3).