Washington receiver Rome Odunze announces plans for 2022 season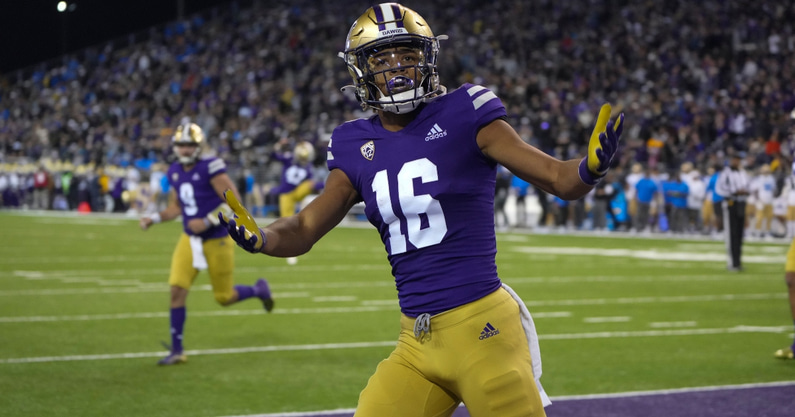 Washington Huskies wide receiver Rome Odunze has made a big announcement revealing his plans for the 2022 season. Instead of pursuing opportunities elsewhere, Odunze will be returning to the Huskies for another season.
"The University of Washington has provided me with a great experience over the past couple years," Odunze said. "The trials and tribulations that I have faced here have helped shape me into the man I am today. Something that I will never take for granted.
"I wanna thank all the players and coaches that have influenced me on my journey. Thank you to my family and friends that have supported me through it all! Thank you to Husky nation for the continuous passion.
"I have full confidence in my Husky brothers, our coaching staff, and the Husky nation to take this program to great heights. With that being said I won't be trading my Purple and Gold for any colors. I am all in with the Dawgs. My goals and aspirations remain the same! To win a national championship at the University of Washington."
Odunze just finished his second year at Washington
This season, Odunze caught 41 passes for 415 yards and four touchdowns. In his two-year career at Washington, Odunze has 47 receptions for 487 yards and four touchdowns.
Odunze is a former four-star wide receiver according to the On3 Consensus, a complete and equally weighted industry-generated average that utilizes all four major recruiting media companies. He chose Washington over a plethora of offers, including Georgia, Alabama, Ohio State, Florida, Michigan, Texas, Oregon, and many others.
Washington did not play well in the Apple Cup against Washington State, Odunze put the Huskies on highlight reels around the country. With Washington down 30-7 in the fourth quarter, Odunze made an incredible catch in the end zone for a touchdown.
Odunze has plenty of experience with winning after high school career at Bishop Gorman High School in Las Vegas. His team won national championships in 2014, 2015, 2016. In his high school career, he hauled in 121 receptions for 2,699 yards and 31 touchdowns.
Now, Odunze will be looking to bring that same type of success as he continues to grow in the Huskies offense.