Wesley Yates commits to Washington Huskies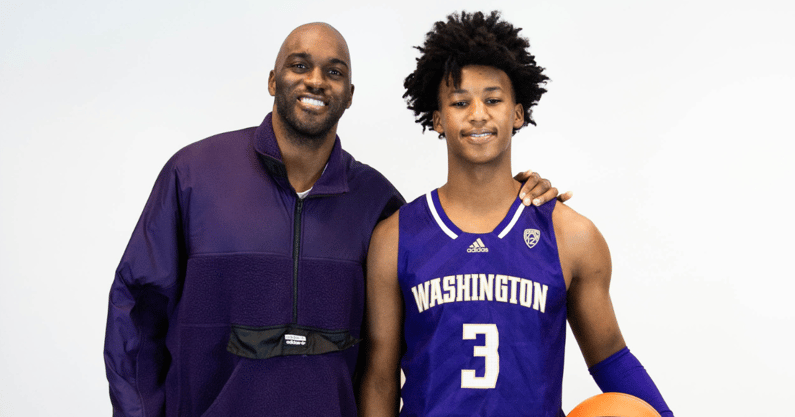 Beaumont (Texas) United four-star recruit Wesley Yates tells On3 he's committed to Washington.
Yates, a 6-foot-4, 200-pound class of 2023 shooting guard, also considered Gonzaga, Stanford, Texas, Houston, Arkansas, LSU, Auburn, and Baylor before ultimately deciding on the Huskies.
He is Washington's first commitment to the class.
Yates is the No. 29 overall prospect in the 2023 class, according to the On3 Consensus, the average ranking from all four major recruiting media companies. He's also the No. 4 shooting guard and the No. 2 player in the state of Texas.
Yates on his commitment to Washington
"The connections that I made with the coaches from day one felt REAL," Yates said to On3. "They kept it real with me throughout the whole process and I have family on the staff (Quincy Pondexter) and in Washington so I felt real comfortable with making my decision to attend that school. I feel like with all the pros that those group of coaches has worked with that they will develop me into a pro."
What type of player is Washington getting in Wesley Yates?
"They're getting a bonafide bucket," he says. "A player that has a true love for the game and will work his hardest to bring wins to the program. A player that comes from a winning background and one that will be a leader on and off the floor."
Yates has a message for Husky fans.
"I'm ready to be a part of the husky bloodline and I'm ready to connect with you guys."
Scouting Summary
Wesley Yates is a strong-framed guard who plays with a lot of confidence. He is efficient on the ball, taking care of possessions. Yates has deep range on his jump shot and is comfortable off the bounce or the catch. His release point is a little low, but the release is clean and repeatable. Yates has a strong handle, his understanding of change of paces gets him to his spots in the half-court. He is an average athlete, vertically and horizontally, but he competes and has toughness. Yates is a noted gamer and wants the ball in his hands. – On3's Jamie Shaw, National Recruiting Analyst