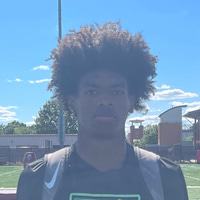 H.S. Scouting Summary
Productive, smooth outside receiver who dominates the competition at the high school level. Measured around 6-foot-2, 180 pounds prior to his junior season, but may have grown since. A fluid, smooth route-runner who creates separation with his acceleration and subtle change of direction. Shows the ability to locate and track the ball over his shoulder. Has good long speed, running an 11.04 second 100 meter time as a junior. Dominates average to subpar competition, accounting for 1,310 yards and 26 touchdowns on just 62 catches as a junior. Also plays basketball. Can improve on attacking the ball with his hands as he lets it get into his body at times. Also has some lapses in concentration. Among the younger blue-chip wide receivers in the 2023 cycle, turning 17 years-old in April of his junior year.
Junior Szn Highlights!
Highlights