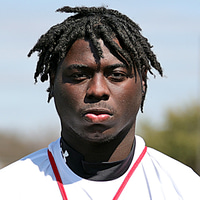 H.S. Scouting Summary
Physically-developed defensive lineman with advanced power along with length and quickness. Possesses a big frame with a muscled build and an 80-inch wingspan at 6-foot-4. Has brute strength which he pairs with initial quickness to create steady disruption along the line of scrimmage. Consistently shows quick and powerful hands at the point of attack with some advanced pass rush technique for a young defensive lineman. Very much a power player at this point in his development, but plays with some nuance and technical skill. Working at both defensive end and defensive tackle as a junior at a powerhouse program in Texas' highest classification. A strong, but not elite athlete. Turned in dominant showings at college camps prior to his junior season.
Reminds Us Of

Malcom Brown
2015 Draft: Rnd 1 Pick 32
David Hicks reminds us of Malcolm Brown - another former five-star defensive lineman from Texas - due to the combination of athleticism and play strength. Hicks is a around an inch taller than Brown, but both were bullies at the high school level with their ability to overpower offensive linemen.
Up Next
Junior Year
Highlights
Junior Year Highlight
Sophomore Year
Highlights
Sophomore Season
Freshman Year
Highlights
Freshman Season
David Hicks Jr.: Texas five-star defensive end ...
Camp
Five-star 2023 defensive end David Hicks Jr. out of Allen (Texas) High School has received offers...