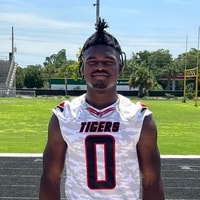 Claim This Profile
South Carolina Gamecocks
Recruiting Class of 2023
Natl.
185
LB
19
FL
39
H.S. Scouting Summary
Tackle machine at linebacker who has a knack for bringing down ball carriers all over the field. Totaled 157 tackles, 14 tackles for loss, 3.5 sacks as well as 2 interceptions his junior season. Has continued adding size heading into his senior season. Looks like a college-ready player now, measuring at over 6-foot-3.5 and around 220 pounds. Instinctive player that scans the field as quickly as anyone in the country. A true off-ball linebacker that can sink into zone coverage, play man against the slot or back, stuff the run and get to the quarterback as a free blitzer. May not be a top tier athlete at the position but plays fast due to his instincts. High floor prospect who could produce early on in his career at the next level.
Reminds Us Of

Reggie Ragland
HS Class of 2012
2016
Draft: Rnd

2

/

Pick

10
Like Reggie Ragland, Grayson Howard is a big, high effort and heady inside linebacker who is best as a high volume tackling run defender.
2023 LB Grayson Howard Soph HL
Highlights
Up Next
2023 LB Grayson Howard Soph HL
Highlights
Grayson Howard 2023 Sophomore SZN
2023 LB Grayson Howard Junior Mid-Season HL
Highlights
PUP Howard Junior Mid-SZN Highlights