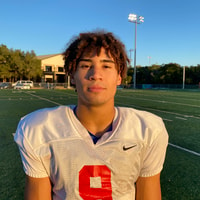 As a Recruit
Committed
7/15/22
H.S. Scouting Summary
Ultra productive two-sport superstar who has dominated on the basketball court and the gridiron in Texas' highest classification throughout his high school career. Starter at wide receiver for national high school powerhouse Austin Westlake since he was a freshman. Three-time state champion in football that totalled 66 catches for 1,274 yards and 20 touchdowns as a junior. Helped lead the basketball team to a state semifinals appearance where they lost in double overtime during his junior season. Body control and contortion are elite for his size. Has the rare ability to shape and manipulate his body in order to be in the best possible position to catch every ball thrown at him. Savvy route runner that gets in and out of his breaks effortlessly. Can see the basketball vertical ability translate to the field in going up to win 50-50 balls. Physical blocker in the run game. A bigger-bodied receiver who was close to 220 pounds as a sophomore. Lacks top end speed to scare defenders vertically. One of the most natural receivers in the country. Speed and ability to separate will be the biggest challenge for him at the next level. Has the advanced route running ability and physicality in order to thrive at the next level. High floor player who should heavily produce in college and potentially work himself onto NFL draft boards.
Reminds Us Of

David Bell
2022 Draft: Rnd 3 Pick 35
Jaden Greathouse is a thick, savvy receiver with a basketball background and high-end production. His physical characteristics and skill set as a reliable, technically sound and physical receiver who may not blow you away with speed reminds us of David Bell. Greathouse is a bit heavier and a touch taller than Bell at the same stage.
Junior Season Highlights
Highlights
Up Next
Junior Season Highlights
Highlights
Jaden Greathouse 2021 JR Season
Freshman Season Highlights
Highlights
2019 - Freshman Season
Sophomore Highlights
Highlights
Jaden Greathouse Highlights