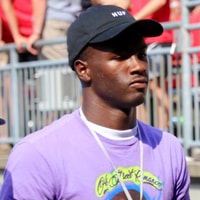 Claim This Profile
As a Recruit
Committed
12/21/22
H.S. Scouting Summary
One of the more flexible pass rushers in what is a deep group at the position in the 2023 cycle. Measured at around 6-foot-3, 22 -pounds with a 34.25-inch arm and 10-inch hand prior to his senior season. On the shorter side, but has plus length with a frame to add more weight. Shows an advanced first step along with the ability to dip and bend around the edge. A fluid, functional mover. Able to bend and turn the corner. Will need to continue adding bulk and mass, but has some functional strength that belies his current size. Productive as a junior, totaling 23 tackles for loss and 12 sacks. Backed up that season with 20.5 tackles for loss and 6.5 sacks as a senior. Plays with a high effort level on Friday nights. Also has a strong multi-sport profile as a top basketball player to go with a shot put toss at around 53 feet as a junior.
Reminds Us Of

Azeez Ojulari
HS Class of 2018
2021
Draft: Rnd

2

/

Pick

18
Joshua Mickens is a long pass rusher with good athleticism and functional strength despite being around 220 pounds. The same could be said for Azeez Ojulari when he was a high school prospect in the 2018 cycle.
Joshua Mickens - Lawrence Central - 2021 Junior Season Highlights
Up Next
Joshua Mickens - Lawrence Central - 2021 Junior...
Joshua Mickens - Lawrence Central - 2021 Junior Season Highlights
Sophomore Year
Highlights
Sophomore Year Highlights