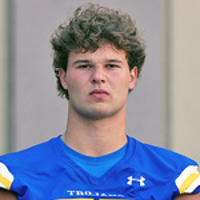 As a Recruit
Committed
2/17/22
H.S. Scouting Summary
Athletic multi-positional jumbo athlete who projects as a high upside offensive lineman long-term. Plays all over both lines of scrimmage for his high school team. Shows some of the best movement skills among offensive line prospects in the 2023 cycle. An effortless mover to the second level, showing quick feet and fluidity. Plays offensive line with the athleticism of a Power 5 defensive lineman. Employs considerable core strength and pop in his hands as a block finisher. Plays with impressive effort level and stamina considering his role as a two-way player. Relatively lean with the frame to add considerable weight once in a Power 5 strength program. Could project at multiple spots on the offensive line in college due to his versatile skill set and movement skills.
Up Next
Junior Season
Highlights
10 Game Luke Montgomery Junior Year
Sophomore Season
Highlights
Luke Montgomery Sophmore Year
Freshman Season
Highlights
Luke Montgomery C/O 2023 DE Findlay HS
Luke Montgomery: Nation's fifth-ranked offensiv...
Camp
Luke Montgomery is the country's No. 5-ranked offensive tackle and Ohio's No. 3-ranked prospect i...
Luke Montgomery: In-state 2023 prospect on huge...
Conversations
In-state 2023 prospect Luke Montgomery joins Birminology to open up on his huge expectations , wh...