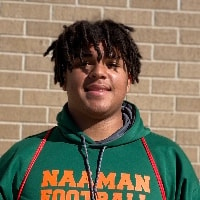 As a Recruit
Committed
11/20/22
H.S. Scouting Summary
Two-way lineman whose highest long-term upside is on the offensive line. Has some of the more explosive and violent hands in the 2023 cycle. Shocks and blows defenders off the ball with his initial punch, often resulting in emphatic pancake blocks. Excels as a run blocker and gets to the second level with ease. Also shows off his athleticism at defensive tackle, with a good first step and the ability to run down plays. His ability at the point of attack on offense also transfers over to taking on blocks as an interior defensive lineman. Measured 6-foot-4, 285 pounds with an 80-inch wing-span and 10-inch hand prior to his senior season. Could play any position along the offensive line. Shows off his explosion with a 53+ shot put toss as a junior. Also plays basketball. Will need to commit to playing offensive line to maximize his ultimate upside, but still has the ability to make an impact if he sticks to defense.
Reminds Us Of

Rashawn Slater
2021 Draft: Rnd 1 Pick 13
It may seem like a lofty comparison, but we really do see similarities between Markis Deal and former first-rounder and Pro Bowl offensive tackle Rashawn Slater at the same stage. For one, the high school video is similar, in our opinion. They each showed plus movement skills along with a violent punch and strong hands on contact. Both were also standouts in track & field, throwing over 50 feet in the shot put. Like Deal, Slater also played along the defensive line at the high school level before ultimately settling in to his highest upside position on the offensive front.
Up Next
Sophomore Year
Highlights
sophomore season
Junior season highlights
Highlights
Junior season highlights
Freshman Season Highlights
Highlights
Freshman Season Highlights