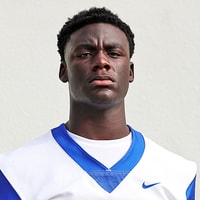 Hometown
Fort Lauderdale, FL
Miami Hurricanes
Recruiting Class of 2022
Natl.
93
EDGE
9
FL
16
H.S. Scouting Summary
Long-limbed defensive lineman with the frame to add substantial mass once in a college strength program. Loose and flexible in his movements with the ability to dip and bend as a pass rusher. Productive while facing some top competition in South Florida. Plays on the edge in high school but is likely to grow into a defensive lineman. Can stand to improve his first step quickness and closing speed. Registers as a solid, not great athlete in the combine setting. Younger for the class.
Up Next
Junior Year
Highlights
Junior Season 6 game Highlights
Sophomore Year
Highlights
Sophomore Highlights
Freshman Year
Highlights
freshman year
2022 DE Nyjalik Kelly At Under Armour Miami Camp
Highlights
2022 DE Nyjalik Kelly at the Under Armour Miami Camp in March. 1st rep vs Daughtry Richardson. 2...
South Florida speed rusher Nyjalik Kelly (2022)...
Highlights
Warchant.com recruiting analyst Michael Langston breaks down the game of 2022 edge rusher Nyjalik...