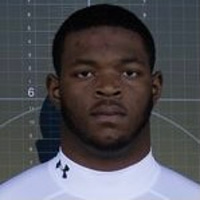 High School
Thayer Academy
As a Recruit
High School
Thayer Academy
H.S. Scouting Summary
Aggressive offensive lineman with nimble movement skills and a positive athletic profile. Has plus length for the position at 6-foot-5, 295 pounds with a 6-foot-10.5 wing-span. Has shown good short area quickness in the camp setting. Also spends time as a wrestler and thrower in the shot put. Plays both ways at his high school as an offensive tackle and defensive lineman. Has some dominant flashes, particularly as a run blocker. Moves well to the second level, locating and blowing up linebackers on contact. Finishes blocks at a high rate and works to plant defenders into the turf. Shows similar emphatic finishing ability on defense, where he suplexes ball carriers at times. Plays low and understands leverage. Will need to continue developing his pass set technique. Could also stand to improve his ankle flexion a bit. Faces subpar competition and may need some time to adjust to the uptick in talent level once in college.
Reminds Us Of

Joshua Garnett
2016 Draft: Rnd 1 Pick 28
Samson Okunlola reminds us of Joshua Garnett due to his size, length and ability as a run blocker at the same stage. Both showed dominant tendencies while playing lesser competition at the high school level. Okunlola may be more of a pure offensive tackle prospect at the same stage.
Up Next
Junior Season
Highlights
JUNIOR TAPE
Sophomore Season
Highlights
Pancake City!!!