15 for 15: Key battles that will define recruiting's final stretch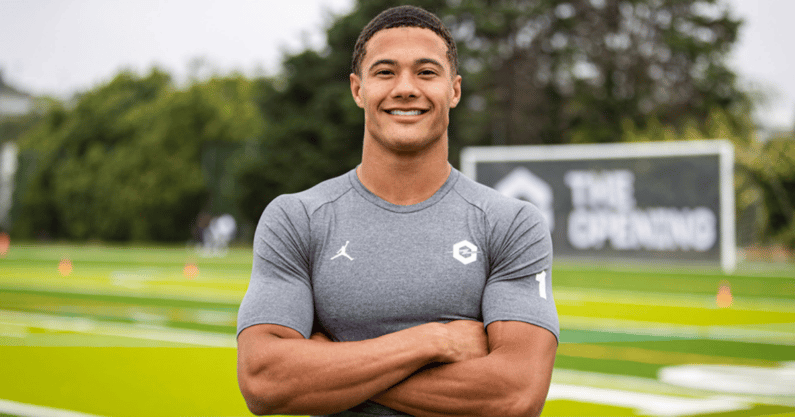 Now that December has arrived, we're just 15 days away from the beginning of the early signing period. There will be top recruits, largely because of the uncertainty in the coaching rankings, that decide to wait things out. But around 90% of recruits will treat Dec. 15 as signing day. Here's a look at the 15 battles that will define recruiting's final push.
Walter Nolen – Texas A&M commit
Background: Powell (Tenn.) High
On3 Consensus Ranking: No. 2
The Skinny: Five-Star Plus+ defensive lineman Walter Nolen sent recruiting shockwaves throughout the college football world with his commitment to Texas A&M. But the Aggies are going to have to fight local-favorite Tennessee to keep Nolen on board.
Josh Heupel and Rodney Garner were quickly in contact with Nolen after his commitment and they've continued to push hard. His official visit to Tennessee is set for this weekend.
The Vols are not going to make this easy for Texas A&M in these final 15 days. This recruitment is not going to be over until Nolen's papers are signed.
The Aggies are the leaders and have the commitment for now. But do not expect the Vols to go away.
Domani Jackson
Background: Santa Ana (Calif.) Mater Dei
On3 Consensus Ranking: No. 3
The Skinny: Five-Star Plus+ cornerback Domani Jackson narrowed his list to two schools – Alabama and USC – on Tuesday. He eliminated Michigan from consideration. The 6-foot-1, 180-pound Jackson was formerly committed to the Trojans, but he recently decommitted. Jackson visited USC and Michigan multiple times and took an official visit to Alabama on Nov. 6.
Now that it's down to the Tide and Trojans, it'll turn into one of the most epic battles of the recruiting cycle and it'll be compacted into the final 15 days.
Can new USC coach Lincoln Riley swoop in to save the day for USC? Or will Nick Saban do what he always does by sealing the deal?
Who finishes with the nation's top recruiting class will likely come down to what happens with Jackson's decision.
Shemar Stewart
Background: Opka Locka (Fla.) Monsignor Pace
On3 Consensus Ranking: No. 5
The Skinny: Five-star defensive lineman Shemar Stewart is another major battle to watch in the final 15 days.
With Texas A&M high on his list, the Aggies could cement an incredible class with a commitment from Stewart. However, can the Aggies get him on board in December? Or, will he stick with his original plan to wait until February?
That storyline alone is worth paying attention to.
Gabriel Brownlow-Dindy – Oklahoma commit
Background: Lakeland (Fla.) High
On3 Consensus Ranking: No. 6
The Skinny: Gabriel Brownlow-Dindy, the only five star committed to Oklahoma, is the prize of the Sooners' recruiting class. With the Sooners still looking for a new head coach as of Wednesday afternoon, there's a lot of uncertainty about what's going to happen in the 15 days before the start of the early signing period.
Brownlow-Dindy told On3's Hayes Fawcett that former Oklahoma defensive coordinator Alex Grinch leaving for USC does put a wrench in his plans. But he plans on waiting before making any decisions
"It does kind of affect some stuff," Brownlow-Dindy said of Grinch leaving. "I'm just letting stuff play out over the next week."
Can the Sooners keep him on board? Will Texas A&M or somebody else make a push? All are questions that will have to be answered in short order.
Harold Perkins
Background: Cypress (Texas) Cy Park
On3 Consensus Ranking: No. 7
The Skinny: Can the Aggies wrap things up? Or will LSU and new coach Brian Kelly come in and change things up? Or maybe there's another curveball with Steve Sarkisian and Texas?
The uncertainty about what five-star linebacker Harold Perkins does definitely shapes the final 15 days before the start of the early signing period. Landing him could help A&M push for the No. 1 class in the country. On the flip side, it would be a major recruiting win for Sark and Kelly if they can pull it off.
Devon Campbell
Background: Arlington (Texas) Bowie
On3 Consensus Ranking: No. 9
The Skinny: Just when it seemed like five-star IOL Devon Campbell was zeroing in on a decision, coaching changes might make his decision interesting during the next 15 days.
Are Alabama and Texas still the teams to beat? Has USC jumped back into the picture now that Riley – who was recruiting him for Oklahoma – is now the head coach of the Trojans? This recruitment definitely feels like something that could have a few more twists and turns.
Kelvin Banks – Oregon commit
Background: Humble (Texas) Summer Creek
On3 Consensus Ranking: No. 13
The Skinny: Five-star offensive tackle Kelvin Banks made national headlines when spurned local schools Texas and Texas A&M to commit to Mario Cristobal and the Oregon Ducks on July 4.
Texas, which needs franchise offensive linemen like Banks, has yet to relent in its pursuit of the Houston area star. Neither has Texas A&M. Intel indicates there are some family dynamics that might keep Banks close to home.
If they play out, that could mean good news for the Longhorns or Aggies and bad news for the Ducks. But it's definitely a recruitment that needs to be followed during the next 15 days.
Kiyaunta Goodwin – Kentucky commit
Background: Charlestown (Ind.) High
On3 Consensus Ranking: No. 15
The Skinny: Kentucky fans will be sitting on pins and needles for the next 15 days waiting to get the final word on what five-star offensive tackle Kiyaunta Goodwin.
Goodwin has already taken official visits to Michigan, Alabama, Florida State and Texas A&M, and then Michigan State is set to host him on Dec. 10. Most believe Alabama is the biggest threat to the Wildcats, but Michigan is a factor, too.
Goodwin has been at almost every home game for Kentucky in 2021, and the battle to keep him on board won't be easy. To help, the Wildcats recently made its own move to help keep Goodwin committed.
Associate head coach Vince Marrow received a commitment from three-star cornerback Elijah Reed, who is close with Goodwin. The two train together at Aspirations Gym in Louisville.
Denver Harris
Background: Houston North Shore
On3 Consensus Ranking: No. 16
The Skinny: Five-star cornerback Denver Harris could be the crown jewel in A&M's defensive back recruiting class. But Alabama is somebody to keep an eye on during the next 15 days.
The Longhorns still are involved. LSU is another school that could make another run at Harris now that Kelly is on board and Corey Raymond still in Baton Rouge.
Josh Conerly Jr.
Background: Seattle Rainier Beach
On3 Consensus Ranking: No. 18
The Skinny: Five-star offensive tackle Josh Conerly Jr. has taken a slow and steady approach to his recruitment. But now that the coaching change dust with some of his top schools has settled will that cause to speed things up over the next 15 days?
He still plans to sign in February. He still plans to take all five of his official visits and has only used one so far to Michigan.
But now that we know who's in charge at USC and Washington, we might have a better idea of where he's leaning over the next two weeks.
Jaheim Singletary – Georgia commit
Background: Jacksonville (Fla.) Riverside
On3 Consensus Ranking: No. 19
The Skinny: Five-star cornerback Jaheim Singletary is committed to Georgia. But new Florida Gators coach Billy Napier is going to put the full-court press on him over the next 15 days.
It's a commitment that will be stress-tested over the next two weeks. Can UGA hang on to the coveted corner? Or will Napier pull off a recruiting shocker and keep him closer to home?
Xavier Nwankpa
Background: Altoona (Iowa) Southeast Polk
On3 Consensus Ranking: No. 29
The Skinny: Outside of Goodwin, five-star safety Xavier Nwankpa is the top recruiting battle left in the Midwest.
Iowa fans are hoping and hoping that Nwankpa stays home to play for the local favorite. Meanwhile, Ohio State looks to further cement its top-four recruiting class.
There's a lot of buzz about both teams and coaches at both schools feel like they have a legit shot. That's what makes Nwankpa one of the best stories to follow leading up to his commitment on Dec. 8.
Marvin Jones Jr.
Background: Ft. Lauderdale (Fla.) American Heritage
On3 Consensus Ranking: No. 43
The Skinny: One of the biggest names impacted by coaching changes is four-star EDGE Marvin Jones Jr.
A social media post from Jones' mother, Alexsandra Jones, appears to indicate the Sooners no longer are a factor in her son's recruitment. In a reply to a tweet about Oklahoma losing commitments from Los Alamitos (Calif.) High Five-Star Plus+ quarterback Malachi Nelson, American Heritage four-star wide receiver Brandon Inniss and Jacksonville Trinity Christian Academy four-star running back Treyaun Webb, Jones responded with "And #marvinjonesjr."
While Marvin Jones Jr. never went public with a commitment to the Sooners, intel indicated Oklahoma was very much a factor. Jones told On3's Chad Simmons recently the Sooners were in a good spot in his recruitment, along with Alabama, Florida State and Georgia.
Jones is scheduled to visit Georgia officially on the weekend of Dec. 10. He was talking about wrapping things up shortly after that. It'll be interesting to see what the news in Norman does to his timetable over the next 15 days.
Devin Brown
Background: Draper (Utah) Corner Canyon
On3 Consensus Ranking: No. 47
The Skinny: Four-star Devin Brown is the most coveted uncommitted quarterback prospect in the country.
He was listed among the biggest risers in the latest On300 rankings released about a week ago. He is the No. 27 player in the On3 rankings and the second-best quarterback behind Drew Allar.
Brown decommitted last week from USC and has been heavily recruited by Ole Miss, Texas and Ohio State for more than a month now.
Now that USC has its coach will the Trojans get back into the picture? Or will the commitment from 2023 top quarterback Malachi Nelson sour USC's chances?
Can Lane Kiffin seal the deal? Or will Texas and Ohio State land the quarterback that will grab national headlines?
We'll know more soon, but this is without question one of the biggest national storylines to follow over the next 15 days.
Matthew Golden
Background: Houston (Texas) Klein Cain
On3 Consensus Ranking: No. 220
The Skinny: There's nothing better in recruiting than an old-fashioned former Southwest Conference recruiting battle. And that's exactly what is emerging in the final 15 days for four-star receiver Matthew Golden.
Golden is considering Baylor, Texas and Houston since backing off a TCU commitment. Golden has an official visit scheduled to Baylor on Dec. 10, and likely will be at Texas this weekend with Houston mid-week next week. TCU keeping Malcolm Kelly on staff and adding ace recruiter Bryan Carrington could be impactful down the stretch, too.