2021 college football bowl rankings, from worst to first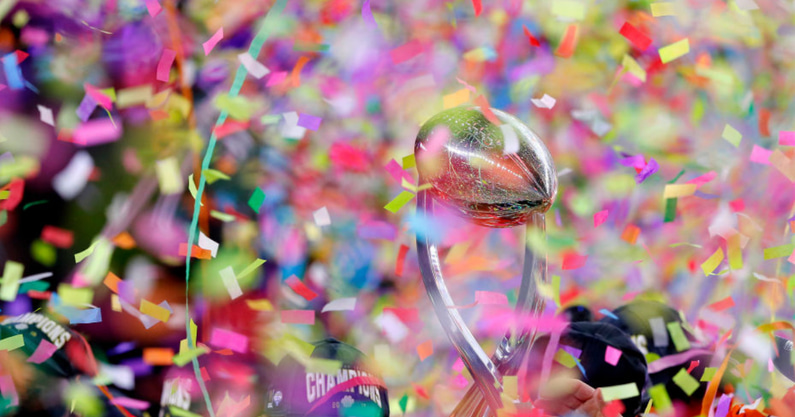 It's bowl season, which is a great thing. But it's also the holiday season, which means family is involved, and anytime family is involved, there's a time crunch. And time crunches can be bad when football is involved.
Well, in the spirit of the season — you know, giving and all that — we're here to provide help. We've looked at all 42 bowl games and produced our own special "watchability factor" rankings. (It's a secret formula, by the way.)
Here they are, from worst to first. If you're like us, you want to watch as much of every game as you possibly can. But with the idea of "time crunch" swimming around in your head, feel comfortable heeding our rankings.
42. Frisco Football Classic, December 23, Miami (Ohio) vs. North Texas: If you're not familiar with this bowl, well, that's because it was created last week when folks in the bowl business realized two bowl-eligible Group of 5 teams weren't going to get bids. So — voila! — the Frisco Football Classic.
41. Myrtle Beach Bowl, December 20, Old Dominion vs. Tulsa: Uhhh … give us a minute.
40. Bahamas Bowl, December 17, Middle Tennessee vs. Toledo: This one was announced on November 28. One reason: You need a passport to go to the Bahamas, and schools always need some lead time to make sure all their players indeed have passports.
39. Hawaii Bowl, Christmas Eve, Memphis at Hawaii: You can only watch so much of "A Christmas Story" on Christmas Eve. So while you're wrapping those gifts you should've wrapped about two weeks earlier, put "Mele Kalikimaka" on your turntable or iPod or whatever and turn on the Hawaii Bowl with the sound down.
38. Famous Idaho Potato Bowl, December 21, Kent State vs. Wyoming: The early weather forecast for December 21 in Boise, Idaho, is a high of 33 degrees. That means there may be some blue appendages playing on the blue turf at Boise State.
37. New Mexico Bowl, December 18, Fresno State vs. UTEP: Fresno State QB Jake Haener, who is 11th in the nation with 32 TD passes, is in the transfer portal and won't play. This is UTEP's third bowl appearance since 2005 — and all three have been in the New Mexico Bowl.
36. Camellia Bowl, Christmas Day, Ball State vs. Georgia State: If history is a guide, at least this one should be close. This will be the eighth Camellia Bowl; each of the preceding seven has been a one-score game and five have been decided by five or fewer points. (Truth be told, we actually moved this up in the rankings because it's on Christmas. Yes, family is a wonderful thing … but you know what they say about too much of a good thing. Take a few minutes for yourself, pour some eggnog and watch the Cardinals-Panthers for a while.)
35. Military Bowl, December 27, Boston College vs. East Carolina: This game is at Navy's stadium, and ECU was there November 20 when it beat the Midshipmen 38-35.
34. Pinstripe Bowl, December 29, Maryland vs. Virginia Tech: A Big Ten also-ran against an ACC also-ran (that fired its coach) on a Wednesday afternoon. If that won't get you psyched for the new year, what will?
33. Duke's Mayo Bowl, December 30, North Carolina vs. South Carolina: This actually should be a hot ticket, considering the close proximity of each campus. But we won't hold it against you if you don't want to watch two Power 5 teams that were a combined 6-10 in league play.
32. LendingTree Bowl, December 18, Eastern Michigan vs. Liberty: Wanna win some cash? Bet your friends as to where this game is played. (It's at Hancock Whitney Stadium, in Mobile, Ala.)
31. Arizona Bowl, December 31, Boise State vs. Central Michigan: Boise State's bowl streak ended at 18 consecutive seasons when the Broncos opted out of the postseason in 2020. Central's past two bowl appearances were against Mountain West teams, and the Chippewas lost both by a total of 60 points. Weirdly, the second half of this will start right around the same time as the Cotton Bowl kicks off, so …
30. Armed Forces Bowl, December 22, Army vs. Missouri: Interesting dichotomy at play. Mizzou's run defense is rancid and Army's rushing offense is No. 2 in the nation.
29. Gasparilla Bowl, December 23, Florida vs. UCF: This will be a big deal in parts of the state of Florida. Elsewhere? Not so much.
28. Texas Bowl, January 4, Kansas State vs. LSU: Ed Orgeron won't be on the LSU sideline. The question now is which LSU players will opt out. This is the penultimate game of the season, which doesn't seem right.
27. Quick Lane Bowl, December 27, Nevada vs. Western Michigan: This game will be far more interesting if Nevada QB Carson Strong, a big-time NFL prospect who was the Mountain West offensive player of the year, decides to play.
26. New Orleans Bowl, December 18, Louisiana vs. Marshall: Louisiana is 12-1 and won the Sun Belt. But coach Billy Napier has left for Florida.
25. First Responder Bowl, December 28, Air Force vs. Louisville: Air Force leads the nation in rushing and Louisville is 20th.
24. Guaranteed Rate Bowl, December 28, Minnesota vs. West Virginia: These teams never have played before, so there's that.
23. L.A. Bowl, December 18, Oregon State vs. Utah State: This is the inaugural L.A. Bowl, and it's played at SoFi Stadium. Not a bad bowl trip at all.
22. Independence Bowl, December 18, BYU vs. UAB: BYU was 13th in the final CFP rankings, and it heads to the Independence Bowl for the postseason. Nothing against the people in Shreveport, but we're betting there were more than a few folks associated with BYU who have been muttering, "This kind of stuff won't happen when we're in the Big 12."
21. Sun Bowl, December 31, Miami vs. Washington State: Will Miami have a coach? And even if it does, will Hurricanes players be motivated? Still, this could be an interesting quarterback matchup with Miami's Tyler Van Dyke and Washington State's Jayden de Laura.
20. Fenway Bowl, December 29, SMU vs. Virginia: Both coaches are gone. But assuming both quarterbacks play (UVa's Brennan Armstrong and SMU's Tanner Mordecai), let's set the over-under on combined pass attempts at 85.
19. Birmingham Bowl, December 28, Auburn vs. Houston: The Cougars are 11-2 and fell to Cincinnati in the AAC title game. Their "reward" is a matchup against a 6-6 team from the SEC. Ehhh.
18. Cure Bowl, December 17, Coastal Carolina vs. Northern Illinois: A really intriguing matchup of two of the best Group of 5 teams this season. NIU is the MAC champ, and Coastal has one of the coolest offenses in the nation.
17. Las Vegas Bowl, December 30, Arizona State vs. Wisconsin: This is the first time this bowl will be played at Allegiant Stadium. And while Arizona State's campus is about 300 miles from Vegas, we're betting the stands will be awash with those wearing Wisconsin red.
16. Outback Bowl, January 1, Arkansas vs. Penn State: Both spent a lot of the season in the top 25; Arkansas still resides there. Opt-outs could wreak havoc, but this has the look of an extremely close game.
15. Cheez-It Bowl, December 29, Clemson vs. Iowa State: Considering both these teams opened the season in the top five, a preseason forecast of a Clemson-Iowa State game in the postseason might have meant a CFP semifinal. Alas, instead they meet in a lesser Orlando bowl.
14. Liberty Bowl, December 28, Mississippi State vs. Texas Tech: Two Power 5 teams that are a combined 13-11. But it's also Mike Leach vs. Texas Tech, and that makes this a lot more interesting than it would be.
13. Citrus Bowl, January 1, Iowa vs. Kentucky: The teams have combined for 19 wins, which is impressive. Truthfully, though, Iowa's offense isn't exactly the wake-up call you need — even at 1 p.m. — on New Year's Day. (An aside: Both FBS teams from Iowa will play in Orlando three days apart. Never will more Natural Light be sold in Central Florida than in that week.)
12. Boca Raton Bowl, December 18, Appalachian State vs. Western Kentucky: Western Kentucky has 57 TD passes this season The NCAA single-season record is 61, by LSU in 2019. App State has surrendered 12 TD passes this season, 10th-fewest in the nation. Can the Hilltoppers throw five TD passes to set the record?
11. Alamo Bowl, December 29, Oklahoma vs. Oregon: On paper, this is a biggie, as it's two 10-win teams that were in the CFP hunt until late November meeting up. But Oklahoma is looking for a new coach and Oregon might be. Focus and want-to are going to be big — and there may be neither from the players.
10. Music City Bowl, December 30, Purdue vs. Tennessee: Some productive offensive players will be on view (assuming they play, of course), namely Tennessee QB Hendon Hooker and Purdue WR David Bell. Purdue QB Aidan O'Connell can throw it around, too. The Boilermakers have the better defensive stats.
9. Holiday Bowl, December 28, NC State vs. UCLA: Good quarterbacks, talented running backs, solid receivers. This could be good. NC State is a lot better defensively, though.
8. Frisco Bowl, December 21, San Diego State vs. UTSA: Take Cincinnati out of the mix, and these teams would've made the short list for "Best team in the Group of 5."
7. Fiesta Bowl, January 1, Notre Dame vs. Oklahoma State: Hey, Marcus Freeman, how you feeling? Nothing like your first game as a head coach coming in a New Year's Six contest.
6. Peach Bowl, December 30, Michigan State vs. Pitt: Pitt's Kenny Pickett is second in the Power 5 with 42 TD passes. Michigan State is last nationally in pass defense; it allows 26 more yards per game than the next-worst team, which is Duke. Pickett threw for 416 on Duke.
5. Gator Bowl, December 31, Texas A&M vs. Wake Forest: These schools played in the 2017 Belk Bowl (now the Duke's Mayo Bowl), and Wake won 55-52. This one won't be as high-scoring, but it is an intriguing matchup anyway.
4. Sugar Bowl, January 1, Baylor vs. Ole Miss: Lane Kiffin, Matt Corral and Ole Miss' offense vs. Dave Aranda, Jalen Pitre and Baylor's defense. (Well, assuming Corral plays.) Bring it on.
3. Rose Bowl, January 1, Ohio State vs. Utah: This is the Utes' first appearance in the Rose Bowl, so it's already memorable. It would become extremely memorable if they can upset the Buckeyes.
2. Orange Bowl, December 31, Georgia vs. Michigan: Georgia's seemingly impenetrable defense was shredded by Alabama in the SEC Championship Game. And, man, hasn't Jim Harbaugh turned the tables on a lot of his detractors this season?
1. Cotton Bowl, December 31, Alabama vs. Cincinnati: Think of this as a cultural clash. It's the old guy at the end of the street vs. the loud new neighbor across the street. It's Cadillac vs. Range Rover. It's old money vs. nouveau riche. It's blue blood vs. new blood.