2021 College Football Playoff Rankings: Committee reveals Week 13 CFP top-25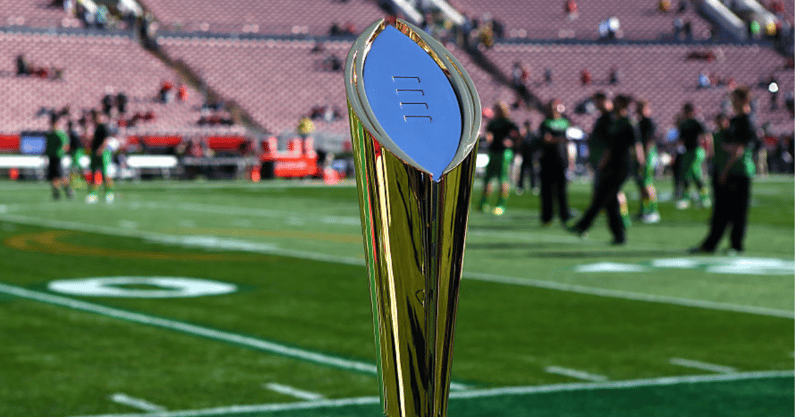 The College Football Playoff Selection Committee revealed its updated 2021 poll ahead of a loaded Week 13 slate full of rivalry action. The committee ranked the top contenders for the four-team playoff and those with a chance at the New Year's Six bowls during ESPN's Tuesday night reveal show.
With big movement after Saturday's big wins and upset losses, the Week 13 2021 CFP rankings offer a new look at where the committee views each team, without head-to-head drama. The CFP Selection Committee provided a top 25 based on the latest results and ongoing power struggles between key storyline builders. As the season winds down, the committee looks at each data points for evenly matched teams.
Still the best, the Georgia Bulldogs remain on top, again making them unanimous across the AP poll, coaches' poll and CFP rankings. Georgia's dominance continues to be the one thing all analysts can agree on this season, leaving little doubt on top of any rankings. With an SEC Championship date against Alabama looming, the SEC can shake up the rankings over the final weeks.
The remainder of the top four – and top 25 – continued to show what this version of the CFP Selection Committee values. With debate over head-to-head pushed aside, conference value, strength of schedule and Group of Five respect reach the forefront. As the final authority, the CFP Selection Committee issued their official ruling on all debates, paving the way for future discussion on the matter.
Georgia, Ohio State, Alabama and Cincinnati make up the new-look top-four, with Michigan and Notre Dame on the outside looking in. UTSA (No. 22) is the only undefeated team which remains outside the CFP bubble heading into Week 13. After another exciting slate of college football games, take a look at the 2021 CFP rankings.
Week 13 CFP Rankings
Georgia (11-0)
Ohio State (10-1)
Alabama (10-1)
Cincinnati (11-0)
Michigan (10-1)
Notre Dame (10-1)
Oklahoma State (10-1)
Baylor (9-2)
Ole Miss (9-2)
Oklahoma (10-1)
Oregon (9-2)
Michigan State (9-2)
BYU (9-2)
Wisconsin (8-3)
Texas A&M (8-3)
Iowa (9-2)
Pittsburgh (9-2)
Wake Forest (9-2)
Utah (8-3)
NC State (8-3)
San Diego State (10-1)
UTSA (11-0)
Clemson (8-3)
Houston (10-1)
Arkansas (7-4)