2021 College Football Playoff Rankings: Committee reveals new CFP top-25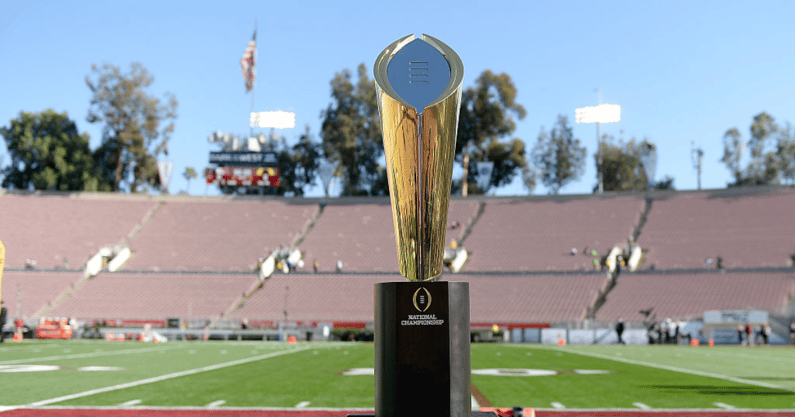 The College Football Playoff Selection Committee revealed its updated 2021 poll ahead of an important Week 12 slate for top 25 teams. The committee ranked the top contenders for the four-team playoff and those with a chance at the New Year's Six bowls during ESPN's Tuesday night reveal show.
Without much movement from Week 11, the Week 12 2021 CFP rankings biggest change came by way of Oklahoma's loss to Baylor, which seemingly justified the committee's low ranking. The CFP Selection Committee provided a top 25 based on the latest results and ongoing power struggles between key storyline builders. As each week progresses, the committee will accumulate more data points for comparing teams.
Still undefeated after a road test, the Georgia Bulldogs claim the top spot, again making them unanimous across the AP poll, coaches' poll and CFP rankings. Georgia's dominance continues to be the one thing all analysts can agree on this season, leaving little doubt on top of any rankings. As the SEC West goes wild and Big Ten East races heat up, there is plenty room for ups and downs over the final weeks.
The remainder of the top four – and top 25 – continued to show what this version of the CFP Selection Committee values. Debates over Michigan and Michigan State, Cincinnati's lack of respect and Notre Dame's late season push dominated headlines throughout the week. As the final authority, the CFP Selection Committee issued their official ruling on all debates, paving the way for future discussion on the matter.
Georgia, Alabama, Oregon and Ohio State make up the top-four, with Cincinnati, Michigan and Michigan State on the outside looking in. UTSA (No. 22) is the only undefeated team which remains outside the CFP bubble heading into Week 12. After another exciting slate of college football games, take a look at the 2021 CFP rankings.
Week 12 CFP Rankings
Georgia (10-0)
Alabama (9-1)
Oregon (9-1)
Ohio State (9-1)
Cincinnati (10-0)
Michigan (9-1)
Michigan State (9-1)
Notre Dame (9-1)
Oklahoma State (9-1)
Wake Forest (9-1)
Baylor (8-2)
Ole Miss (8-2)
Oklahoma (9-1)
BYU (8-2)
Wisconsin (7-3)
Texas A&M (7-3)
Iowa (8-2)
Pittsburgh (8-2)
San Diego State (9-1)
NC State (7-3)
Arkansas (7-3)
UTSA (10-0)
Utah (7-3)
Houston (9-1)
Mississippi State (6-4)