College football bowl schedule, with scores, TV info and odds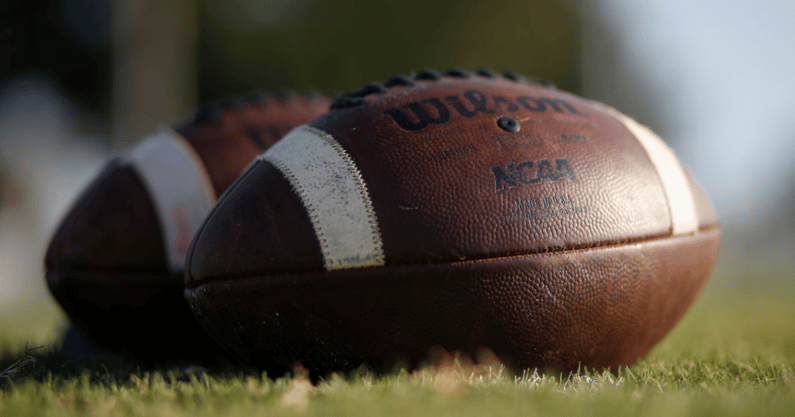 A look at the 2022-23 college football bowl schedule.
First is a look at the three games involved in the College Football Playoff; then comes the listings of the "other" bowls. All times Eastern.
COLLEGE FOOTBALL PLAYOFF
Semifinal: Fiesta Bowl
Date: December 31
Site: State Farm Stadium, Glendale, Ariz.
Matchup: No. 2 Michigan (13-0) vs. No. 3 TCU (12-1)
Time/TV: 4 p.m., ESPN
The line: Michigan by 7.5
Semifinal: Peach Bowl
Date: December 31
Site: Mercedes-Benz Stadium, Atlanta
Matchup: No. 1 Georgia (13-0) vs. No. 4 Ohio State (11-1)
Time/TV: 8 p.m., ESPN
The line: Georgia by 6.5
National championship game
Date: January 9
Site: SoFi Stadium, Inglewood, Calif.
Matchup: Semifinal winners
Time/TV: 8 p.m., ESPN
OTHER BOWLS
December 16
BAHAMAS BOWL
Site: Thomas A. Robinson National Stadium, Nassau
Result: UAB 24, Miami of Ohio 20
The buzz: The Blazers scored with 1:33 left, then stopped the RedHawks' Jalen Walker 2 yards short of the end zone after a reception on the game's final play to secure the win.
CURE BOWL
Site: Exploria Stadium, Orlando
Result: Troy 18, UTSA 12
The buzz: In the only matchup of conference champions in the entire postseason, defense led the way in helping Troy finish 12-2. The Trojans forced five turnovers, including two interceptions, in overcoming a poor offensive performance (just 169 offensive yards). UTSA (11-3), which had six sacks and 13 tackles for loss, led 12-0 midway through the second quarter.
December 17
FENWAY BOWL
Site: Fenway Park, Boston
Result: Louisville 24, Cincinnati 7
The buzz: In a matchup of teams who have lost their coaches (Louisville's Scott Satterfield is the new guy at Cincinnati; he replaces Luke Fickell, who left for Wisconsin), the Cardinals rushed for 287 yards in beating the Bearcats. Maurice Turner (160 yards) and Jawhar Jordan (115 yards, two TDs) each rushed for 100 yards for Louisville.

LAS VEGAS BOWL
Site: Allegiant Stadium, Las Vegas
Result: Oregon State 30, Florida 3
The buzz: The Beavers (10-3) dominated in getting to the 10-win plateau for just the third time in school history. Oregon State had four sacks and 11 tackles for loss in holding Florida to 219 total yards. Florida kicked a 40-yard field goal with 37 seconds left, extending its NCAA-record streak to 436 consecutive games without being shut out.

LA BOWL
Site: SoFi Stadium, Inglewood, Calif.
Result: Fresno State 29, Washington State 6
The buzz: The Bulldogs cruised to their 10th win, outgaining the Cougars 501-182. Jordan Mims rushed for 209 yards and two touchdowns as Fresno State won 10 games for the second year in a row and the fourth time in six seasons.

LENDINGTREE BOWL
Site: Hancock Whitney Stadium, Mobile, Ala.
Result: Southern Miss 38, Rice 24
The buzz: Frank Gore Jr. rushed for 329 yards and two TDs as the Golden Eagles prevailed. The yardage total is the most in NCAA bowl history. Rice led 24-17 with four minutes left in the third quarter.

NEW MEXICO BOWL
Site: University Stadium, Albuquerque
Result: BYU 24, SMU 23
The buzz: BYU held on for the win after the Mustangs failed on a two-point conversion attempt with 8 seconds left. The Cougars won despite managing just 256 total yards. The game occurred two days shy of the 42nd anniversary of the famous (or infamous, depending upon your point of view) 1980 Holiday Bowl, when BYU scored 21 points in the final 2:33 to edge SMU 46-45. The Cougars won on a last-play, 41-yard "Hail Mary" from Jim McMahon to Clay Brown.
FRISCO BOWL
Site: Toyota Stadium, Frisco, Texas
Result: Boise State 35, North Texas 32
The buzz: The Broncos rushed for 318 yards and three TDs to hold off the Mean Green. Backup RB Ashton Jeanty – who was playing about 5 miles from where he went to high school – rumbled for 178 yards and a TD, and QB Taylen Green rushed for 119 and two scores as Boise State won 10 games for the 17th time this century. It was the final game for Boise State offensive coordinator Dirk Koetter and North Texas defensive coordinator/interim coach Phil Bennett, both of whom are retiring.
December 19
MYRTLE BEACH BOWL
Site: Brooks Stadium, Conway, S.C.
Result: Marshall 28, UConn 14
The buzz: The Thundering Herd led 21-0 at halftime, including a pick-six, and cruised home. Marshall rushed for 210 yards and had nine tackles for loss, three interceptions, eight pass breakups and seven quarterback hurries. This was UConn's first bowl appearance since 2015.
December 20
FAMOUS IDAHO POTATO BOWL
Site: Albertsons Stadium, Boise, Idaho
Result: Eastern Michigan 41, San Jose State 27
The buzz: Eastern Michigan used a 21-point second quarter to take control and get to nine wins for just the second time in school history; it also was just the second bowl win in school history. The Eagles trailed 13-0 in the first quarter before scoring 33 consecutive points. San Jose State had committed just six turnovers all season, but EMU forced three.
BOCA RATON BOWL
Site: FAU Stadium, Boca Raton, Fla.
Result: Toledo 21, Liberty 19
The buzz: The Rockets built a 21-7 lead, then withstood two touchdowns in the final 7:24 to get the win. Liberty failed on two-point conversions after each of its late touchdowns. Toledo enjoyed a huge time-of-possession advantage (40:03 to 19:57), thanks to going 10-of-17 on third down.
December 21
NEW ORLEANS BOWL
Site: Superdome, New Orleans
Result: Western Kentucky 44, South Alabama 23
The buzz: Austin Reed finished off a fantastic first season with the Hilltoppers by throwing for 497 yards and four TDs in an easy victory. Reed, who transferred from Division II West Florida in the offseason, threw three TD passes in the first half; one came on the final play and gave Western Kentucky a 31-3 halftime lead. He finishes the season with 4,744 yards and 40 TDs. The Hilltoppers had three receivers with 100 yards. Last season, then-Western QB Bailey Zappe threw for 422 yards and six TDs in a bowl win over Appalachian State.
December 22
ARMED FORCES BOWL
Site: Amon G. Carter Stadium, Fort Worth, Texas
Result: Air Force 30, Baylor 15
The buzz: The Falcons rushed for 276 yards and held the ball for 40:03 in getting their 10th win of the season. Baylor was 0-of-11 on third down. Air Force led 9-7 at halftime, then outscored the Bears 14-0 in the third quarter to take control. The Falcons ran 40 plays in the second half and had the ball for 20:36. Air Force's Brad Roberts rushed for 116 yards and two TDs, giving him a single-season school-record 1,613 yards this season.
Friday
INDEPENDENCE BOWL
Site: Independence Stadium, Shreveport, La.
Matchup: Houston (7-5) vs. Louisiana (6-6)
Time/TV: 3 p.m., ESPN
The line: Houston by 6.5
GASPARILLA BOWL
Site: Raymond James Stadium, Tampa
Matchup: Missouri (6-6) vs. Wake Forest (7-5)
Time/TV: 6:30 p.m., ESPN
The line: Wake Forest by 1.5
Saturday
HAWAII BOWL
Site: Clarence T.C. Ching Athletics Complex, Honolulu
Matchup: Middle Tennessee State (7-5) vs. San Diego State (7-5)
Time/TV: 8 p.m., ESPN
The line: San Diego State by 6.5
Monday
QUICK LANE BOWL
Site: Ford Field, Detroit
Matchup: Bowling Green (6-6) vs. New Mexico State (6-6)
Time/TV: 2:30 p.m., ESPN
The line: Bowling Green by 3
Tuesday
CAMELLIA BOWL
Site: Cramton Bowl, Montgomery, Ala.
Matchup: Buffalo (6-6) vs. Georgia Southern (6-6)
Time/TV: Noon, ESPN
The line: Georgia Southern by 3.5
FIRST RESPONDER BOWL
Site: Gerald J. Ford Stadium, Dallas
Matchup: Memphis (6-6) vs. Utah State (6-6)
Time/TV: 3:15 p.m., ESPN
The line: Memphis by 7.5
BIRMINGHAM BOWL
Site: Protective Stadium, Birmingham, Ala.
Matchup: Coastal Carolina (9-3) vs. East Carolina (7-5)
Time/TV: 6:45 p.m., ESPN
The line: East Carolina by 9.5
GUARANTEED RATE BOWL
Site: Chase Field, Phoenix
Matchup: Oklahoma State (7-5) vs. Wisconsin (6-6)
Time/TV: 10:15 p.m., ESPN
The line: Wisconsin by 3
Wednesday, December 28
MILITARY BOWL
Site: Navy-Marine Corps Memorial Stadium, Annapolis, Md.
Matchup: Duke (8-4) vs. UCF (9-4)
Time/TV: 2 p.m., ESPN
The line: Duke by 2.5
LIBERTY BOWL
Site: Liberty Bowl Memorial Stadium, Memphis
Matchup: Arkansas (6-6) vs. Kansas (6-6)
Time/TV: 5:30 p.m., ESPN
The line: Arkansas by 3
HOLIDAY BOWL
Site: Petco Park, San Diego
Matchup: North Carolina (9-4) vs. No. 15 Oregon (9-3)
Time/TV: 8 p.m., Fox
The line: Oregon by 13.5
TEXAS BOWL
Site: NRG Stadium, Houston
Matchup: Texas Tech (7-5) vs. Ole Miss (8-4)
Time/TV: 9 p.m., ESPN
The line: Ole Miss by 3.5
Thursday, December 29
PINSTRIPE BOWL
Site: Yankee Stadium, The Bronx, N.Y.
Matchup: Minnesota (8-4) vs. Syracuse (7-5)
Time/TV: 2 p.m., ESPN
The line: Minnesota by 7.5
CHEEZ-IT BOWL
Site: Camping World Stadium, Orlando
Matchup: No. 13 Florida State (9-3) vs. Oklahoma (6-6)
Time/TV: 5:30 p.m., ESPN
The line: Florida State by 7.5
ALAMO BOWL
Site: Alamodome, San Antonio
Matchup: No. 12 Washington (10-2) vs. No. 20 Texas (8-4)
Time/TV: 9 p.m., ESPN
The line: Texas by 4.5
Friday, December 30
DUKE'S MAYO BOWL
Site: Bank of America Stadium, Charlotte
Matchup: No. 23 NC State (8-4) vs. Maryland (7-5)
Time/TV: Noon, ESPN
The line: Maryland by 1.5
SUN BOWL
Site: Sun Bowl Stadium, El Paso
Matchup: No. 18 UCLA (9-3) vs. Pitt (8-4)
Time/TV: 2 p.m., CBS
The line: UCLA by 6.5
GATOR BOWL
Site: TIAA Bank Field, Jacksonville
Matchup: No. 19 South Carolina (8-4) vs. No. 21 Notre Dame (8-4)
Time/TV: 3:30 p.m., ESPN
The line: Notre Dame by 2.5
ARIZONA BOWL
Site: Arizona Stadium, Tucson, Ariz.
Matchup: Ohio U. (9-4) vs. Wyoming (7-5)
Time/TV: 4:30 p.m., streaming on Barstool
The line: Ohio by 1
ORANGE BOWL
Site: Hard Rock Stadium, Miami
Matchup: No. 6 Tennessee (10-2) vs. No. 7 Clemson (11-2)
Time/TV: 8 p.m., ESPN
The line: Clemson by 6.5
Saturday, December 31
MUSIC CITY BOWL
Site: Nissan Stadium, Nashville
Matchup: Iowa (7-5) vs. Kentucky (7-5)
Time/TV: Noon, ABC
The line: Iowa by 2.5
SUGAR BOWL
Site: Superdome, New Orleans
Matchup: No. 5 Alabama (10-2) vs. No. 9 Kansas State (10-3)
Time/TV: Noon, ESPN
The line: Alabama by 3.5
Monday, January 2
RELIAQUEST BOWL
Site: Raymond James Stadium, Tampa
Matchup: Illinois (8-4) vs. No. 22 Mississippi State (8-4)
Time/TV: Noon, ESPN2
The line: Illinois by 2.5
CITRUS BOWL
Site: Camping World Stadium, Orlando
Matchup: No. 17 LSU (9-4) vs. Purdue (8-5)
Time/TV: 1 p.m., ABC
The line: LSU by 10.5
COTTON BOWL
Site: AT&T Stadium, Arlington, Texas
Matchup: No. 16 Tulane (11-2) vs. No. 10 USC (11-2)
Time/TV: 1 p.m., ESPN
The line: USC by 1.5
ROSE BOWL
Site: Rose Bowl, Pasadena, Calif.
Matchup: No. 11 Penn State (10-2) vs. No. 8 Utah (10-3)
Time/TV: 5 p.m., ESPN
The line: Utah by 2.5