ACC Power Rankings: Clemson, Syracuse stay unbeaten, set up ACC Atlantic showdown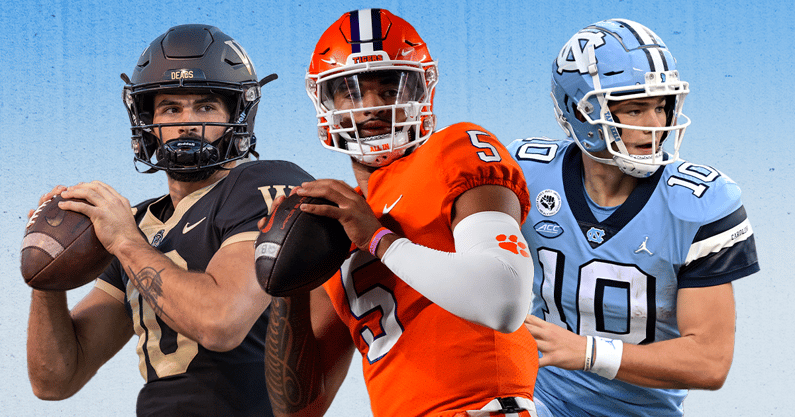 More than a third of the ACC had its bye week on Saturday, but there was still plenty enough conference action to see some significant changes in our latest ACC Power Rankings following the results of Week 7's games.
Clemson survived a late rally by Florida State on the road and can essentially wrap up the division next week with a win. Of course, Syracuse also beat NC State to set up a huge ACC Atlantic showdown with the Tigers with the division on the line next weekend.
Neither of the other games had a huge impact on this week's rankings, but let's take a look.
CLICK HERE to subscribe for FREE to the On3 YouTube channel
Today we reorder the ACC Power Rankings following Week 7 games.
2022 ACC Power Rankings – Week 7
It's hard to be very critical of Clemson for not finishing off Florida State sooner, given this was the third of the last four games on the road in the division, all against really quality teams. DJ Uiagalelei continues to pace the Tigers, and he threw three touchdown passes as Clemson won 34-28. Florida State scored 14 points in the fourth quarter to make it interesting but it was too little, too late.
The Demon Deacons were one of the six teams with a bye this weekend. With a lone loss to Clemson in double overtime, Wake Forest is probably in the best position nationally among the ACC teams with a loss. But the division is out of reach without some outside help. Wake Forest will return to action at home against Boston College this week.
North Carolina (+1)
Two things on the Tar Heels. One, they're not a sure thing in any game given how bad the defense has been. Two, they're winning the close games. Saturday's late heroics to beat Duke 38-35 inside the final 30 seconds provided a fourth win in games decided by one score this year. Quarterback Drake Maye is running a potent offense to near perfection, and North Carolina remains in the lead of the ACC Coastal as a result.
Syracuse (+1)
The Orange stayed unbeaten by beating a Wolfpack team that was reeling following the loss of starting quarterback Devin Leary. NC State couldn't get much going offensively, something Syracuse's stingy defense has made a theme for opponents all year. It was a comfortable 24-9 win for Syracuse, setting up a showdown with No. 4 Clemson with the ACC Atlantic division on the line this week.
Florida State (+1)
A brutal three-week stretch that included games against Wake Forest, NC State and Clemson is mercifully over. The Seminoles blew a shot at a win last week, but they represented themselves well Saturday against the Tigers. Mike Norvell's squad doesn't quit, it just isn't great putting it all together and finishing just yet. Florida State now gets a week to rest and regroup before a more manageable late-October and November slate.
Pittsburgh (+1)
The Panthers were off this weekend. A pair of road games the next two weeks will likely determine whether Pittsburgh can repeat as ACC Coastal champions. First up is a trip to Louisville, followed by a trip to division leader North Carolina.
NC State (-4)
A bye week probably comes one week too late for NC State. The Wolfpack struggled to replace starting quarterback Devin Leary. Backup Jack Chambers played well enough, but NC State just looked out of gas after a tough stretch of the season. A week off to tinker and build the offense more around Chambers' strengths and weaknesses should help.
Like Florida State, Duke has been pretty competitive in each of its three losses, the latest a 38-35 defeat at the hands of North Carolina in the waning moments. But there aren't many good wins to write home about, either, which makes Duke a bit tough to place in our ACC Power Rankings. The Blue Devils played well enough to win on Saturday, they just couldn't come up with a final stop with the game on the line.
The Cardinals were off this weekend, giving quarterback Malik Cunningham some additional time to get right after he missed the Virginia game a week ago. He should be back for this week's game against Pittsburgh, which will not be an easy one. With a really rough stretch to close the season, Louisville could desperately use a result to springboard into the second half of the slate.
Miami (+1)
The Hurricanes got another good outing from quarterback Tyler Van Dyke, who helped Miami open up an early 20-0 lead on Virginia Tech. But the injury-laden 'Canes couldn't close it easily, with the Hokies scoring twice in the fourth quarter to make it a nervy one for Mario Cristobal and company in Blacksburg. Next up for Miami is a contest with a tricky Duke squad.
Georgia Tech (-1)
The Yellow Jackets were off this week after posting back-to-back impressive wins over Pittsburgh and Duke. There's no reason the momentum can't continue after the bye week with a home game against Virginia on tap Thursday night. Both teams will be well rested after bye weeks.
Boston College's win over Louisville a couple weeks ago pulled it out from the bottom of the ACC Power Rankings, past both Virginia schools. But there aren't many easy games left for the Eagles. After the off week, back-to-back road trips to Wake Forest and UConn are up now. The UConn game might be the only one Boston College is favored in the rest of the way.
Quarterback Grant Wells made it interesting in a 20-14 loss to Miami, scoring a pair of touchdowns in the fourth quarter. But it wasn't enough to dig all the way out of an early hole, and the Hokies dropped their fifth game of the season. Virginia Tech gets a bye week now before a Thursday night return to action at NC State on Oct. 27.
The Cavaliers were off this weekend after three straight losses going into the bye week. Virginia will return to action at Georgia Tech on Thursday, with both teams coming off a bye week. First-year coach Tony Elliott could really use a win against an interim Georgia Tech coaching staff.
Want to see how this week's power rankings compare to our previous edition? Check out the 2022 Week 6 ACC Power Rankings here!