ACC Power Rankings: Collision course set for ACC title game?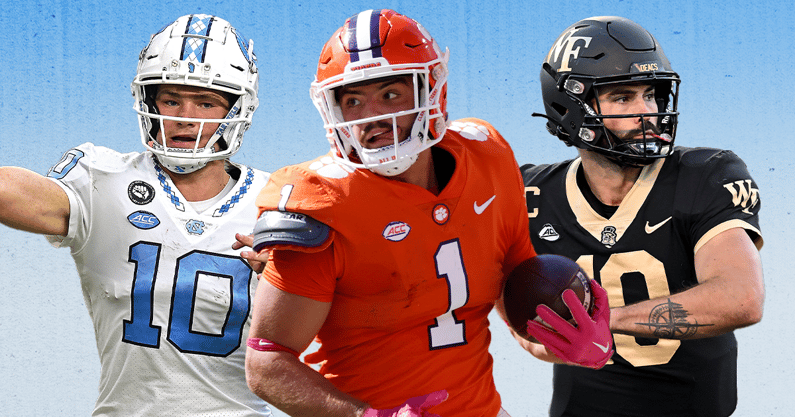 Well one half of the ACC title game is all but set at this point, which gives us a pretty firm basis for our ACC Power Rankings following Week 8 games.
Clemson knocked off Syracuse to take a stranglehold in the ACC Atlantic, needing just a win over Louisville or Miami down the stretch to win the division officially at this point. Meanwhile, Duke continued to assert itself in the middle of the league with a blowout on the road at Miami, while Louisville makes a nice jump after beating Pittsburgh.
Let's dive into the ACC action below.
CLICK HERE to subscribe for FREE to the On3 YouTube channel
Today we reorder the ACC Power Rankings following Week 8 games.
2022 ACC Power Rankings – Week 8
For the first time in several weeks, at least, there is some intrigue about the Tigers again after backup quarterback Cade Klubnik checked in and took things home in the 27-21 win over Syracuse. In the end Clemson got things done after falling behind 21-10 and is firmly atop the rankings, but the Tigers have certainly been in some tight contests this season.
At this point Wake Forest clearly looks like the second best team in the ACC and continues to prove it each week. This week the Demon Deacons took advantage of facing a Boston College squad with some serious O-line deficiencies, winning easily 43-15. The final five games of the season are fairly challenging, so we'll see if Wake Forest can defend its positioning here.
The Tar Heels were off this weekend after pulling out a narrow win over Duke before the bye week. North Carolina will be back in action against Pitt this week in a game that looks considerably less intimidating after Pitt's loss to Louisville over the weekend. The Tar Heels are unbeaten in ACC play and the only team in the ACC Coastal without two losses already, seemingly on a collision course with Clemson in the ACC title game.
Despite losing to Clemson on Saturday Syracuse stays put in our latest ACC Power Rankings. The Orange acquitted themselves well Saturday, though they blew some golden opportunities to pull off the upset. In any case, every team below Syracuse in this week's ranking has at least three losses; Syracuse is still 6-1.
Florida State was on a bye this week, entering on a three-game losing streak after facing the ACC Atlantic gauntlet of Wake Forest, NC State and Clemson. The Seminoles have been in the thick of every game but haven't come out on the right side of enough of them of late. Next up is a home game against Georgia Tech.
NC State (+1)
The Wolfpack had their week off this week, but it'll be a short week of preparation leading into a Thursday night game against Virginia Tech. NC State has lost two of its last three and starting quarterback Devin Leary, so finding some way to stem the tide and rebuild some positive momentum down the stretch will be key.
Duke (+1)
With a 45-21 win over Miami on Saturday, Duke is well on its way to bowl eligibility for the first time since 2018. The Blue Devils are now 5-3 with the next two games coming against Boston College and Virginia Tech. Credit first-year coach Mike Elko, few coaches have orchestrated an early turnaround as well as he has.
Louisville (+1)
Louisville beat Pittsburgh 24-10 on Saturday for its first back-to-back wins of the season. The Cardinals got quarterback Malik Cunningham back and he was effective enough to account for two touchdown passes. The Cardinals also did a pretty good job limiting star Panthers running back Israel Abanikanda to 28 carries for 129 yards and a touchdown, while picking off two Kedon Slovis passes.
Pittsburgh (-3)
The Panthers dropped a second ACC contest Saturday to the Cardinals, with turnovers an issue. Louisville scored on a scoop and score and was disruptive enough that the Pittsburgh offense never really kicked into gear. The next two weeks for Pitt are rough, too: at North Carolina, vs. Syracuse.
Virginia (+4)
It hasn't taken a whole lot to move out of the bottom of the ACC this year, and you see that this week with Virginia leaping up a few spots after an ugly win over Georgia Tech. In a game neither team will be bragging much about, Brennan Armstrong managed to account for 346 yards of offense and two scores to guide the Cavaliers to a 16-9 win.
Miami (-1)
The Hurricanes are in freefall at this point, having lost four of their last five with the latest a blowout at the hands of the Blue Devils. Quarterback Tyler Van Dyke was knocked out of the game and the Hurricanes turned it over eight times. Bowl eligibility is in jeopardy at this point for Miami, with the final five against Virginia (road), Florida State, Georgia Tech (road), Clemson and Pitt.
Georgia Tech (-1)
Georgia Tech lost the 16-9 stinker to Virginia, unable to get anything going offensively. The Yellow Jackets finished with just 206 total yards in the game. Quarterbacks Zach Gibson and Jeff Sims combined to go 16-of-36 passing for 146 yards, while the run game managed just 60 yards on 37 carries. Next up is a road trip to Florida State.
Boston College (-1)
The Eagles continued to work behind a beaten-up offensive line, making life difficult on the offense. And few teams have had answers for Wake Forest quarterback Sam Hartman, who connected on five touchdown passes in a 43-15 win. Boston College will now travel to UConn for one of two remaining non-conference trips.
Virginia Tech (-1)
Virginia Tech slips to the bottom of the ACC Power Rankings this week after sitting idle. On a four-game losing streak with the most recent loss to Miami, it's hard to have the Hokies any higher. The only two wins so far this year are over Boston College and Wofford. Virginia Tech will be back in action Thursday night on the road at NC State.
Want to see how this week's power rankings compare to our previous edition? Check out the 2022 Week 7 ACC Power Rankings here!