ACC Power Rankings: Wake Forest implodes, Syracuse stumbles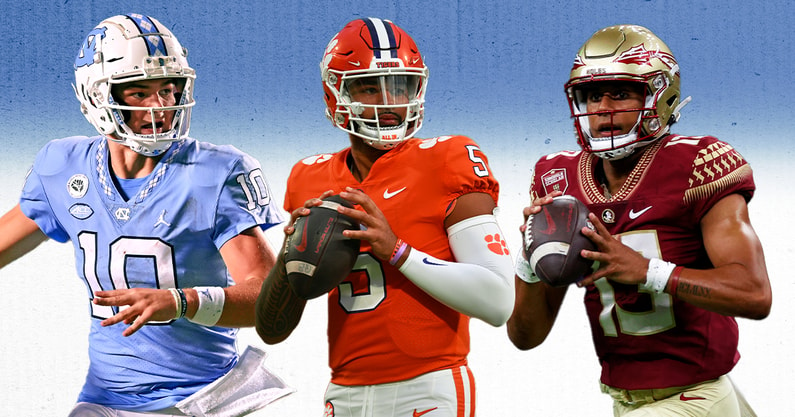 The ACC and Big 12 were definitely the most interesting of the Power 5 conferences this week, with some results shaking up our ACC Power Rankings near the top.
Wake Forest's unexpected demolition by Louisville moved things around quite a bit, as did Syracuse's loss to Notre Dame. Florida State and North Carolina both cruised to take full advantage of the chance to move up.
Let's begin dissecting what happened in the league over the weekend.
CLICK HERE to subscribe for FREE to the On3 YouTube channel
Today we reorder the ACC Power Rankings following Week 9 games.
2022 ACC Power Rankings – Week 9
Clemson took a much-needed and deserved week off after beating Syracuse. The Tigers remain unbeaten and have taken most teams' best shot, pushed to one-score games three times in the last six games. A road trip to an improved Notre Dame team looms this week after the extra rest.
North Carolina (+1)
Pittsburgh built a 10-point lead in the third quarter on the strong running of Israel Abanikanda before North Carolina quarterback Drake Maye helped engineer a 28-0 run in an eventual 42-24 win for the Tar Heels. Maye has turned into a full-blown superstar at this point, throwing five touchdowns without a pick Saturday night. He's thrown for 2,671 yards with 29 touchdowns and just three interceptions this season.
Florida State (+2)
It's not all the time you win 41-16 and think you could have done significantly better, but Florida State had chances to make it an even bigger blowout. In any case, Jordan Travis threw for 396 yards and three touchdowns as the Seminoles snapped a three-game losing skid after getting a bye week. Next up is a road trip to Miami.
NC State (+2)
We've got the Seminoles ahead of the Wolfpack here despite the head-to-head result for a couple reasons. First, the head-to-head result certainly could have gone FSU's way if not for Travis' late interception with the team in makeable field goal range. So the head-to-head difference was fairly minimal. Second, NC State has lost Devin Leary for the year and the Seminoles are simply playing better right now. NC State did manage to win, though, beating Virginia Tech 22-21 on Thursday night to move to 6-2 on the year.
Louisville (+3)
The Cardinals make one of the biggest mid- to late-season jumps in our ACC Power Rankings, courtesy of a 48-21 win over Wake Forest. The Demon Deacons turned it over eight times in a disaster outing that saw the Cardinals win the third quarter 35-0. Louisville has quietly won three straight and two of its three losses were by less than a touchdown.
Wake Forest (-4)
The Demon Deacons get dinged hard here in this week's rankings, if for no other reason than because of how bad Saturday's result was. Credit the Cardinals, though, the defensive front forced a lot of issues, recording eight sacks in the game. Wake Forest will have to lick its wounds and attempt to bounce back into the teeth of a tough stretch on the schedule: at NC State this week, then home against North Carolina and Syracuse the following two weeks.
Syracuse (-3)
The Orange had a tough day against the Fighting Irish on the heels of a well-fought loss to Clemson. Syracuse had to deal with an injury to starting quarterback Garrett Shrader. Meanwhile, the defense has trouble stopping a very good Notre Dame ground game, which piled up 246 yards and three touchdowns in the 41-24 Irish win.
Duke (-1)
The Blue Devils had a bye week after securing a nice road win at Miami in a lopsided game in south Florida. Duke has a chance to get bowl eligible with an upcoming road trip to Boston College. Truthfully, this could turn into a special season for Duke with a strong close. After Boston College, Virginia Tech, Pittsburgh (road) and Wake Forest close out the schedule. Eight wins in the regular season are certainly achievable.
Miami (+2)
The Hurricanes didn't win any style points on Saturday, but they did win the football game. Even if it took four overtimes and was the second game this season that Miami failed to score a touchdown in. Starting quarterback Tyler Van Dyke missed the game after suffering an injury against Duke, but Miami secured a 14-12 win over Virginia.
Pittsburgh (-1)
It's hard to blame the Panthers for allowing the lead to slip against the Tar Heels; virtually nobody has been able to stop Drake Maye all year long. Abanikanda is a definite weapon, but Pittsburgh simply hasn't had enough other answers this year. Bowl eligibility is doable but not a given with games remaining against Syracuse, Virginia (road), Duke and Miami (road).
Virginia (-1)
The Cavaliers nearly secured a move up the ACC Power Rankings this week but couldn't manage to do enough in overtime to beat a 'Canes team that was struggling. Virginia has had a tough go of it this season and despite a lot of weapons around him, quarterback Brennan Armstrong (and by extension the UVA offense) hasn't produced like you'd expect.
Like many of the teams sporting interim coaches, Georgia Tech got a brief boost following the firing of Geoff Collins but has settled back into some disappointing results. Saturday's loss to Florida State was the second straight defeat, and the Yellow Jackets will face similarly struggling Virginia Tech on the road this week.
Not to oversimplify things, but when you lose to UConn 13-3 it's generally not great. In another turnover fest Saturday, the Huskies managed five takeaways in the contest to take charge. Starting quarterback Phil Jurkovec threw two interceptions before being knocked from the game due to injury behind that ever-porous Boston College offensive line. It'd be surprising to see the Eagles win another game at this point.
Virginia Tech managed to build an 18-point lead in the third quarter… then blow it. The defense couldn't come up with stops down the stretch as NC State clawed out a 22-21 win with three straight touchdown drives late. Quarterback Grant Wells threw for 243 yards and a touchdown, but the Hokies managed to rush for only 50 yards on 26 carries in the contest.
Want to see how this week's power rankings compare to our previous edition? Check out the 2022 Week 8 ACC Power Rankings here!