ACC Power Rankings: Clemson charges back to the top, Tar Heels trip up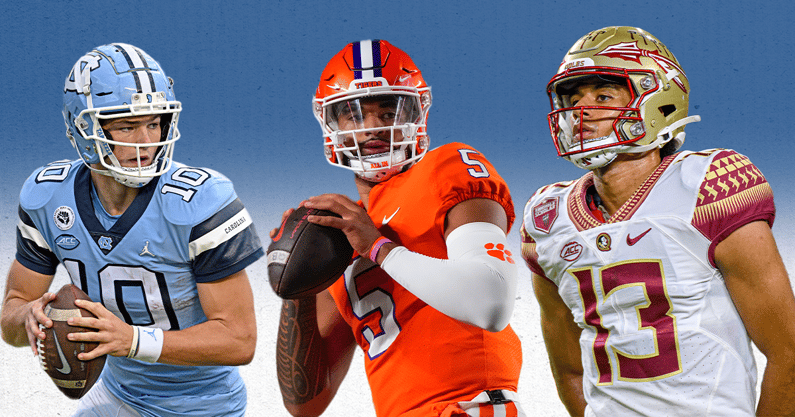 The ACC is officially a one-team contender at this point, following a surprising stumble by North Carolina that shook up the top of this week's ACC Power Rankings.
In fact, while the Tar Heels tripped up, Clemson and Florida State both looked excellent, and both surge past North Carolina in this week's edition. Only two teams in the entire league didn't move around this week, so there's plenty of action to break down.
Let's dive in.
CLICK HERE to subscribe for FREE to the On3 YouTube channel
Today we reorder the ACC Power Rankings following Week 12 games.
2022 ACC Power Rankings – Week 12
Clemson (+1)
Even with three turnovers Clemson absolutely dominated Miami from start to finish, all while playing without defensive star Bryan Bresee. The Tigers gave up just 98 total yards in the contest, limiting a Hurricanes team that has had quarterback issues and simply hasn't been able to turn the corner this season under first-year coach Mario Cristobal.
Florida State (+1)
One week prior to the annual showdown with rival Florida and new UF head coach Billy Napier, Florida State made short work of Napier's old squad. FSU blasted Louisiana 49-17 to move to 8-3 on the year. The Seminoles ran for 251 yards in the contest, with 10 different players logging a carry.
North Carolina (-2)
North Carolina jumped out to a 17-0 lead against Georgia Tech then watched it slowly bleed away in a 21-17 loss. Quarterback Drake Maye was kept in check and the Tar Heels blew chances to change the outcome, most notably on a drop in the end zone by Josh Downs on fourth down in the fourth quarter. The loss drops the Tar Heels from playoff contention and hurts Clemson's chances of making it as a one-loss ACC champion in the process.
Louisville (+2)
Even playing without starting quarterback Malik Cunningham, Louisville was able to put together enough to beat an NC State team that has really struggled offensively since losing Devin Leary. The Cardinals were powered by Jahwar Jordan, who scored on a 98-yard kick return touchdown and piled up 105 yards rushing and a score in a 25-10 win.
Pittsburgh (+2)
After half a season of back-and-forth results from week to week, Pittsburgh is finally playing its best football, having won three straight. Pittsburgh downed Duke 28-26, holding on through a game-tying two-point conversion attempt after letting Duke claw its way back from a 28-14 deficit. The Panthers suffered some key injuries in the game, though, losing star running back Israel Abanikanda and defensive lineman Calijah Kancey to injury.
Duke (-2)
Duke battled hard in the loss to Pitt, taking it down to the wire after falling behind by 14 in the fourth quarter. The Blue Devils had a failed two-point conversion to tie it after quarterback Riley Leonard led a valiant comeback attempt. Leonard finished with 290 yards passing with three touchdowns, while also adding a touchdown rushing.
NC State (-2)
NC State's tumble down the ACC Power Rankings that started midseason continues following a 25-10 loss to Louisville on Saturday. The Wolfpack just weren't able to generate any kind of consistent offense against the Cardinals. Now a road trip to North Carolina looms, with both teams limping in after a rough loss.
After a back-and-forth first half, Wake Forest took the lead in the second quarter and never looked back. Quarterback Sam Hartman threw for 331 yards and four touchdowns as Wake Forest raced past Syracuse 45-35. The win snapped a three-game losing skid for the Demon Deacons, who will travel to Duke now for the regular-season finale.
Miami was smoked 40-10 by Clemson but remains in this spot in the ACC Power Rankings courtesy of last week's big win over Georgia Tech. The Hurricanes, though, seem to have run out of steam in Mario Cristobal's first season. Miami once again played multiple quarterbacks in the game but totaled just 98 yards of offense in the loss. Now Miami must beat Pitt to earn bowl eligibility in the regular-season finale.
Georgia Tech (+3)
Speaking of teams still needing to win another game to reach a bowl game, Georgia Tech at least gave itself a shot with a 21-17 win over No. 13 North Carolina on Saturday. The Yellow Jackets were impressive defensively, stopping an offense that had looked unstoppable most of the season. But the task of gaining bowl eligibility still looks very steep: a road trip to No. 1 Georgia will be the deciding factor.
Syracuse (-1)
The Orange have now lost six straight after Saturday's loss to the Demon Deacons. Running back Sean Tucker ran for 106 yards and two touchdowns, but quarterback play for Syracuse was a bit inconsistent. Garrett Shrader finished 17-of-31 for 324 yards and a touchdown, but he also threw an interception. Syracuse will try to snap the skid this week with a regular season finale at Boston College.
Virginia Tech (+2)
Virginia Tech pulled off a bit of a surprising win, beating Liberty 23-22 with a strong finish down the stretch in the fourth quarter. Running back Jalen Holston ran for 99 yards and three touchdowns and the Hokies made life difficult on Flames backup quarterback Kaidon Salter.
Boston College (-2)
Emmett Morehead's first two outings in place of injured starting quarterback Phil Jurkovec were extremely promising, but the music stopped on Saturday in a 44-0 loss to Notre Dame. Morehead was picked off three times and finished just 9-of-22 passing for 117 yards in the contest. Notre Dame ran for 281 yards and completely controlled the game.
Virginia (-2)
Following a tragic shooting that killed three Virginia players last weekend, Virginia canceled its game against Coastal Carolina. It remains unclear if Virginia will play again this season, with the regular-season finale a road trip to Virginia Tech. As of Nov. 16 a decision on playing that game had "not been made at this time."
Want to see how this week's power rankings compare to our previous edition? Check out the 2022 Week 11 ACC Power Rankings here!