Big 12 Power Rankings: Baylor, Texas notch nice road wins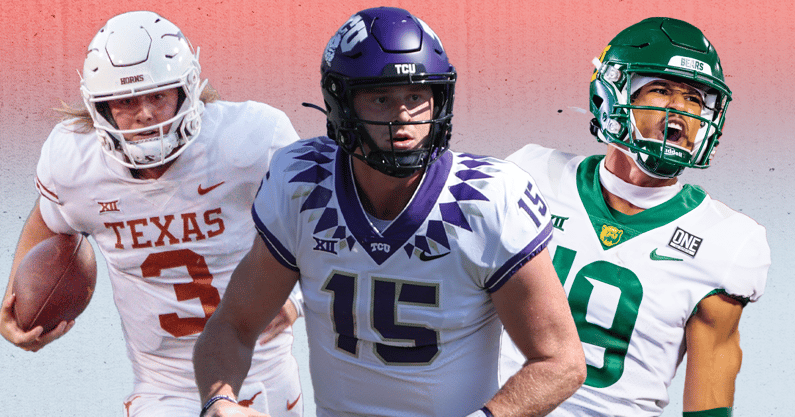 The one constant in the Big 12 this season is TCU, and the Horned Frogs took care of business yet again in maintaining their top spot in the Big 12 Power Rankings.
The rest of the league? It's a jumbled mess, with more movement surely coming next week.
Texas and Baylor both posted impressive road wins to move up the rankings and put themselves in position to potentially dethrone TCU should the Horned Frogs trip up. Let's sort through the Big 12 action this week.
CLICK HERE to subscribe for FREE to the On3 YouTube channel
Today we update the Big 12 Power Rankings following Week 10 games.
2022 Big 12 Power Rankings – Week 10
TCU didn't manage to score an offensive touchdown until the fourth quarter but blew the game open once it finally did, scoring 21 points in an eight-minute stretch to pull away in a 34-24 win over Texas Tech. The Horned Frogs have made second-half comebacks a way of life of late, but that may be playing with fire with games at Texas and Baylor up next.
Baylor (+1)
Baylor took advantage of three first-half Dillon Gabriel interceptions and then held on down the stretch, powered by running back Craig Williams' 192-yard, two-touchdown outing. After giving up 334 yards in the first half, the Bears stiffened up defensively and allowed just 165 in the second half of a 38-35 win on the road at Oklahoma. Baylor closes the season with games against Kansas State, TCU and Texas (on the road).
Texas (+2)
Speaking of closing stretches that are likely to shake up the Big 12 Power Rankings, Texas took down Kansas State 34-27 and now will get a shot to puncture another purple team's postseason plans with TCU on deck. The Longhorns rode Bijan Robinson to the tune of 209 yards rushing in the win on Saturday. All eyes are on next weekend's contest against the Horned Frogs.
Kansas State (-2)
One week after thrashing Oklahoma State, Kansas State just couldn't keep it going against Texas. Adrian Martinez did his best, throwing for 329 yards and two touchdowns (with one interception), while rushing for 52 yards and another touchdown. But the Longhorns made the Wildcats work for every yard on the ground, really taking Kansas State out of sync.
Oklahoma State (-1)
How Oklahoma State bounced back from last weekend's humiliation was going to be interesting. Verdict: Not very well. Starting quarterback Spencer Sanders missed the contest and backup Garrett Rangel threw interceptions on the first two drives of the game. But that wasn't as big a problem as the Cowboys having no answers for the Jayhawks' run game in a 37-16 loss in which Kansas racked up 351 yards rushing. Hard to win when you allow the opponent to average 7.6 yards per carry.
Oklahoma dropped a tight contest to Baylor, plagued by those three first-half Gabriel interceptions. Still, the Sooners stuck in the game but just couldn't quite come out ahead. If not for the head-to-head win against Kansas two weeks back Oklahoma would drop in this week's Big 12 Power Rankings.
Kansas (+1)
The Jayhawks snapped a three-game losing skid thanks to strong outings by quarterback Jason Bean (18-of-23 passing for 203 yards, 2 TD, 0 INT) and running back Devin Neal (32 carries for 224 yards, 1 TD). In fact, that was more than enough to run away from the Cowboys in a 37-16 win. Kansas has now secured bowl eligibility for the first time since 2008.
Texas Tech (-1)
As we've noted a few times in our Big 12 Power Rankings this season, Texas Tech is a team that hasn't been able to finish games but is not a team you relish playing. That held up again Saturday, with the Red Raiders making it a tough game for the Horned Frogs but unable to pull the upset. Texas Tech still needs two wins for bowl eligibility with remaining games against Kansas, Iowa State (on the road) and Oklahoma.
Iowa State (+1)
Another team whose bowl eligibility is on life support, Iowa State managed to snap a five-game losing streak on Saturday to give itself a chance. The Cyclones scored 21 in the fourth quarter of a 31-14 win over West Virginia. Iowa State will have its work cut out getting the two more wins it needs for bowl eligibility, though, with games at Oklahoma State, against Texas Tech and at TCU closing out the year.
West Virginia (-1)
West Virginia has been a team we thought could make a move up the Big 12 Power Rankings for a while now and it has just never materialized. The Mountaineers turned it over once and managed only 200 yards of offense against the Cyclones. It's been a forgettable year in Morgantown and there might not be another win on the schedule.
Want to see how this week's power rankings compare to our previous edition? Check out the 2022 Week 9 Big 12 Power Rankings here!