Big 12 Power Rankings: TCU tames Texas, Baylor goes bust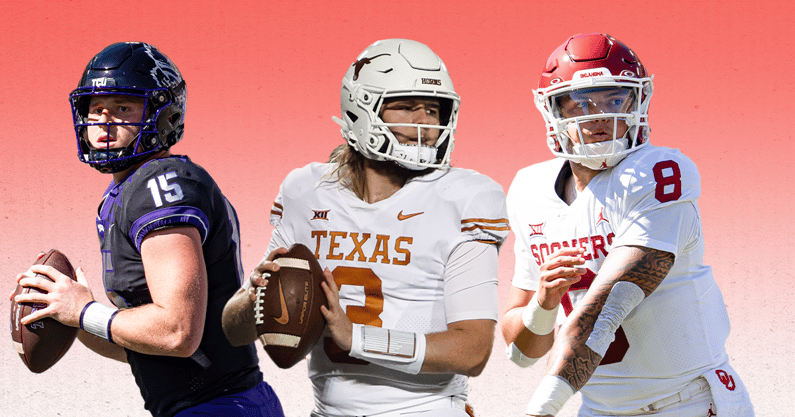 One step closer. That's the story for TCU, which got to 10-0 with a win over Texas this weekend, clinching a spot in the Big 12 Championship Game in the process. The win kept the Horned Frogs at the top of our Big 12 Power Rankings.
Meanwhile, there were some significant shakeups behind TCU, with Kansas State trouncing Baylor providing a big one.
Let's dive into the Big 12 action below.
CLICK HERE to subscribe for FREE to the On3 YouTube channel
Today we update the Big 12 Power Rankings following Week 11 games.
2022 Big 12 Power Rankings – Week 11
What can you say about TCU at this point? In a defensive struggle from the outset it was running back Kendre Miller who broke things open with a 75-yard touchdown run on a night where Texas back Bijan Robinson was completely held in check. The Horned Frogs allowed only 199 yards in the contest, keeping Robinson to just 29 on the ground in a 17-10 win over the Longhorns.
Kansas State (+2)
Quarterback Adrian Martinez had a short day after leaving the game against Baylor due to injury, but backup Will Howard was more than ready. Howard threw three touchdown passes in a 31-3 win over the Bears, who saw quarterback Blake Shapen picked off twice. Kansas State still has a great shot to get to the Big 12 title game with a road trip to West Virginia and a home date with Kansas closing things out.
Texas' defense played reasonably well but the offense never got clicking in the loss to TCU. Quarterback Quinn Ewers finished just 17-of-39 passing for 171 yards with no touchdowns and one interception. Robinson rushed for just 29 yards as the normally potent Longhorns ground game disappeared. Texas has a road game against Kansas and a home date with Baylor left.
Oklahoma State (+1)
Oklahoma State bounced back from back-to-back defeats with a 20-14 win over Iowa State on Saturday. Quarterback Spencer Sanders didn't start but entered the game off the bench to spark the Cowboys in the win. A significantly bigger story, perhaps, was the defense forcing the Cyclones into five turnovers in the game.
Baylor (-3)
Baylor simply couldn't get anything going offensively in the 31-3 loss to Kansas State. Quarterback Blake Shapen was picked off twice and the Bears totaled only 306 yards in the game. Baylor will have to dig deep to avoid closing the campaign out with a whimper, as a home game against TCU and a road trip to Texas finish off the slate.
Texas Tech (+2)
It might have taken a long while but Texas Tech appears to be in position to make a big move up the Big 12 Power Rankings over the next couple weeks. Saturday's 43-28 win over Kansas snapped a two-game losing streak. The Red Raiders need one more win for bowl eligibility, which should be doable with a road trip to Iowa State and a home game against Oklahoma on the docket.
Oklahoma (-1)
The Sooners aren't quite bowl eligible yet and it's certainly starting to look dicey in the first year for Brent Venables. Oklahoma dropped a 23-20 contest at West Virginia on Saturday, even with the Mountaineers forced to make a quarterback change. West Virginia scored 10 unanswered in the fourth quarter to cement the win with a 25-yard Casey Legg field goal as time expired.
Kansas (-1)
The Jayhawks have now lost four of their last five after falling to the Red Raiders on Saturday. Kansas quarterback Jason Bean threw for three touchdowns and battled in the 43-28 defeat, but Kansas simply couldn't get stops defensively. Texas Tech piled up 510 yards of offense in the win, while also coming away with two takeaways defensively.
West Virginia (+1)
West Virginia finally gets itself out of last place in the Big 12 Power Rankings, even after losing to Iowa State a couple weeks ago. The Mountaineers finally pivoted away from starting quarterback JT Daniels, and backup Garrett Greene made it worth it. Greene ran for two scores and threw for another as the Mountaineers upended the Sooners 23-20 on Saturday.
Iowa State (-1)
Iowa State fought hard in a 20-14 loss to Oklahoma State, but three interceptions by quarterback Hunter Dekkers were tough to overcome. The Cyclones ran for just 59 yards in the game, forced to rely on Dekkers for most of the game. The loss means Iowa State must win out to reach a bowl game, with Texas Tech up next at home, followed by a trip to face unbeaten TCU.
Want to see how this week's power rankings compare to our previous edition? Check out the 2022 Week 10 Big 12 Power Rankings here!