Big 12 Power Rankings: Top tier proves itself as TCU, Oklahoma State log key wins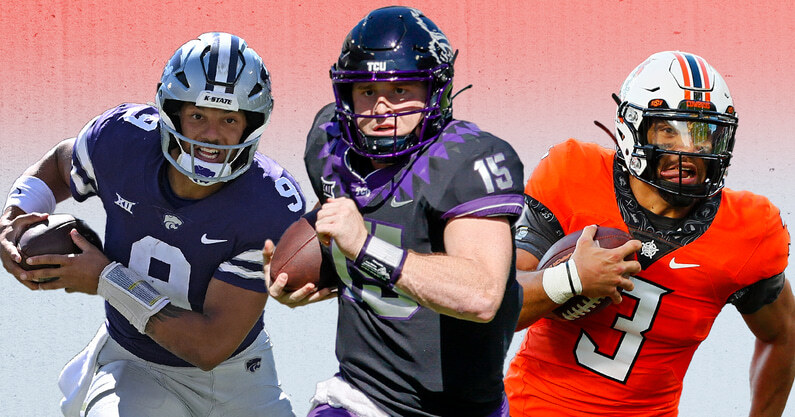 After another weekend of action in league play, the Big 12 Power Rankings are a bit more straightforward. There are clear top and bottom tiers in the conference, with a logjam (albeit a sortable one) in the middle.
TCU defended its spot atop the rankings with a win over Kansas State, while Oklahoma State's win over Texas was another order-reinforcing result.
There was some movement in the middle of the league this week as Baylor topped Kansas and Texas Tech managed to beat West Virginia. Let's start to sort out how the results impacted this week's moves.
CLICK HERE to subscribe for FREE to the On3 YouTube channel
Today we update the Big 12 Power Rankings following Week 8 games.
2022 Big 12 Power Rankings – Week 8
The Horned Frogs stared down an early 28-10 deficit midway through the second quarter against the Kansas State Wildcats and managed to overcome it. TCU was fortunate that Kansas State starting quarterback Adrian Martinez was knocked out of the game; the Wildcats didn't seem fully in sync, especially after TCU settled in during a second half shutout in a 38-28 win.
Oklahoma State weathered an early storm and came from 14 points behind to down Texas 41-34. The defense was lights out after halftime, allowing just a field goal on nine second-half possessions for the Longhorns. The secondary picked off Quinn Ewers three times, helping seal the win late. Oklahoma State now readies for back-to-back road trips to Kansas State and Kansas.
Starting quarterback Adrian Martinez left the game in the first quarter with an injury and while backup Will Howard did well initially, once the offense got off track it found it hard to regain momentum. The Wildcats couldn't get enough going and fell to the Horned Frogs. Now they'll host Oklahoma State as a brutal stretch on the schedule continues.
Baylor (+3)
The Bears snapped a two-game losing skid and made a Jayhawks team playing without its starting quarterback look like it was playing a backup. Kansas had just 76 yards of offense in the first half and finished with just 288 in the game. Baylor won 35-23 as starting quarterback Blake Shapen returned and running back Richard Reese piled up 186 yards and two touchdowns on the ground.
Texas (-1)
Texas appeared to be in great shape, up 31-17 with just under four minutes to go in the first half. Then quarterback Quinn Ewers and the offense went cold, scoring just three points the rest of the way. Ewers finished just 19-of-49 passing and didn't seem to have his timing in the passing game, as he was intercepted three times in a 41-34 loss to Oklahoma State.
Oklahoma (-1)
After knocking off Kansas 52-42 in a shootout last week to snap a three-game losing streak, Oklahoma and first-year coach Brent Venables got a chance to regroup with a bye week. The Sooners have a tricky but manageable slate in the final five games, giving Venables the chance to prove the mid-season malaise was not a sign of things to come in his tenure.
Texas Tech (+1)
The Red Raiders might be the country's most interesting 4-3 team. Saturday Texas Tech boat-raced West Virginia in a 48-10 win. The Red Raiders have three losses but all were to opponents that were ranked. Meanwhile, Texas Tech also won two games against opponents that were ranked. Something tells us Texas Tech might be a team to watch out for when it travels to unbeaten TCU in two weeks.
Kansas (-2)
Kansas just couldn't produce a whole lot of offense after falling behind Baylor 28-3 by halftime. The Jayhawks ran for just 56 yards in the contest and backup quarterback Jason Bean wasn't quite as hot as he initially was following the injury that knocked starter Jalon Daniels out of action. The back half of Kansas' schedule was brutal. A bye week prior to a home date with Oklahoma State is on the menu now.
West Virginia has looked like a team on the cusp of breaking through a couple times, suffering tight losses to Kansas and Pittsburgh earlier in the year. The Mountaineers beat Baylor. Then they were smoked by Texas Tech on Saturday, preventing any further upward momentum in the Big 12 Power Rankings. Hard to know what you'll get from West Virginia week to week at this point.
The Hawkeyes were off and needing to regroup in a major way after losing four straight games. The last three losses have been by a field goal or less, so it's not like Iowa State hasn't been competitive. Home games against Oklahoma and West Virginia are up now after a bit of rest.
Want to see how this week's power rankings compare to our previous edition? Check out the 2022 Week 7 Big 12 Power Rankings here!