Big 12 Power Rankings: Kansas State smokes Oklahoma State, TCU holds serve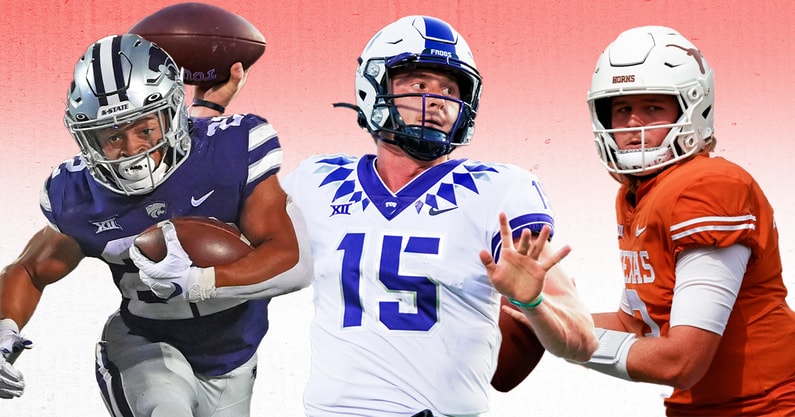 The Big 12 continues to be the most wild rollercoaster ride of any of the Power 5 conferences, with teams at the top of our Big 12 Power Rankings rising and falling in dramatic fashion throughout the season.
Saturday it was Oklahoma State's turn to continue it's tough tumble from the top, blown out and shut out in embarrassing fashion by Kansas State. Meanwhile, TCU took care of business again.
Let's untangle the mess in the league yet again.
CLICK HERE to subscribe for FREE to the On3 YouTube channel
Today we update the Big 12 Power Rankings following Week 9 games.
2022 Big 12 Power Rankings – Week 9
The Horned Frogs took care of business again in a bit of a back-and-forth affair in a 41-31 win over West Virginia. TCU didn't put the game away super cleanly but still hung on and added a late touchdown as insurance. If we had concerns about TCU's resume earlier in the season, those have pretty well been laid to rest at this point. Just keep winning.
Kansas State (+1)
Hopefully whoever spiked the water cooler at Kansas State on Saturday has some more of whatever that was for this week's game against Texas. The Wildcats went, well, wild in a 48-0 stomping of the Cowboys. Oklahoma State was blanked for the first time since 2009 and the Wildcats did it all without starting quarterback Adrian Martinez. Backup Will Howard threw for 296 yards and four touchdowns as Kansas State cruised. That was a 'wow' result.
Baylor (+1)
Baylor built an early lead against Texas Tech, withstood a rally attempt in the third quarter and then closed with a 21-0 edge in the fourth quarter to seal a 45-17 win. Running back Richard Reese was excellent for the second game in a row, rushing for 148 yards and three touchdowns. Winners of two in a row, Baylor will now travel to Oklahoma for the start of a brutal final four that also includes Kansas State, TCU and Texas (on the road).
Oklahoma State (-2)
There are no two ways to say it: Saturday's shutout was a stunner. Quarterback Spencer Sanders threw an interception and finished just 13-of-26 passing for 147 yards. The Cowboys were held to just 217 total yards in the contest, completely unable to get anything going. Next up is a trip to Kansas.
The Longhorns were on a bye this week after losing to Oklahoma State the previous week. And there has to be at least some small part of the Texas fanbase as utterly stunned as we are by what happened this weekend. In any case, Texas now travels to face the Kansas State squad responsible for that stunner.
After a rough stretch that saw the Sooners lose three straight, including a 49-0 whipping at the hands of Texas, Oklahoma has put together back-to-back wins. Saturday's came in a 27-13 win over Iowa State on the road. The Sooners came away with three interceptions of Cyclones quarterback Hunter Dekkers, while holding Iowa State to just 66 yards rushing in the contest.
Texas Tech and West Virginia are two peas in a pod this season in the Big 12 Power Rankings, teams nobody else wants to face that just can't quite seem to find a way to really vault up the list. The Red Raiders were flummoxed Saturday in their first home loss under coach Joey McGuire, trying three different quarterbacks to little avail in the loss to Baylor. Now it's on to unbeaten TCU on the road.
The Jayhawks had a bye week coming off a three-game losing skid. Kansas needs to find a way to recover its early season momentum. It'll play host to a reeling Oklahoma State on Saturday, though whether that's a good or bad thing remains to be seen. Does Kansas get a fired-up or deflated Mike Gundy outfit?
Opportunities have been there for West Virginia this season and have mostly gone wanting. The Mountaineers were mostly competitive throughout the game against TCU but could never really pull ahead. West Virginia still needs three wins to become bowl eligible and securing them won't be easy. What remains: at Iowa State, vs. Oklahoma, vs. Kansas State, at Oklahoma State.
The Cyclones are seemingly always competitive under Matt Campbell but have come out on the wrong side more often than not lately. Three interceptions were killer in Saturday's loss to Oklahoma. The Cyclones will have a tough time earning bowl eligibility at this point, with games against West Virginia, Oklahoma State (road), Texas Tech and TCU (road) left.
Want to see how this week's power rankings compare to our previous edition? Check out the 2022 Week 8 Big 12 Power Rankings here!