Big 12 Power Rankings: Chaos reigns at the top as Oklahoma, Texas both lose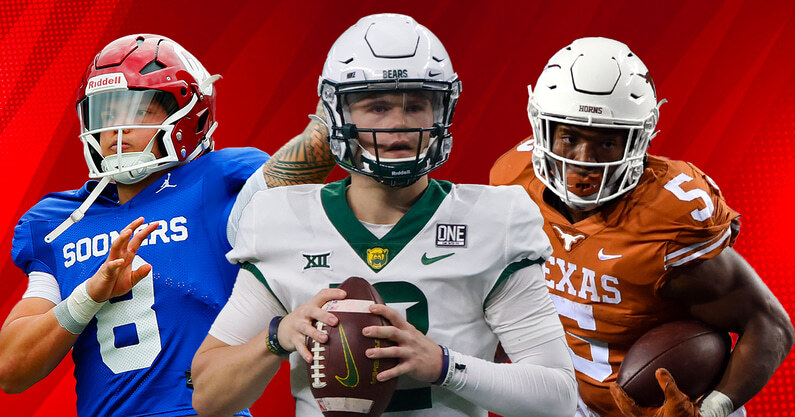 Whew, there's a whole lot to sort out in this week's update to the Big 12 Power Rankings and we'll just come right out and say it… this week's ranking was by far the toughest we've had to put together of any Power 5 conference so far this year.
Top-ranked Oklahoma fell to Kansas State, while Texas suffered a second loss and Baylor notched an impressive road win.
Debate raged about how to slot the top-5 teams this week at On3, so we won't waste a whole lot of time previewing the rankings. Instead, let's just dive straight into our explanations for this week.
CLICK HERE to subscribe for FREE to the On3 YouTube channel
Today we update the Big 12 Power Rankings following Week 4 games.
2022 Big 12 Power Rankings – Week 4
Oklahoma State (+2)
The Cowboys benefit from a bye week but make no mistake about it, their spot atop the current Big 12 Power Rankings is tenuous. Oklahoma State has yet to take on a quality opponent, and with a road game at No. 16 Baylor coming up things could swing in a hurry. Still, one of the preseason league favorites has yet to take a hit like other contenders.
Baylor (+2)
Baylor becomes the beneficiary of some other teams taking tough losses this weekend. With their lone loss coming on the road to a ranked BYU squad, the Bears still look like a legitimate contender. Baylor securing a tough road road win at Iowa State was big. Now a home date against No. 9 Oklahoma State that will likely determine the top spot in next week's Big 12 Power Rankings.
Kansas State (+4)
The Wildcats took one of the biggest hits in our Power 5 conference power rankings last week following a loss to Tulane. Kansas State shoots right back up after upsetting top-10 Oklahoma 41-34 on the road. The Wildcats probably have the best win and worst loss in our current top-5 in the league, making them tough to place. That should begin to sort itself out in the next few weeks, starting with a home date with Texas Tech next week.
Kansas (+1)
The Jayhawks just keep winning. After a pair of impressive road wins at West Virginia and Houston, Kansas dispatched previously unbeaten Duke 35-27 on Saturday. Quarterback Jalon Daniels continues to play excellently, throwing four touchdown passes and rushing for another in the win. Can Kansas keep it rolling this week against Iowa State?
Oklahoma (-4)
Quarterback Dillon Gabriel did what he could in a shootout with Kansas State, but the Oklahoma defense never could solve Adrian Martinez, his opposite number. Martinez rushed for 148 yards and four touchdowns in the win, leaving the Sooners trying to sort out where they go from here. The next two weeks are tough, too: a road trip to unbeaten TCU, followed by the Red River Rivalry against Texas.
Texas Tech (+2)
The Red Raiders bounced back from a quality loss on the road at NC State with a 37-34 win over in-state rival Texas in overtime. It was a thriller, with Texas driving for a game-tying field goal as time expired after taking over with 21 seconds on the clock down 34-31. Texas Tech gets a chance to move quite a bit in the Big 12 Power Rankings in the next two weeks, with back-to-back road trips to No. 25 Kansas State and No. 9 Oklahoma State upcoming.
Texas (-5)
The Longhorns' previous loss to Alabama was a quality one and it's hard to call the overtime defeat at Texas Tech any different… for now. Regardless, Texas now sits at .500 with several tough games still left on the schedule. A West Virginia team that's probably better than its 2-2 record indicates is next, followed by the Red River Rivalry against No. 18 Oklahoma.
Iowa State (-2)
The Cyclones fell to the Bears in a game that Baylor really controlled from start to finish. Iowa State scored 10 points in the final eight minutes but still came up short 31-24. As far as losses go, that's far from a bad one. But with a win at Iowa the only quality win so far, it's hard to tell just how good Matt Campbell's squad is right now. A road trip to unbeaten Kansas this week should tell us more.
TCU picked up its first quality win of the season, moving to 3-0 with a 42-34 win over SMU. Given the intensity of the game with head coach Sonny Dykes returning to his old stomping grounds, it was a very good win. That said, it's tough to move TCU up just yet. The Horned Frogs can vault up the Big 12 Power Rankings this week when they host No. 18 Oklahoma, though. A result there would really shake things up in the league.
We said it last week and we'll say it again: West Virginia might be the Power 5 team that feels like it's getting the toughest break in the power rankings. The Mountaineers are 2-2 with a late touchdown loss at ranked Pittsburgh in the season opener and an overtime loss against unbeaten Kansas. But there aren't really any good wins, either, with a rout of Towson and this weekend's sound 33-10 victory at struggling Virginia Tech. Week 5 is finally a chance for real movement for the Mountaineers: at Texas.
Want to see how this week's power rankings compare to our previous edition? Check out the 2022 Week 3 Big 12 Power Rankings here!