Big Ten Power Rankings: Blowouts abound as Big Ten West takes another turn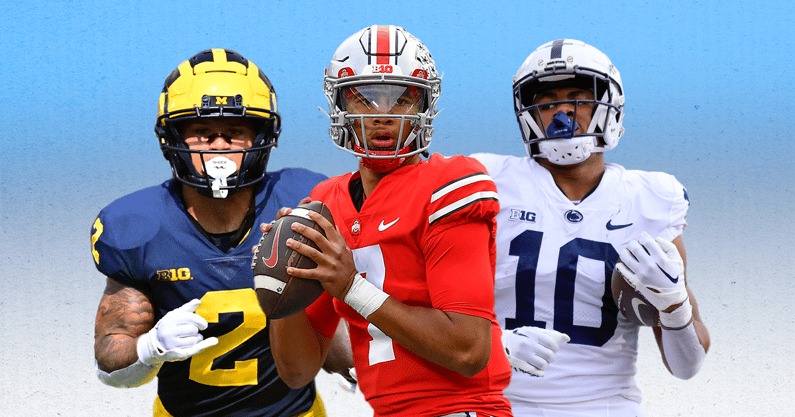 Steady as she goes in the Big Ten. The one league where the pecking order among the top league contenders has remained pretty consistent throughout the year, most of movement in the Big Ten Power rankings this week comes in the middle of the pack.
Illinois dropped its second straight game, as did Maryland, to slip in the rankings. A few other programs shifted around a spot or two.
Let's break down the justifications for our moves in this edition below.
CLICK HERE to subscribe for FREE to the On3 YouTube channel
Today we update the Big Ten Power Rankings following Week 11 games.
2022 Big Ten Power Rankings – Week 11
The Buckeyes looked a little irked they weren't able to utilize the passing game much last week, and an injury to Miyan Williams also caused Ohio State to get pass-happy even while leading big. CJ Stroud threw for 297 yards and five touchdowns as a result as the Buckeyes bounced the Hoosiers 56-14 to stay unbeaten.
The Wolverines also made light work of their opponent on Saturday, dispatching the Cornhuskers 34-3. Running back Blake Corum piled up 162 yards and one touchdown rushing, while quarterback J.J. McCarthy threw two touchdown passes. Michigan's defense gave up only 146 total yards in the contest.
Like Michigan, Penn State used an absolutely suffocating defensive effort to cruise against Maryland 30-0. The Nittany Lions rang up seven sacks and held Terrapins quarterback Taulia Tagovailoa to just 74 yards passing. Maryland gained only 134 yards in the contest. Penn State's New Year's Six bowl chances continue to look strong.
Minnesota (+2)
Yet another game that offered very little intrigue this weekend, Minnesota easily disposed of Northwestern 31-3. The Golden Gophers basically just ran the ball all day, with 58 carries for 302 yards and four touchdowns in the game against just 13 pass attempts for 64 yards. Minnesota closes the regular season with Iowa and a road trip to Wisconsin, and the possibility of a 10-win season (which would include a bowl win) is alive.
Illinois (-1)
Illinois dropped its second straight game and ceded control of the Big Ten West in the process, falling 31-24 to Purdue. Purdue's defense held Illinois star rusher Chase Brown below 100 yards on the ground for the first time all season, while Boilermakers quarterback Aidan O'Connell threw for three touchdowns. Illinois is still having a strong season but might have let its division title hopes fade on Saturday.
Iowa (+2)
As they often do for Iowa, defense and special teams were pivotal in a 24-10 win over Wisconsin. The Hawkeyes capitalized on a blocked punt, a big punt return and a defensive pick-six in the win. The Badgers were limited to just 51 yards rushing on 31 carries, which forced quarterback Graham Mertz to throw 35 times. He completed just 16 of those attempts for 176 yards and a touchdown and was also picked off twice.
Maryland (-2)
The Terrapins were completely befuddled offensively by the Nittany Lions. Maryland secured bowl eligibility a couple weeks ago but looks to be sputtering into the close, having lost back-to-back road games now with a home date against Ohio State next on deck.
Wisconsin (-1)
Every time Wisconsin posts an impressive result and starts to climb the Big Ten Power Rankings the Badgers seem to hit a setback. Saturday's came at Iowa, where the Hawkeyes were just too much defensively. Wisconsin still needs one more win to become bowl eligible, with a road trip to Nebraska and a home date with Minnesota closing out the regular season.
Purdue (+1)
Purdue, on the other hand, clinched bowl eligibility this week but remains behind Wisconsin at least for this week due to a head-to-head loss a couple weeks back. But that could certainly change going forward. Purdue is in decent shape to represent the Big Ten West in the conference title game, with games vs. Northwestern and at Indiana in the final two contests.
Michigan State (-1)
There is very little separation between Purdue and Michigan State in our Big Ten Power Rankings this week, but we are giving the Boilermakers the bump up for a couple reasons, even given Michigan State's 27-21 win at home against Rutgers. First, Purdue's was the more impressive win this week, even though both beat Illinois by about the same margin on the road. Second, Purdue has a better overall and conference record at this point.
Rutgers holds firm this week after playing Michigan State pretty closely. At 4-6 on the season, bowl eligibility is still a possibility for the Scarlett Knights but would require some fairly big upsets. A home game against Penn State followed by a road trip to Maryland are the road to eligibility.
The Cornhuskers were simply overmatched against the Wolverines. Chubba Purdy did what he could with Casey Thompson still out, leading the team with 39 yards rushing. But he was just 6-of-11 passing for 56 yards and Nebraska couldn't move the ball against Michigan.
Indiana joined Nebraska in the ranks of Big Ten teams no longer with the possibility of becoming bowl eligible by traditional methods (i.e. winning six games). The Hoosiers were smoked by the Buckeyes 56-14 and have lost seven straight following a 3-0 start to the season.
The lone team one-upping that current streak of ineptitude is Northwestern, which hasn't won a game since a season-opening defeat of Nebraska in Ireland. Northwestern was beaten 31-3 on Saturday by Minnesota, surrendering 178 yards and three touchdowns rushing to Mohamed Ibrahim.
Want to see how this week's power rankings compare to our previous edition? Check out the 2022 Week 10 Big Ten Power Rankings here!