Big Ten Power Rankings: Michigan, Ohio State survive scares before 'The Game'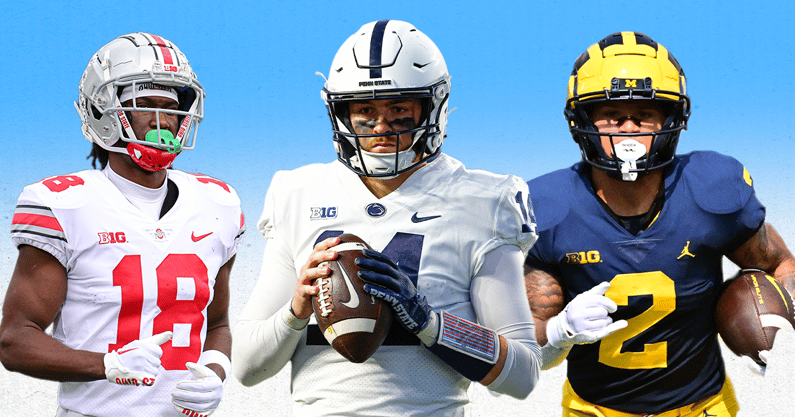 The big week is finally here, though not without a little drama on the way. Both Michigan and Ohio State were in closer-than-expected games over the weekend, though both won to remain atop the Big Ten Power Rankings.
And the middle of the league continues to flip flop around with several teams shifting following another week of results.
Let's go ahead and break down the action.
CLICK HERE to subscribe for FREE to the On3 YouTube channel
Today we update the Big Ten Power Rankings following Week 12 games.
2022 Big Ten Power Rankings – Week 12
Ohio State topped Maryland 43-30 thanks to a strong third quarter in which it outscored the Terps 17-0. But injuries are a major concern for the Buckeyes going into the massive clash with Michigan. Running backs TreVeyon Henderson and Miyan Williams are both banged up, and the Ohio State offense will be put to the test in the game of the year in the conference.
Michigan survived a much bigger scare than Ohio State, forced to kick a go-ahead and game-winning field goal as time expired to beat Illinois 19-17. Like Ohio State, Michigan now has injury concerns, with running back Blake Corum, tight end Luke Shoonmaker and defensive end Mike Morris all banged up in the contest. Corum's X-rays came back negative, but how healthy he is next week could be a key factor given quarterback J.J. McCarthy struggled Saturday against the Fighting Illini.
Penn State rolled over Rutgers 55-10 behind a staunch defensive performance. The Nittany Lions ran for 237 yards and allowed only 167 total to the Scarlett Knights. Penn State's chances at a New Year's Six bowl look very good with only a home date with Michigan State remaining.
Iowa (+2)
Man, Iowa knows how to win some ugly football games. That's a compliment, we think. Minnesota ran for 312 yards in the game powered by star Mohamed Ibrahim's 263-yard day, but Iowa forced turnovers when it needed to and kicked a game-winning field goal in the final minute to win 13-10. A win against Nebraska this week and the Hawkeyes will be back in the Big Ten title game.
Minnesota (-1)
Ibrahim tried to will the Golden Gophers to a win, but a costly fumble at the 9-yard line with about five minutes left in the game, followed by an interception with about two minutes left, was enough to do Minnesota in. We debated on Minnesota and Illinois in the No. 5 spot, but recency of results gives Minnesota the edge, despite a head-to-head loss.
Illinois (-1)
Illinois checks in below Minnesota in this week's Big Ten Power Rankings despite a hard-fought 19-17 loss on the road at Michigan mostly because the Fighting Illini have now lost three straight. When things are pretty close to equal between teams we're going to lean on recent results the most, and that's the difference here. Illinois will travel to Northwestern as it tries to snap its three-game losing skid.
Wisconsin (+1)
The Badgers ran for 235 yards in the game but weren't able to punch through for the win until late in the fourth quarter, finally topping the Cornhuskers 15-14 with a late score. It was a gritty win, given star defender Nick Herbig was ejected for targeting and star running back Braelon Allen left the game late with an injury. The win earned bowl eligibility for the Badgers.
Purdue (+1)
In another Big Ten with pretty iffy playing conditions, Purdue managed to do just enough to secure a 17-9 win over Northwestern. The Boilermakers got two touchdown passes from quarterback Aidan O'Connell and held the Wildcats to just 240 total yards in the game. Purdue still has a shot at the Big Ten West spot in the league title game, but it must win at Indiana and have Iowa lose to Nebraska.
Maryland (-2)
One week after being blanked by Penn State, Maryland put up a terrific fight against Ohio State at home. Quarterback Taulia Tagovailoa left it all out on the field before a hit late in the fourth quarter caused him to cough up the rock near his own end zone and allowed the Buckeyes to close out a 43-30 win. Maryland is bowl eligible but has lost three straight.
Indiana (+3)
In a wild finish, Indiana managed to outlast Michigan State for a 39-31 win in double overtime. Stunningly, Michigan State missed a 22-yard field goal attempt that would have won the game in regulation. Then both teams traded blocked field goals in the first overtime period before Indiana scored a touchdown and two-point conversion, then stopped Michigan State, in the second overtime.
Michigan State (-1)
The Spartans had chances to win it, most notably late in the fourth quarter when it had first-and-goal from the 10-yard line with a minute to play and came away without any points. Michigan State outgained Indiana 540 yards to 288 but couldn't come up with key stops — or key kicks — when it mattered. Now Michigan State's bowl eligibility rides on getting a win on the road at Penn State.
Despite a loss to Wisconsin and having fewer wins, we've moved Nebraska past Rutgers (or rather dropped Rutgers below Nebraska) in this week's Big Ten Power Rankings. The Cornhuskers have been significantly more competitive than the Scarlett Knights recently, while also owning the head-to-head win this year.
Rutgers (-2)
The Scarlett Knights were thrashed by the Nittany Lions, dropping their fourth straight game and their seventh in the last eight. Bowl eligibility is now out of reach for Rutgers, which will travel to Maryland for the season finale.
The Wildcats kept it close against the Boilermakers but ultimately fell 17-9, losing their 10th consecutive game. It's been a rough season for Northwestern, which will close things out this weekend with a home game against Illinois.
Want to see how this week's power rankings compare to our previous edition? Check out the 2022 Week 11 Big Ten Power Rankings here!