2022 five-star Jalen Duren discusses upcoming decision, finalists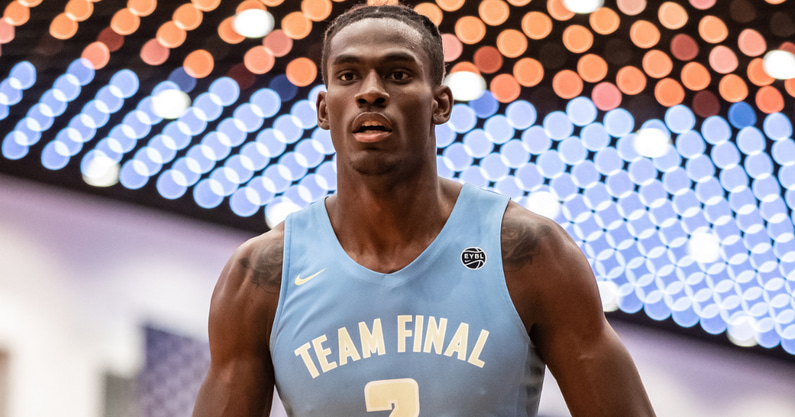 Jalen Duren is, without a doubt, the most dominant big man in his class. The 6-foot-10, 240-pound power forward from Montverde (Fla.) Academy is a man amongst boys.
And now he has a big decision to make: college or pro? Duren's announcement comes in just over 48 hours, and he said he's "excited and nervous… a lot of mixed emotions for sure."
Duren's announcement celebration will take place from 6-7:30 p.m. ET Aug. 6 at the Team Final headquarters in Wilmington, Del. His finalists are Kentucky, Memphis, Miami, the NBA G-League and the NBL.
College or Pro?
When asked what the key factor was in deciding between the college and pro route, Jalen Duren talked about development.
"Where I'm going to develop the most at and where I'm going to learn the most at, on and off the court," he said. "I want to be well-rounded after that making that step and moving on to new levels."
On3 asked Duren besides development, what's the other "must-have" for you at the next level:
"Connections, in terms of the program, the coaches, or the staff in itself," he said. "Just having connections to that NBA atmosphere just to get feedback… to help with my development. I think it all goes back to that, just getting that professional feedback, so I know what I need to work on more."
Duren said the new NIL legislation that allows college players to make money off their name, image and likeness impacted his decision.
"It eliminated the money factor," he said. "Because now a decision can't be made strictly off of finances. The NIL leveled the playing field. It made it where some athletes are going to be fortunate to make more in college than they would in the professional route."
NBA G-League
The G-League is one of the two pro options Jalen Duren is considering. His estimated contract for one year is approximately $1 million. For comparison, Jalen Green's contract was only worth $500,000.
"I've spoken to Isaiah Todd and Daishen Nix just to get a feel for the whole program," he said. "Of course, their experience was a little different because of COVID, but just them giving me feedback. It was all good feedback. Just how much they learned and how much better they got in that program."
NBL
The other pro option Jalen Duren is considering is Australia's pro league, the NBL. Duren says he's talked to one of the owners of the league, although he did not specify who exactly.
"I've gotten on a couple zooms with him just to speak about Australia, being in a different country, and just what the league can offer," he said. "They also have a great league, in their Next Stars program. We've seen guys come out of there, and get drafted here in the lottery, so it's another great program. It's always been appealing to see how they develop their guys."
Miami Hurricanes
Jalen Duren, a Philadelphia native, transferred to powerhouse Montverde Academy last summer. Ever since, Miami has been the closest school to him proximity-wise. What makes him even closer to the Hurricanes, though, is one of Miami's assistant coaches, DJ Irving.
Irving coached Duren at his previous high school Roman Catholic and last summer on the AAU circuit on Team Final.
Duren says he likes everything about Miami.
"Miami was one of the first schools to offer me, and just having that connection with them," he said. "I had a connection with Miami before DJ even got there. Like I said with them being in talks with me for so long… DJ going there definitely helped it out. They have a family atmosphere down there. It's a lot of love. I already know a couple guys on the team. It's definitely a great program. They have a good development program, too.
"Coach L (Jim Larrañaga) is a great coach."
Memphis Tigers
Penny Hardaway and Memphis are another huge contender for Jalen Duren.
"Penny is a players coach," Duren said. "He's done it before and he's been through all levels of basketball. Their pitch is the NBA knowledge they have, with adding Larry Brown and Cody Toppert. Just the development that they can provide."
Kentucky Wildcats
Kentucky basketball speaks for itself. The Wildcats have gotten more players to the NBA than any other school.
"It's a great program honestly," Jalen Duren said. "A legendary program. It's a lot of love there, too. They have a new coaching staff who I had the pleasure to meet. They have a lot of great guys, and they're going to be a good team next year. I talk to coach (John) Calipari a lot and the vision he has for me is definitely great. They're very proven in what they've done."
Whoever lands Jalen Duren on Friday is getting an instant impact player, and a sure-fire lottery pick.