2022 Heisman odds updated after pivotal Week 13 of college football season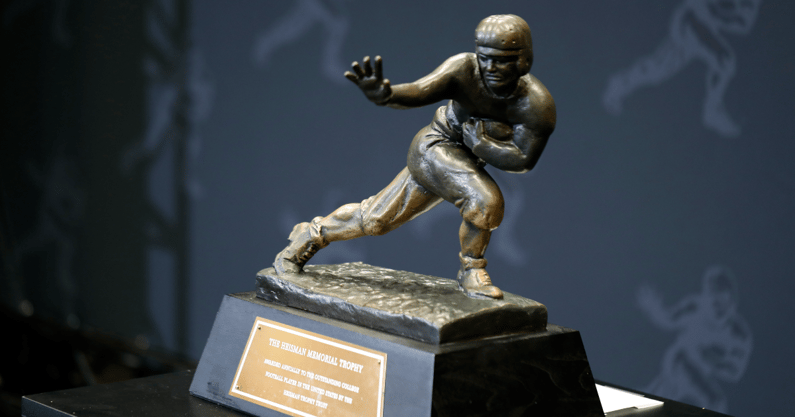 Following a consequential Week 13 of college football action, Vegas Insider has released updated Heisman odds with a new odds leader.
Although there were 12 candidates on the odds leaderboard after Week 12, the list is now down to just six top candidates. Also notable, the newest Heisman odds exclude any player that isn't a quarterback. Running backs Blake Corum and Chase Brown, as well as wide receiver Marvin Harrison Jr., are no longer betting options – at least not on Vegas Insider.
Leading the way after topping cross-town rival UCLA and then cross-country rival Notre Dame is USC Trojans quarterback Caleb Williams.
With the Horned Frogs one game away from securing their first College Football Playoff appearance, Max Duggan is surging in the odds. CJ Stroud, who led all candidates for most of the year, is now third, but closely behind Duggan. Unfortunately for the Buckeyes star, unless Ohio State finds a back door into the CFP, he could be out of luck.
Here are the latest Heisman Trophy favorites, according to Vegas Insider, along with their stat lines through Week 13.
20222 Heisman odds
Caleb Williams, USC: -2700
– 3,712 passing yds, 65.8%, 34 TD, 3 INT, 351 rushing yds, 10 TD
Max Duggan, TCU: +2125
– 3,070 passing yds, 66.6%, 29 TD, 3 INT, 294 rushing yds, 5 TD
CJ Stroud, Ohio State: +2500
– 3,340 passing yds, 66.2%, 37 TD, 6 INT, 74 rushing yds
Stetson Bennett, Georgia: +9375
– 3,151 passing yds, 67.2%, 16 TD, 6 INT, 190 rushing yds, 7 TD
Michael Penix Jr, Washington: +10000
– 4,354 passing yds, 66%, 29 TD, 7 INT, 86 rushing yds, 4 TD
Bryce Young, Alabama: +20000
– 3,007 passing yds, 64.1%, 27 TD, 5 INT, 195 rushing yds, 4 TD
For comparison's sake, these were the odds just one week ago:
CJ Stroud, Ohio State: -127
Caleb Williams, USC: +125
Blake Corum, Michigan: +1300
Bo Nix, Oregon: +4500
Max Duggan, TCU: +4750
Jayden Daniels, LSU: +5000
Drake Maye, North Carolina: +7675
Stetson Bennett, Georgia: +7750
Bryce Young, Alabama: +12500
Chase Brown, Illinois: +20000
Marvin Harrison Jr, Ohio State: +20000
Michael Penix Jr, Washington: +30000
Heisman odds last updated on Nov. 30, 2022