Heisman hot board after Week 2: Bryce Young is at the top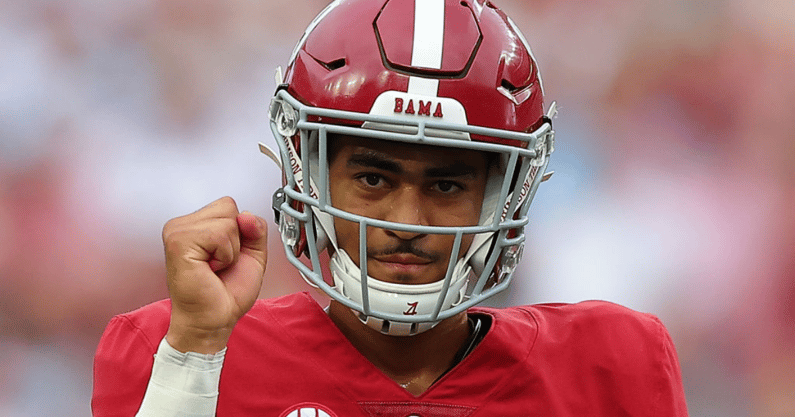 Heisman voters Matt Zenitz and Mike Huguenin will provide weekly updates on who leads the Heisman race for them. Here is how each has the field after Week Two.
Matt Zenitz's list
1. Alabama QB Bryce Young: Young saved the day for Alabama against Texas with multiple game-changing plays during the fourth quarter, including a go-ahead touchdown pass and a sack escape that turned into a 20-yard scramble to set up the game-winning field goal.
Week 2 stats: 213 passing yards, 38 rushing yards, one passing TD during the 20-19 win over the Longhorns.
2. USC QB Caleb Williams: Williams led USC to touchdowns on each of its first five drives as the Trojans built a 35-14 halftime advantage during their win over Stanford.
Week 2 stats: 341 passing yards, four passing TDs during the 41-28 win over Stanford.
3. Georgia QB Stetson Bennett: Bennett had his second consecutive 300-yard passing game to start the season.
Week 2 stats: 300 passing yards, one passing TD, one rushing TD in a 33-0 rout of Samford.
4. Ohio State QB C.J. Stroud: For the sixth time in 11 games, Stroud threw for at least 330 yards and at least four touchdown passes.
Week 2 stats: 351 passing yards, four passing TDs during a 45-12 win over Arkansas State.
5. Tennessee QB Hendon Hooker: Hooker has led Tennessee to wins in two of its past three games against top-20 opponents dating to last season.
Week 2 stats: 325 passing yards, 25 rushing yards, two passing TDs during a 34-27 overtime win over then-No. 17 Pitt.
6. Wake Forest QB Sam Hartman: In his first game action of 2022, Hartman had four touchdown passes before the end of the third quarter in helping the Demon Deacons cruise past Vanderbilt.
Week 2 stats: 300 passing yards, four passing TDs during a 45-25 win over Vanderbilt.
7. USC WR Jordan Addison: Addison has multiple touchdown receptions in each of his first two games at USC.
Week 2 stats: Seven catches, 172 yards, two TDs during the 41-28 win over Stanford.
Mike Huguenin's list
1. Bryce Young: He scuffled for about a half, then awoke and had a magnificent fourth quarter to lead the Tide past Texas. One issue for him: Does Alabama have a true playmaking receiver?
2. C.J. Stroud: He averaged better than 20 yards per completion and tossed four TD passes against Arkansas State.
3. Caleb Williams: He and WR Jordan Addison make for a pretty good pass-catch combination, don't they?
4. Stetson Bennett: Another easy win, another big game for Bennett. But as I wrote last week, the Heisman is supposed to go to the best player in the nation, and Bennett isn't even the best player on Georgia's team.
5. Illinois RB Chase Brown: He's the nation's leading rusher and basically is the Illini's entire offense. Does he have a realistic shot at the Heisman? Noooooo.
Week 2 stats: 146 rushing yards on 20 carries in a 24-3 win over Virginia; he leads the nation in rushing at 165.3 yards per game.
6. Alabama OLB Will Anderson: Anderson hasn't taken over a game yet, but he did have two big plays against Texas.
Week 2 stats: Five tackles and two tackles for loss, including a sack, in the victory over Texas.
7. Sam Hartman: He returned in a big way after missing the opener following surgery for a blood clot. His Heisman "candidacy," as it were, will be determined September 24 when Wake plays host to Clemson.