2022 NBA Draft: Cleveland Cavaliers select Isaiah Mobley, USC power forward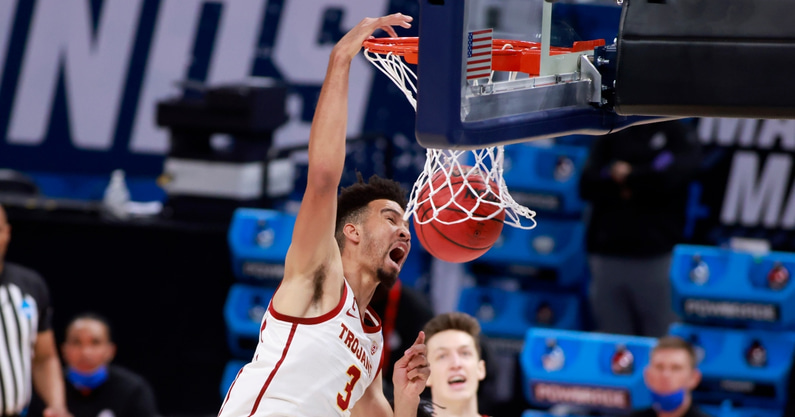 USC power forward Isaiah Mobley is off the board in the 2022 NBA Draft. With the No. 49 pick in the second round, Mobley was selected by the Cleveland Cavaliers — where he'll reunite with his brother, Evan Mobley.
A five-star recruit from the Class of 2019, Isaiah Mobley played three seasons at USC before moving on to the NBA. During the three seasons that Mobley played for the Trojans, they were always a threat in the PAC-12. His final season, 2021-22, saw USC lose in the first round of the NCAA Tournament to the Miami Hurricanes.
His best scoring performance of the 2021-22 season came against California when he scored 24 points. That was also his career-high in scoring. He was also First-Team All-PAC 12 in 2022.
Over the course of his career, Isaiah Mobley averaged 10.1 points, 7.0 rebounds, and 2.0 assists per game. He shot 46% from the field and 36% from three-point range.
In 2021, Isaiah Mobley declared for the NBA Draft, while maintaining his edibility. College players do this to test the waters and see what kind of interest they're garnering at the next level. Back then, he decided to return to USC. In 2022, however, he felt that his draft stock was as high as it was ever going to be. Still, it was debated where he might land in the NBA Draft.
A strong post presence, Isaiah Mobley is an excellent rebounder who provides decent scoring off the dribble. For his size, he's also a strong passer with good court vision. The problem is that he struggles to score when there is traffic around the rim. At the same time, he struggles to shoot from mid-range and beyond. In that respect, he's an old-school power forward in a league with an evolving expectation for how big men play offensively.
To succeed in the NBA, Mobley is going to need to improve in traffic and work on playing away from the rim. If he does that, then he could be a solid NBA role player.