2022 NBA Draft: San Antonio Spurs select Malaki Branham, Ohio State shooting guard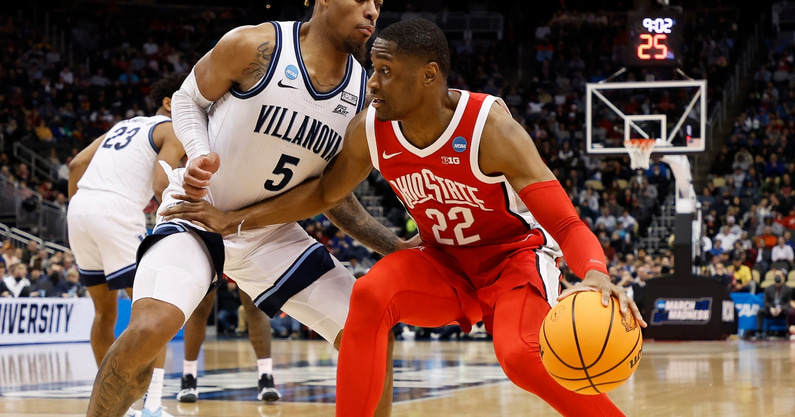 Ohio State shooting guard Malaki Branham is off the board in the 2022 NBA Draft. With the No. 20 pick of the first round, Branham was selected by the San Antonio Spurs.
A four-star recruit in the Class of 2021, Malaki Branham declared for the draft after one college season. During that one year at Ohio State, Branham helped Ohio State go 20-12 and make the NCAA Tournament. There, the Buckeyes fell in the second round to Villanova.
During the 2021-22 season, Malaki Branham had multiple games with better than 30 points. That includes his season-high 35-point performance against Nebraska and 31 points in a thriller against Illinois. He was the Big Ten Freshman of the Year and was Third Team All-Big Ten.
In his one season at Ohio State, Branham averaged 13.7 points, 3.6 rebounds, and 2.0 assists per game. He shot 49.8% from the field and 41.6% from three-point range.
It should be no surprise that Malaki Branham is a top-ranked prospect in the 2-22 NBA Draft. Mock drafts from ESPN and CBS Sports have predicted that Branham would go at 16th and 15th, respectively.
"In addition to his sharpshooting ability, the Buckeye is able to get to the basket and finish well at the rim, shooting 68 percent from eight feet and in. His cutting, slashing, finishing, and dunking ability were on display throughout the college season," NBA.com has written about Malaki Branham's game.
"Branham will make his living in the NBA on the offensive end of the floor. His high shooting percentages from all over the court should allow him to have an instant impact in his rookie season…There are really no glaring weaknesses in Branham's game, but rather some areas in which he could improve, and those may happen over time."
While at Ohio State, Malaki Branham showed sparks of incredible potential and growth during the season. If he can continue to do so, then he has plenty of potential to be a great NBA player.