2022 SEC job rankings in NIL, transfer portal era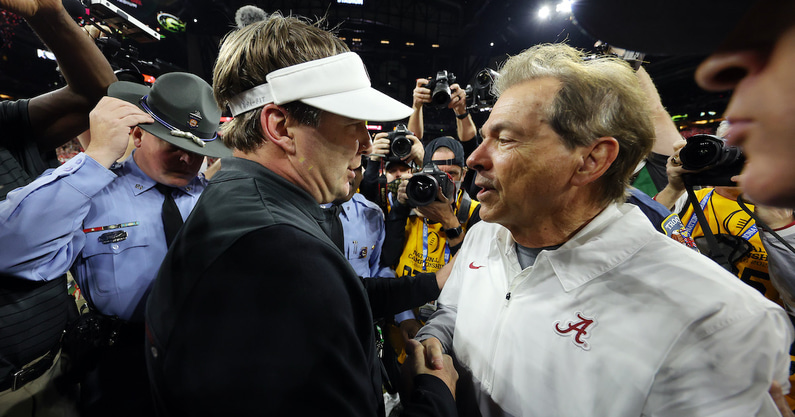 In a recent call for questions for our #MeansMoreMailbag, I received a request to rank the SEC head coaching jobs now that name, image and likeness, collectives, the transfer portal, etc., have altered the landscape of college football. 
Great idea!
So while this exercise has certainly been done before, a ranking of the SEC jobs five years ago looks different today. 
A key point here: This is not a ranking of the head coaches in the SEC. We know Nick Saban is king, but is Alabama actually the best job in the conference? 
To determine "the best" I considered among the following factors with the goal in mind to win a national title: Financial resources, including a forward-thinking NIL strategy, administration alignment (i.e. the opposite of Auburn), access to talent, fan support, facilities and tradition/history.
If SEC job X were open, which one would draw the most interest for the greatest opportunity for success?
Notably, I did not include Oklahoma or Texas in this ranking. Let's wait until 2024 or 2025 and see where the sport stands when the two blue bloods from the Big 12 join the league. 
Without further adieu: SEC job rankings
1. Georgia — UGA has been the best job in all of college football for the last decade or so — and now the Bulldogs have a national championship to prove it. Kirby Smart awoke the sleeping giant by making sure everyone was rowing in the same direction. Georgia has a passionate fan base, elite access to talent, top-flight facilities and a shiny new trophy to showcase.
2. Alabama — Nick Saban is clearly concerned that the Tide are getting lapped in the NIL game, but I expect that to be rectified soon. This is about infrastructure and foundation. Alabama can't compete with Texas A&M's money, but the alignment — from the state government to administration (both school and athletics) — is only paralleled at Georgia right now. The Tide have great facilities, too, and while their state doesn't typically produce tons of Top 100 prospects (2023's impressive crop notwithstanding), they can easily dip into Georgia, Louisiana, Florida and elsewhere for talent.
3. Texas A&M — Have you seen the price of oil lately? The Aggies are one of the programs whose job has become more attractive in the new "Wild, Wild, West" of college football. They haven't won a national title in over 80 years, but the right guy (Jimbo Fisher or otherwise) will snap that streak soon enough. Texas A&M has the resources, facilities and pipeline to talent to win big. Depending on how one views the Aggies' job, there's argument to be made they could be ranked as high as No. 2 or as low as No. 5 on this list.
4. LSU — The Tigers are the flagship school in a state rich with bluechip talent where nearly every high school in Louisiana wears purple and gold. Add in the recent state NIL legislation and unwavering fan support, and LSU is among the most attractive jobs in America. The Tigers' last three coaches all won national titles in Baton Rouge. 
5. Florida — A decade ago, UF finds itself higher on this list. It's slipped some in recent years, but the Gators remain one helluva attractive job — even if it's a harder gig than say Georgia or LSU. The Sunshine State is a fertile (but notably competitive) recruiting base and the school's administration has shown a renewed financial commitment (hello brand new football-only facility). The Gators also have one of the foremost aggressive NIL collectives going right now. 
6. Tennessee — The Vols have been higher and lower on these very lists in recent years, but thanks to some (much, much-needed) stability within the administration and boosters, they finally aren't creating their own messes anymore. Tennessee has the most crazed fan bases (in a good way!) In the country. The whole Volunteer State is behind the Power T. Its facilities are a bit older but upgrades are happening. The financial commitment is no longer in question either, and with one of the most organized NIL collectives in the country, it can functionally operate a national recruiting strategy now. 
7. Auburn — The Tigers have proven this century that they have what it takes to compete for a national title, and I believe they're the last job that qualities for that statement within these rankings. Auburn has the fan support, facilities, recruiting hotbed, etc, to win. But it's also Auburn. The Tigers have bickering boosters and incompetent administrators. The attempted coaching coup this offseason shed a spotlight on the dysfunction one must navigate around to be successful on The Plains. Also: They currently play Alabama and Georgia every single season. 
8. Kentucky — The Wildcats are another program that's enhanced their status on the market in the past few years. They've invested in Mark Stoops, and in return, he's turned UK into an attractive job for whoever takes that chair next. The 'Cats are no longer just a "basketball school." Their facilities are beautiful, and their administration has a keen understanding of expectations at Kentucky. That's really important. 
9. Arkansas — I'm doubtful the Razorbacks can ever win a national championship, but that doesn't mean there's not a lot to like about the Arkansas job. They have big money boosters, have proven they will invest financially (see: Sam Pittman's recent extension + newly renovated facilities) and their fan support is as rabid as any in the SEC. The difficulty here is access to talent and the fact they have to play Alabama, Texas A&M, LSU, etc. every year. There's a chance — albeit slight — that the introduction of OU and Texas into the SEC actually makes Arkansas a more attractive job with new doors open to available prospects.
10. Ole Miss — The Rebels should be one of the schools pining for an expanded playoff, as that would unlock the current cap on their program's ceiling. Ole Miss' finances do not compare to that of even Arkansas or Auburn, but it does still have solid institutional support and a very passionate fan base. It's the more well-regarded SEC school within the state and it has the ability to poach recruits from Memphis to Alabama. 
11. South Carolina — As a member of the SEC, the best stretch of Gamecocks football happened during a time when the Palmetto State produced two of its best players ever (Jadeveon Clowney and Marcus Lattimore) and Clemson wasn't Clemson yet. That doesn't mean it's a bad job though — just one that's really hard. The financial commitment is there, and the recruiting base includes several neighboring states (Georgia, North Carolina and Tennessee) that yield lots of D1 prospects. 
12. Mississippi State — MSU is a perfect example of just how absurdly difficult it is to win in the SEC. The Bulldogs are program with a rabid fan support, solid financial resources and good facilities — and yet they stand little chance of even competing for a division title. It almost happened (repeat, almost) in 2014, and even a transcendent Dak Prescott couldn't make it happen.
13. Missouri — St. Louis actually develops a decent volume of talent, but still, it's hard to win anything substantial at Mizzou right now. The fan support is particularly lacking compared to every other school in the SEC. The Tigers' financial commitment is substandard, too. This job is hard now and will only get tougher once OU and Texas join the conference.
14. Vanderbilt — Clark Lea has been promised the resources it will take to make the Commodores a player in the SEC, but it's a steep, steep climb for Vandy to even get out of the cellar of the conference. Vandy is one of the most difficult jobs in all of the Power 5. Even with the recent upgrades, its facilities lag compared to the rest of the league, and while the state of Tennessee is starting to produce more talent, Vandy has the strictest academic standards in the league.