SEC Power Rankings: Arkansas, Florida narrowly survive Week 3 upset bids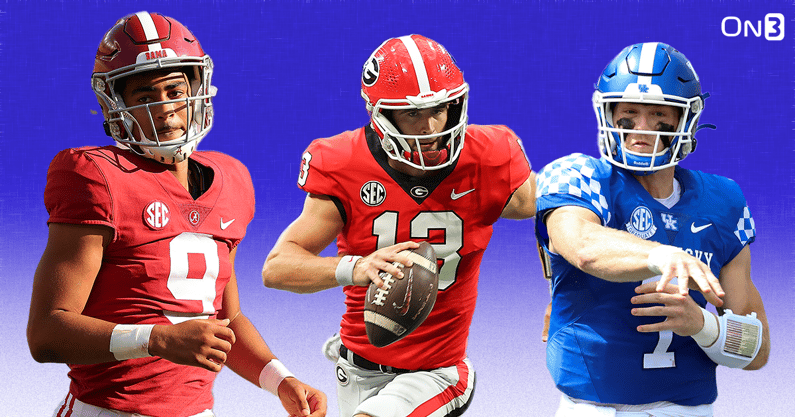 The SEC had a relatively straightforward week with very few unexpected results. Auburn was pounded by Penn State, while Texas A&M bounced back with a win over Miami, the two marquee non-conference games that had the most influence in shaking up the Week 3 SEC Power Rankings.
Beyond it was a fairly typical cupcake weekend for the league before conference play begins in earnest in Week 4.
So who benefited the most from the Week 3 action? We have a shift just below our top tier, as well as plenty of movement in the bottom half of the standings. Let's dig in.
CLICK HERE to subscribe for FREE to the On3 YouTube channel
Today we update the SEC Power Rankings following Week 3 games.
2022 SEC Power Rankings – Week 3
If there was any inkling South Carolina might make it competitive against the nation's top-ranked team, that notion was quickly smothered. The Bulldogs were dominant in all phases from start to finish, leading 45-0 through three quarters. The secondary came away with three interceptions as the Bulldogs outgained the Gamecocks 547 yards to 306 in the contest.
The Crimson Tide were elite on special teams, scoring on a blocked punt and setting a school record for punt return yardage. Alabama raced to an early 21-0 lead about six minutes in against UL-Monroe in an eventual 63-7 win. It wasn't a perfect game — quarterback Bryce Young threw two interceptions — but it was a nice rebound after a tighter-than-expected Texas contest a week ago.
Kentucky (+1)
Like Alabama, Kentucky's 31-0 win against an overmatched Youngstown State squad wasn't perfect. Quarterback Will Levis threw two interceptions while throwing for 377 yards (and two scores), as the Wildcats simply wore on the Penguins over the course of the game. The defense pitched a shutout, limiting Youngstown State to just 192 yards in the game. Kentucky moves up a spot based on a poor Arkansas showing against Missouri State.
Arkansas (-1)
Arkansas survived 38-27 against former coach Bobby Petrino and his Missouri State squad, but it wasn't easy. The Hogs trailed by 10 in the fourth quarter and it's clear that defensive injuries in the first two weeks have taken their toll. Still, quarterback KJ Jefferson did what he needed to late with a 385-yard, two-touchdown day and do-it-all back Raheim Sanders chipped in 242 all-purpose yards and two touchdowns. The Razorbacks don't get much recovery time, with a trip to Texas A&M on tap for Week 4.
The Volunteers got just about everyone involved in a 63-6 whipping of Akron. Quarterback Hendon Hooker threw for 298 yards and two scores, backup Joe Milton threw for two more, backs Jaylen Wright and Dylan Sampson each had two touchdown runs, while receiver Jalin Hyatt also hauled in a pair of touchdown receptions. Next up: No. 20 Florida with ESPN's College GameDay in town in Knoxville.
Ole Miss (+2)
The Rebels are a mover thanks to a dominant 42-0 Power 5 win over lackluster Georgia Tech and a poor outing by Florida. Ole Miss still has quarterback questions — Jaxson Dart and Luke Altmyer have thrown five touchdown passes and three interceptions in the first three weeks — but that was no problem thanks to the run game Saturday. The Rebels piled up 316 yards on the ground, with backs Zach Evans and Quinshon Jenkins each hitting paydirt twice.
Florida (-1)
Another game, another fourth-quarter affair. Florida messed around and let USF stick around after building a 14-point lead, unable to drive the nail in the coffin after halftime. Quarterback Anthony Richardson threw two more costly interceptions and has still yet to throw a touchdown pass this season. Florida avoided overtime after USF botched a snap on a potential game-winning drive then muffed the hold on a game-tying field goal attempt in the final minute. The Gators held on to beat the Bulls 31-28.
Texas A&M (+1)
The Aggies secured a big non-conference win against No. 13 Miami, one that helps ease the pain of a Week 2 loss to Appalachian State. Texas A&M didn't get a ton going offensively, but quarterback Max Johnson was good enough to manage the game to a win while the defense did a nice job bending without breaking. The Hurricanes were kept out of the end zone as the Aggies pulled out a 17-9 result. Next week is another big one for Texas A&M: No. 10 Arkansas comes to town.
LSU (+2)
A muffed punt by Mississippi State in the fourth quarter helped LSU turn things around, but you have to credit the Tigers defensively. They really put the clamps down on MSU quarterback Will Rogers and coach Mike Leach's offense. The Bulldogs gained just 289 yards on offense. Meanwhile, LSU quarterback Jayden Daniels nearly reached 100 yards rushing and his ability to make off-schedule plays were the difference in LSU's 31-16 win.
Mississippi State (-3)
The Bulldogs led in the fourth quarter but were blanked in the final frame while the Tigers scored 21 to secure the win. Leach and company will get a chance to right the ship next week with a home game against Bowling Green before a stretch of six games that includes five contests against currently ranked opponents — four of which are ranked top-10 nationally.
South Carolina (-1)
It's hard to be too negative about a program that gets walloped by Georgia; until someone proves there's another result possible against the defending national champs, that seems to be the way it'll go this year. The biggest question mark for the Gamecocks is whether quarterback Spencer Rattler can settle in. Through three games he's thrown just two touchdown passes to five interceptions. South Carolina needs him to be better.
Vanderbilt (+2)
The Commodores might have found something in last week's loss to Wake Forest, with backup quarterback AJ Swann sparking the offense. Swann was excellent in a 38-28 win over Northern Illinois. Vanderbilt had to rally from down 14 points but ultimately got the job done, with Swann finishing 18-of-28 passing for 255 yards and four touchdowns, with no interceptions. Bad news? No. 2 Alabama in Tuscaloosa is up next.
After a loss to Kansas State last week, Missouri bounced back with a 34-17 win over Abilene-Christian with the Wildcats adding a touchdown late after the game was already decided. The Tigers got significantly better play from quarterback Brady Cook, who threw for 292 yards and three touchdowns without an interception. Receiver Dominic Lovett had seven catches for 132 yards and two scores, while freshman Luther Burden III scored on a 78-yard punt return. Missouri starts SEC play next week with a trip to Auburn.
Auburn (-2)
At this point it simply feels like a matter of time until Auburn pulls the plug on coach Bryan Harsin, whose team was thoroughly dismantled in a 41-12 drubbing by Penn State. The Tiger still have major quarterback problems, which were once again on display Saturday. Auburn and Missouri will battle it out for the right not to be last in the SEC Power Rankings next weekend.
Want to see how this week's power rankings compare to our previous edition? Check out the 2022 Week 2 SEC Power Rankings here!