SEC Power Rankings: Tennessee, Texas A&M take down ranked league rivals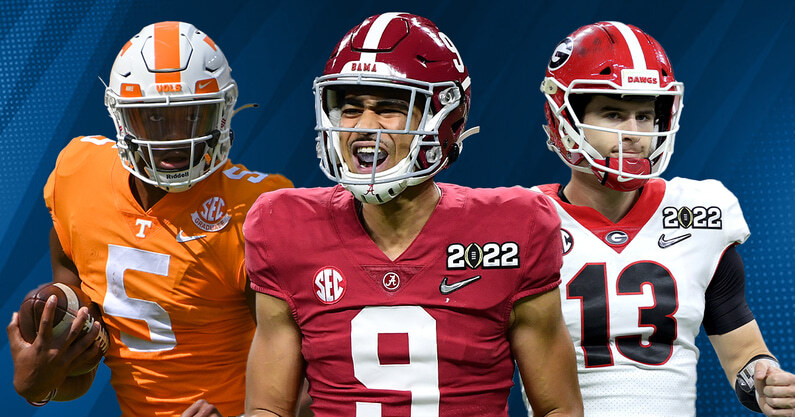 After a busy weekend of action that included multiple ranked-on-ranked conference matchups, our SEC Power Rankings have some shifts near the top following the Week 4 action.
Tennessee scored a key win over rival Florida, while Texas A&M posted a second-straight win over a ranked opponent by downing a top-10 Arkansas program.
So how did those results, and others, impact our power rankings this week? Let's begin to dive into all the SEC action.
CLICK HERE to subscribe for FREE to the On3 YouTube channel
Today we update the SEC Power Rankings following Week 4 games.
2022 SEC Power Rankings – Week 4
Finally the Bulldogs showed a possible hint of mortality, struggling a bit to put away Kent State after a dominant start to the 2022 campaign. Still, the game was never really in doubt and Georgia beat Kent State comfortably 39-22. The Bulldogs should run it up to 7-0 before the SEC East showdown with Florida in Jacksonville. The next three games are at Missouri and then against Auburn and Vanderbilt at home.
Alabama turned in an absolutely suffocating defensive performance against Vanderbilt in a 55-3 win in which the Crimson Tide surrendered only 129 total yards. Quarterback Bryce Young threw for 385 yards and four touchdowns as Alabama hit cruise control. The upcoming stretch is daunting, though: at No. 20 Arkansas, vs. No. 17 Texas A&M, at No. 8 Tennessee.
Tennessee (+2)
The Volunteers made an adventure of it in the final two minutes but managed to hang on for a 38-33 win over the Gators. Quarterback Hendon Hooker was excellent, throwing for 349 yards and rushing for 112 more as he accounted for three touchdowns. The Volunteers did surrender 594 yards defensively, including 453 through the air. Still, a massive win for Tennessee sends the Vols into the upper echelon of the SEC Power Rankings.
Kentucky (-1)
The Wildcats escaped with a win against Northern Illinois, which managed to make it tight down the stretch but didn't seriously threaten in a 31-23 loss. The big story continues to be Kentucky's offensive line, though. The Wildcats are giving up four sacks per game (allowing five on Saturday) and that just doesn't seem sustainable in SEC play.
Texas A&M (+3)
The Aggies clearly aren't rolling over on the 2022 season despite the loss to Appalachian State a couple weeks ago. A wild finish, which included a wacky Texas A&M fumble return touchdown and a go-ahead Arkansas field goal attempt with 1:30 left hitting the very top of the right upright to come up no good, ended in a 23-21 Texas A&M win. No rest at all for the Aggies following back-to-back wins over ranked opponents, though. A three-game road stretch against Mississippi State, No. 2 Alabama and South Carolina begins this week.
Arkansas (-2)
Tough breaks this week for Arkansas, which saw Texas A&M capitalize on a poorly-timed KJ Jefferson fumble deep in the red zone with a crazy 82-yard touchdown return and then watched that final field goal attempt come up agonizingly short off the top of the upright. And now Arkansas gets to host No. 2 Alabama before a three-game stretch away from home.
Ole Miss (-1)
The Rebels slide one spot this week, but that's more about Texas A&M now boasting a pair of wins against ranked opponents and Ole Miss not having anything to match that just yet. Ole Miss beat Tulsa 35-27 Saturday but was blanked on the scoreboard after halftime. The Rebels will get a chance to move up the SEC Power Rankings this week when they host No. 7 Kentucky.
LSU (+1)
Another cupcake opponent, another win comfortable win for LSU, this time by a 38-0 score over New Mexico. The win wasn't without cost for the Tigers, who saw quarterback Jayden Daniels leave the game early with a lower back strain. Daniels was reportedly cleared to return, but it'll be worth monitoring if there are any lingering effects as the Tigers travel to Auburn this week.
Florida (-2)
Florida remains a difficult team to peg in our SEC Power Rankings as inconsistency seems to be the name of the game for the Gators. On Saturday in a loss to Tennessee quarterback Anthony Richardson was back in form but the defense couldn't come up with stops when it needed to. A brutal first month of the season is now in the books, and the Gators have a more manageable stretch coming up against Eastern Washington, Missouri and LSU (all at home) before a bye week and the Jacksonville trip to take on No. 1 Georgia.
The Bulldogs wasted no time bouncing back from last week's loss to LSU, racing in front of Bowling Green 31-7 by halftime and closing out the 45-14 win comfortably. Quarterback Will Rogers threw for 409 yards and six touchdowns without an interception. Now Mississippi State faces four straight ranked opponents: No. 17 Texas A&M, No. 20 Arkansas, at No. 7 Kentucky and at No. 2 Alabama. Yeesh.
A cupcake was just what the doctor ordered for South Carolina following a tough opening stretch, and Charlotte delivered. The Gamecocks added some sprinkles with a breakout rushing performance, led by MarShawn Lloyd's 169-yard, three-touchdown day in a 56-20 win. South Carolina will get another tune-up this week against SC State prior to a road trip to No. 7 Kentucky.
An overwhelmingly positive start to the season for Vanderbilt came to a screeching halt on Saturday in a 55-3 defeat at Alabama. Of course, that was to be expected. How long the Commodores can keep the mostly positive mojo going remains to be seen, though. No. 14 Ole Miss is up next, followed by a trip to face No. 1 Georgia.
Auburn (+1)
Well, the Tigers won. They needed one of the most improbable endings to do so, but they did win 17-14. Missouri jumped offsides on Auburn's 44-yard field goal attempt in overtime, which was missed. Auburn converted the ensuing 39-yarder on the second attempt, then watched as the other set of Tigers fumbled the ball into the end zone on what would have been the winning play, just inches short of the goal line. A fitting end for the two teams at the bottom of our SEC Power Rankings.
Missouri (-1)
Despite limiting Auburn to just 217 total yards and having multiple chances to win the game, Missouri just couldn't get it done in a 17-14 overtime loss. The Tigers turned it over twice and squandered a 110-yard rushing performance by Nathaniel Peat, dropping their second game this season. Back-to-back games against No. 1 Georgia and Florida (on the road) are next.
Want to see how this week's power rankings compare to our previous edition? Check out the 2022 Week 3 SEC Power Rankings here!