2022 SEC Unit Rankings: The Top 5 defensive lines/edge units in the SEC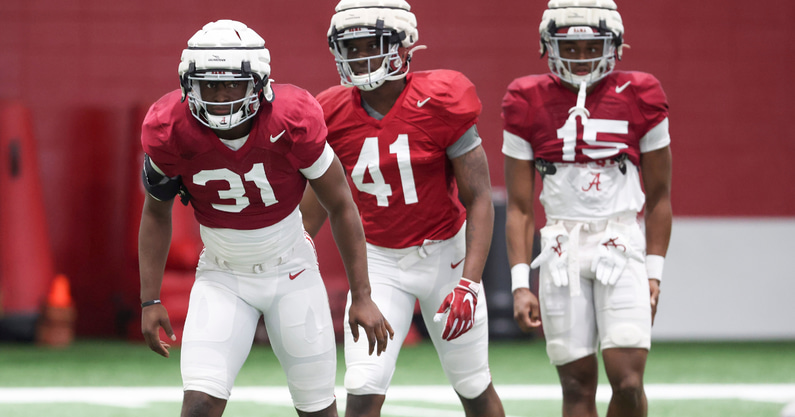 What separates the SEC from every other conference in the country?
The deepest pool of dominant defensive linemen in America. A group of bonafide dudes who just rag-doll opposing offensive linemen.
The conference is loaded with interior game wreckers like Georgia's Jalen Carter, LSU's Jaquelin Roy and Auburn's Colby Wooden. Traditional 4-3 ends like LSU's Ali Gaye and Tennessee's Byron Young count in this conversation, as do all-world stand-up edge rushers like Will Anderson and B.J. Ojulari. 
So, here's my Top 5 defensive line/edge units in the SEC in 2022:
1. Alabama 
Naturally, it starts with Will Anderson, arguably the best pure football player in America. The future Top 5 NFL Draft pick is the Tide's best edge rusher since Derrick Thomas, only Anderson has even more help opposite him entering 2022. Paired with former 5-star edge prospects Dallas Turner and Chris Braswell, the Tide have the scariest pass rush trio in the nation — this from a defense that had an SEC-best 121 tackles for loss in 2021. Alabama is so flush with pass rushers that 5-star freshmen Jeremiah Alexander and Jihaad Campbell will struggle to see snaps this fall. Meanwhile, the Tide's defensive line is nasty, too. Bryon Young is among the more underrated 3-4 ends in the country, while DJ Dale and Tim Smith are space-eaters inside. Alabama is also hoping for a big season from senior end Justin Eboigbe and junior tackle Jamil Burroughs. It would surprise no one if by season's end Alabama led the SEC in both run defense and sacks. 
2. LSU
The Tigers have one of the deepest DL rooms in the nation, with a slew of former Top 100 recruits primed for big 2022 seasons. LSU utilized a four-man front last season, but it's switching to a more hybrid three-linemen look under new DC Matt House. Gaye will provide pressure off one edge, with potential 2023 1st Round pick B.J. Ojulari firing off the other side as a BUCK/JACK rusher. Meanwhile, Roy and former 5-star Maason Smith bring serious interior juice. LSU recorded a solid 38 sacks and 98 tackles for loss in 2021 — two numbers likely to improve with the further development of Ojulari, Roy, Smith and Soni Fonua. LSU also added defensive tackle Mekhi Wingo out of the transfer portal, snagging the 2021 Freshman All-American from Missouri.
3. Georgia
Georgia lost four 1st Round picks off their historic 2021 defense, including the two-headed interior man-eaters Jordan Davis and Devontae Wyatt. Jalen Carter should seamlessly replace Wyatt in a starting role, while Zion Logue is set for an increased role at the nose. The Bulldogs have a bunch of quality depth at end and tackle, including Nazir Stakehouse, Tramel Walthour and promising redshirt freshman Tyrion Ingram-Dawkins. Off the edge, former 5-star Nolan Smith has the tools to emerge as the SEC's best rusher not named Will Anderson. He'll be helped by Robert Beal, who had 6.5 sacks in a backup role in 2021, sophomore MJ Sherman and 5-star freshmen Mykel Williams and Marvin Jones Jr., among others. 
4. Texas A&M
Texas A&M doesn't lack talent along the defensive line — especially after signing eight blue-chip DL/edge prospects in the 2022 class, including four 5-stars — only experience. Junior defensive tackle McKinnley Jackson leads a young unit that should only get better as the 2022 season progresses. Former 5-stars Shemar Turner and Tunmise Adeleye had big springs and are primed for big second-year surges. Likewise, there's hope that end Donell Harris makes a sophomore leap. Among the freshmen expected to contribute immediately, all eyes are on Walter Nolen, a powerful interior tackle, Anthony Lucas and edge rusher Shemar Stewart. 
5. Auburn 
The Tigers' defensive line was raided by the transfer portal, so while depth is an issue compared to the other aforementioned teams on the list, Auburn does feature a quality starting DL/edge group. Derick Hall is back after recording 9.0 sacks in 2021. The Tigers also have former Northwestern transfer Eku Leota, who had 7.0 sacks off the edge last season. As a bigger end, Colby Wooden is among the best hybrid lineman in the nation. At 6-5, 285-pounds, he's quick with powerful hands. His weight gain (more than 20 pounds since 2020) has only made him more dynamic. The Tigers also brought in Oregon transfer Jayson Jones to beef up the interior. There's hope that guys like Zykeivous Walker and Marquis Burks have breakout seasons as upperclassmen. 
The best of the rest in the SEC:
Kentucky's defensive line should be sneaky-solid in 2022. The Wildcats won't have a ton of juice off the edge outside of J.J. Weaver, but their collection of blue-chip DL recruits from the 2022 class — Justin Rogers, Octavious Oxendine and Tre'vonn Rybka and Josiah Hayes — look ready to live up to their recruiting hype as upperclassmen. Keep an eye on Ohio State transfer Darrion Henry-Young, too.
Similarly, Florida has a pair of former 5-stars (DT Gervon Dexter and edge Brenton Cox) looking to improve their NFL Draft stock, both touting elite potential. DL depth is an issue in Gainesville, though. 
Lastly, Mississippi State, like Kentucky, doesn't have the edge rushers compared to other programs in the league, but Nathan Pickering, Jaden Crumedy, Randy Charlton and Cameron Young, among others, are all solid SEC d-linemen.