2022 Spring SEC Quarterback Rankings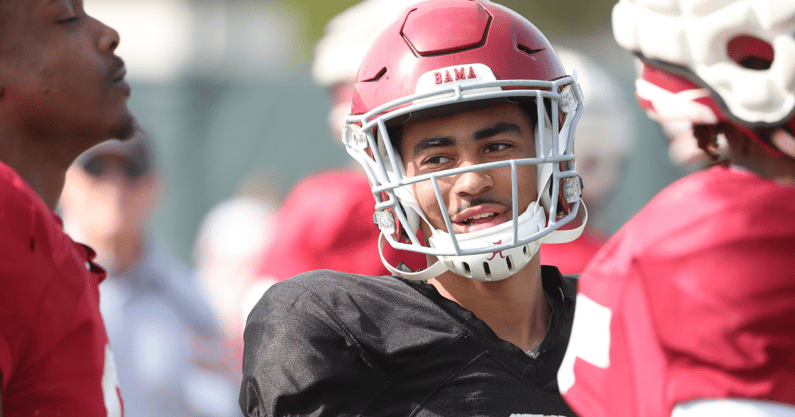 Remember when the SEC was once derided for its lack of dynamic quarterback options? Well, now the conference is flush with enough gunslingers to star in a Taylor Sheridan production.
The 2022 batch of SEC quarterbacks includes the reigning Heisman Trophy winner, a former walk-on who helped Georgia win a championship, a bunch of dual-threat bruisers and multiple marquee transfers. 
This list will naturally change when jobs are won and games start to get played, but here's my initial stab at the 2022 Spring SEC Quarterback Rankings: 
Bryce Young, Alabama – Young is the reigning Heisman Trophy winner who led all Power 5 quarterbacks with 47 touchdowns. The redshirt sophomore was as efficient as he was electric, and in his second season in Tuscaloosa is hopeful to lead the Tide back to the national championship. The future Top 5 pick is unequivocally the top quarterback in the SEC — and likely all of America in 2022. 
KJ Jefferson, Arkansas – Jefferson is a bulldozer with limbs. The Razorbacks' 6-3, 250-pound dual-threat talent was 3rd in the SEC in yards per attempt (9.1), had 27 total touchdowns and rushed for 664 yards. Last year was a breakout campaign for Jefferson, but he could become a true SEC star and legit NFL prospect with a monster 2022 season.
Hendon Hooker, Tennessee – It's hard to separate Hooker's insane production (31 touchdowns to three INTs) with Josh Heupel's layup-driven offense, but still, the former Virginia Tech transfer had the best season by any Vols quarterback since Josh Dobbs in 2016 (39 total touchdowns). Hooker was the perfect facilitator, ranking among the most efficient gunslingers in the country last season. With top wideout Cedric Tillman back for his senior year, Hooker should continue to flourish in Year 2 in Heupel's scheme.
Stetson Bennett, Georgia – Frankly, it wouldn't be outlandish to rank Bennett No. 2 on this preseason list considering he helped Georgia win a national title — bucking all recent trends that suggest only 1st Round draft picks can win a championship in the modern era. The former walk-on beat out JT Daniels for the job and led the SEC by averaging 10.0 yards per attempt. He threw 29 touchdowns — including five to zero picks in two College Football Playoff games. 
Will Rogers, Mississippi State – While it went unnoticed by many, Rogers nearly set multiple SEC records in 2021. Piloting Mike Leach's Air Raid attack, he led the league with 357.2 total yards per game, and his 4,739 passing yards and 73.7 completion percentage rank No. 3 all-time behind a guy named Joe Burrow. Consistency is the key for Rogers in his third season as a starter for the Bulldogs.
Spencer Rattler, South Carolina – The former five-star Oklahoma transfer comes to Columbia as a dangerous talent, but it remains to be seen if a fresh start will occur in a more difficult conference. Rattler threw 28 touchdowns in 2020, but he had just five scores to five picks against FBS competition in 2021, as he struggled to pair his insane arm talent with actually seeing the field. Still, he was a preseason Heisman favorite for a reason, as he possesses raw potential few can match across the entire league. The Gamecocks haven't had a quarterback drafted in 32 years but a strong 2022 season from Rattler should change that. 
Will Levis, Kentucky – The former Penn State transfer has a lot of 'YOLO' to his game (13 picks), but under first-year Wildcats OC Liam Coen, Levis dramatically improved UK's stale passing attack. His 33 total touchdowns were the most by a 'Cats quarterback since Andre Woodson in 2007. With Coen back to the NFL and an OL room totally reshuffled, Levis must shoulder more responsibility in his second season in Lexington. 
Jaxson Dart, Ole Miss – One of the CFB's dopest names is also one of the sport's rising talents. Dart flashed as a freshman at USC (1,353 passing yards with nine touchdowns to five picks), but he didn't play a ton, so his inclusion above the likes of Max Johnson, LSU's QB battle and others largely remains a projection of what he could be in Lane Kiffin's offense. Dart also has to outright win the job over Luke Altmyer, though that is expected. 
Max Johnson or Haynes King or Conner Weigman, Texas A&M – The Aggies have the most interesting quarterback competition in the country this offseason considering the rest of the team's upside as a playoff contender. At LSU, Johnson put up solid numbers (35 touchdowns in two seasons) but didn't win many games (just five SEC wins). King was injured before his 2021 season could even get going, while Weigman is a total wild card as a five-star freshman who helped build A&M's historic recruiting class. 
Myles Brennan or Jayden Daniels, LSU – Brian Kelly has the rest of the summer and fall to determine who will be his quarterback Week 1 against Florida State, but it wouldn't surprise me if both Brennan and Daniels, a transfer from Arizona State, see action to start the season. Brennan shocked many when he took his name out of the transfer portal to return to LSU, but then Kelly went and recruited Daniels away from ASU. The Tigers have a shoddy offensive line and their once-vaunted run game has been absent in recent years, but they are loaded at receiver.
Anthony Richardson, Florida – Richardson has the most boom or bust potential on this entire list. He's a freak athlete, with a truly rare combination of physical traits (size, athleticism and arm talent). Much of his redshirt freshman season was marred by injuries and inconsistencies, but he did flash moments of brilliance. The former Eastside High school star must beat out Ohio State transfer Jack Miller, but if Richardson is QB1 for the Gators in 2022, he has a chance to be a breakout star in the league operating under Billy Napier's QB-run friendly scheme. 
Zach Calzada or Robby Ashford or TJ Finley, Auburn – The Tigers won't enter the offseason with much clarity at the quarterback position, as Calzada was largely sidelined for spring practice. Finley, who was 0-3 as a starter in 2021, was first in the rep line ahead of Ashford, who never attempted a pass in two seasons at Oregon. When evaluating his options, embattled head coach Bryan Harsin probably wishes Bo Nix simply returned for his senior season. 
Brady Cook or Tyler Macon, Missouri — It's difficult to assess Mizzou's quarterback situation until we know what that room looks like come the fall. Promising freshman Sam Horn will be on campus by then, and a transfer portal addition (JT Daniels perhaps?) could enter the equation, too. Cook was solid in the bowl game against Army (291 total yards, two touchdowns), but he's a third-year player with limited upside. Macon is more of an athlete than quarterback right now, with just 17 career attempts.
Ken Seals or Mike Wright, Vanderbilt – Clark Lea split snaps between Seals and Wright for nearly all of 2021, and there's been little clarity at the position so far this offseason. Regardless of who was under center, the 'Dores passing attack was one of the worst in the nation, averaging just 5.6 yards per attempt (good for 126th in the country). Combined, they had more interceptions (14) than touchdowns (13). Seals really regressed following a freshman season with some promise, but Wright wasn't demonstrably better where he enters the fall with any sort of leg-up.